Lately I have been finding out more about colours – not in a design way, but in relation to the energy surrounding colours and their impact on you.  One of the areas that I have been looking into is feng shui, and the relationship between colours that support you and colours that drain you.
Whilst I have been looking at this in the context of interiors, I also think that the principles can be translated to your wedding style – as it can be used to create a wedding style that will enhance your energy.
My Feng Shui birth element is metal and if you are interested you can find out what yours is here. This leads me to understand why I love vintage industrial furniture so much, not just shining new metal, but the metal that has a story to tell.
A metal birth sign also aligns with colours of white, grey and earthy tones and adding in copper, this is the inspiration behind today's metallic and copper wedding inspiration board.
The palette can be described as a muted one, but the light on the metallics adds a mystical dimension to this wedding style and you need the pops of creams and a fresh green to lift the style.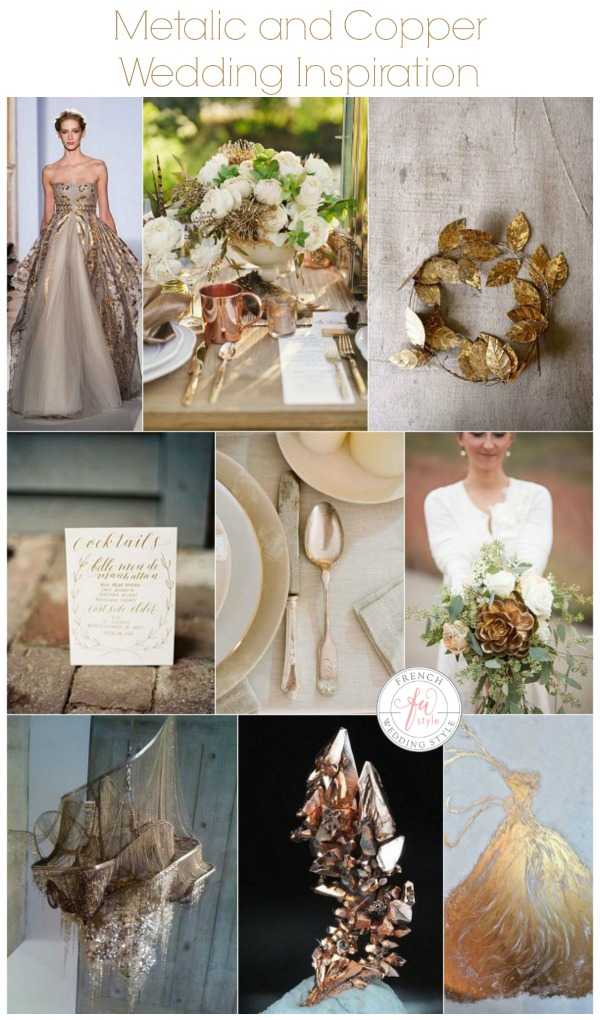 Dress: Zuhair Murad via Fashionising |  Tablecentre: Cameron Ingalls via Ruffled Blog |  Garland: Olive Manna | Stationery: Rylee Hitchner photography  via OnceWed | Tablecenter: via Pinterest | Bouquet: via The Bridal Detective | Chandelier: Moth Princess Tumblr | Copper: via Pinterest | Illustration: ZsaZsa Ballagio |
Copper as such is not one colour, so finding a range of decorative items from  brush shiny copper to vintage copper pieces, adds a depth to your style.  Adding in non metallics such as the table setting straight onto a wooden table, creates a more organic ambiance.
If you love the wedding inspiration board series and are a wedding planner, stylist or bride and would love to have a go at creating and sharing a board on the blog email me at info@frenchweddingstyle.com and tell me about a style you can't wait to share!