Tired of the traditional?  Need to inject some vibrancy into your wedding planning?  Then today's inspiration board is for you, as I focus on a colour palette not often used for weddings, lemon and lime wedding ideas!
The benefit of choosing colours for your weddings that are also fruits, means that you can include the fruits into your wedding decorations.  Display whole lemons and limes in tall vases to create impact or incorporate lemons and limes into your table centerpieces.  I particularly love the candle centrepiece below that includes daisies to soften the look and bring a whimsical element into the colour palette.
Lime is a hot colour in interior design (going to be the colour of my new bathroom)  and especially retro weddings at the moment.  The lime bridesmaids dresses are just fabulous adding a breath of fresh air into your wedding day and also works well with many skin tones.
Floral Decorations: via Pinterest  | Eclair: Natalie | Macarons: Pure Gourmandise | Stationery: KB Shirley | Large vase decorations: via Pinterest |  Bridesmaids and bride: via Pinterest  | Wedding Cake: Opie Foto |  Cocktail:  Good Life Eats | Bridesmaid: Sarah Gawler via One Fab Day |
As well as lemon and limes being available for wedding decorations, this combination opens up many delectable treats in terms of the wedding food and catering offered.
Below are some of my favourite lemon and lime catering ideas, and I have to mention the Lemongrass and apple eclairs by Natalie , that not only look delicious, sound mouthwatering and I would love to enjoy one with a cup of espresso.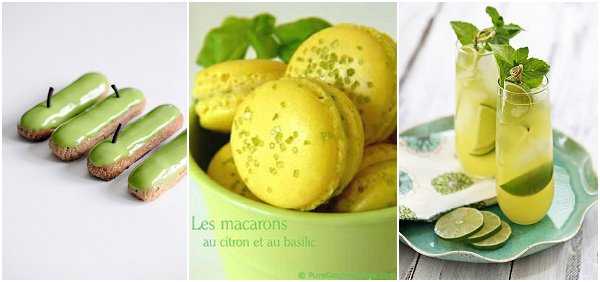 Don't forget if like if you would like some help with your wedding style, send me an email info@frenchweddingstyle with Inspire Me in the subject line.