It is December so it is totally allowed that for today's wedding inspiration board, I am looking at retro wedding ideas, and I can add in a hint of Christmas!
The basis of this board is a mint and white colour scheme and add a touch of pillar box red for that truly retro feel and a little nod to the festive season. Mint is a fabulous colour, usually associated with a spring or summer wedding, adding in the red means it becomes a transient style for across the seasons and would make a wonderful Christmas wedding style.
Bride: Sergio|Photographer via My Wedding, Mint vintage car: Pinterest,  Decorations: Mailbox Happiness, Bridesmaids: Photography Studio Two Twenty Two  via WedLoft, Bottles and straw: Photographer Off BEET Productions via Belle the magazine, Buttonholes: Photography: Leo Patrone via Inspired by This, Camera: Urban Outfitters,   Shoes: Manolo Blahnik,  Table Setting: Martha Stewart,
The beauty in this style is that you can keep the colour separate using the base ivory and then adding in either red or mint, or clash the red and mint together.  Example in the mint bridesmaid dresses and red bouquets, which is so eye catching, I love it.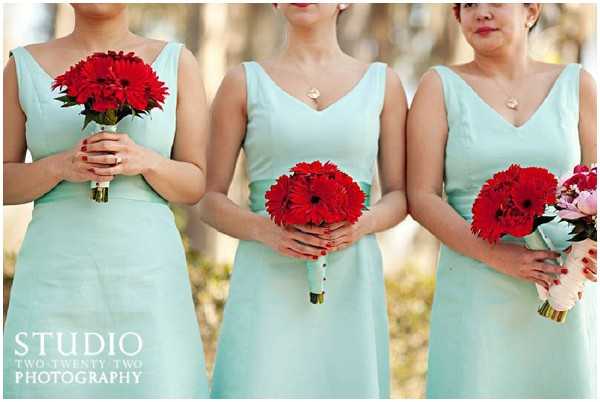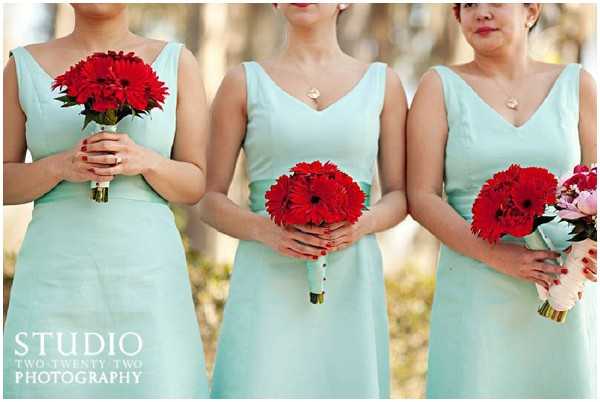 Bridesmaids: Photography Studio Two Twenty Two  via WedLoft,
Don't forget if you would like help creating your wedding style, email info@frenchweddingstyle with Inspire Me in the subject line and let me know your ideas so far.