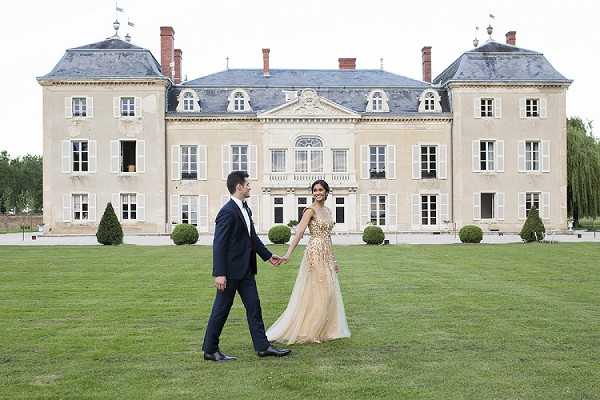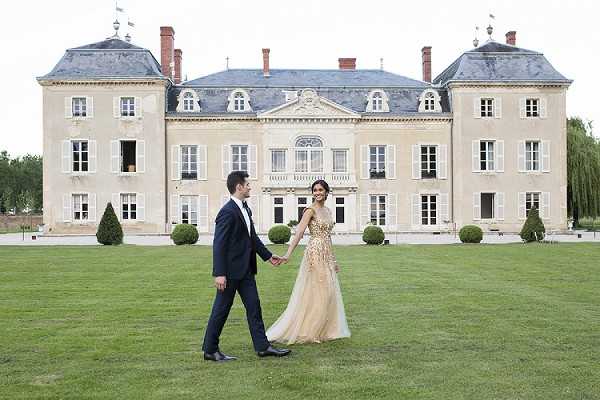 Happy Tuesday FWS readers, I'm a little homesick so today's modern French wedding inspiration board has got me very excited!! All I can think about are pretty french streets, beautiful summer sunshine and delicious french cuisine so lets get started!
During the planning stages of my own wedding back in 2013 I learned quite a few French wedding traditions, some I incorporated and some I couldn't quite get by head around, for example dancing around a large brioche bread, yep you heard me right!
Today's inspiration board was inspired by historic french architecture, exquisite french cuisine and old traditions with a modern twist, everything you need for the perfect modern French wedding…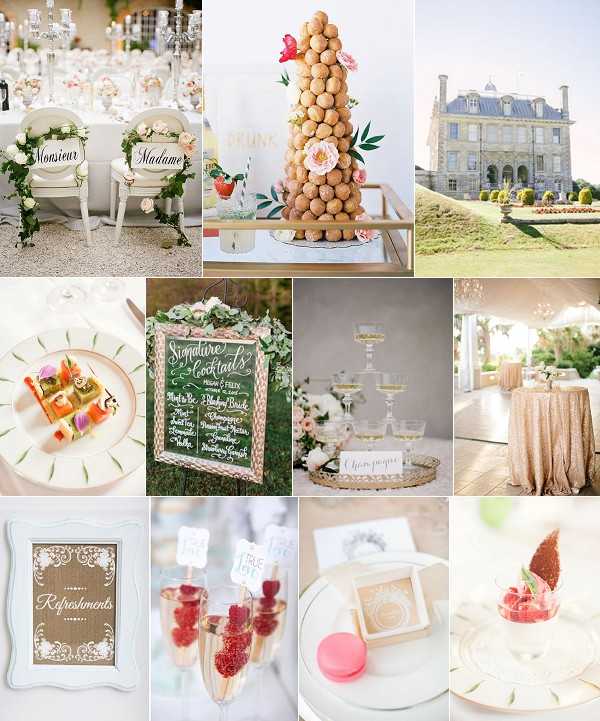 Modern French Wedding Inspiration Board – Shop This Look:
Are you planning your dream French wedding? Then why not include some wonderful French traditions that will give your guests a real taste of France!
To begin, a tradition that is still practiced in small villages throughout France. The groom collects his bride-to-be on the morning of their wedding. The procession with musicians in toe are then followed by the bride with her father. As the wedding couple make their way to the chapel, village children stretch white ribbon across the road that the bride must cut as she passes to symbolise breaking through obstacles.
After the ceremony it is common to throw 'Le Vin D'honneur' (usually a chance for distant family members, colleagues and the people of the village to 'présenter leur voeux' – give their wishes to the newlyweds). It's held before the wedding meal and after the ceremony as 'un apéritif'. Why not bring this tradition to the 21st century with a champagne bar and michelin star canapés for an unforgettable moment. I decided on afternoon tea and sparkling violet wine which was enjoyed by all.
En France it's all about food and wine (and cheese of course!!), so why not spoil your wedding party with some of the best French cuisine. Adorn the tables with elegant "les dragées" this old French wedding custom is to give 5 dragée's (traditionally they are sugar coated almonds, a gift each guest leaves with) to each guest at the wedding symbolising Health, Wealth, Happiness, Longevity, and Fertility. Head to Laduree for the best coated almonds you'll ever taste!
Forget boring fruit cake and enjoy the traditional French wedding 'cake', the spectacular celebratory dessert, the croquembouche. A French dessert consisting of choux pastry balls piled into a cone and bound with threads of caramel. Add a modern twist by adding fresh flowers which compliment your wedding theme and serve with a champagne tower, you are in France after all!
I hope today's inspiration board has inspired you while you plan your very own french wedding. To view even more beautiful inspiration boards click here.
With love,
Christina x
CREDITS
Inspiration Board Created By: Christina Sarah Photography | Top Image: Lauren Michelle Photography | Top Left Image: Christina Brosnan | Top Middle Image: Ben Q Photography | Top Right Image: Izzie Rae Photography | Middle Left Image: Christina Sarah Photography | Middle Inner Left Image: Alicia Wiley Photography | Middle Inner Right Image: Sylvie Gil Photography | Middle Right Image: Abby Grace Photography | Bottom Left Image: Ktmoffitt Photography | Bottom Inner Right Image: Caught The Light | Bottom Right Image: Christina Sarah Photography
Save
Save
Save
Save
Save
Save