Happy hump day lovelies, it is Monique's Birthday today so she is out of the office and whilst she is away,  I am showering you with inspiration with some Timeless French Elegance Wedding Inspiration.
I recently fell in love with the most picture perfect wedding venue Chateau Forge du Roy in the Dordogne which has been recently featured on the blog as part of the real wedding of Estee and Tyson – Intimate Wedding at Chateau Forge Du Roy. The venue is just so exquisite with little need for decoration which allows you to focus on the finer details of the day.
Todays inspiration board was inspired by Louis XVth design, stunning french architecture, vintage inspired gowns, loose voluptuous bridal bouquets and champagne cocktails…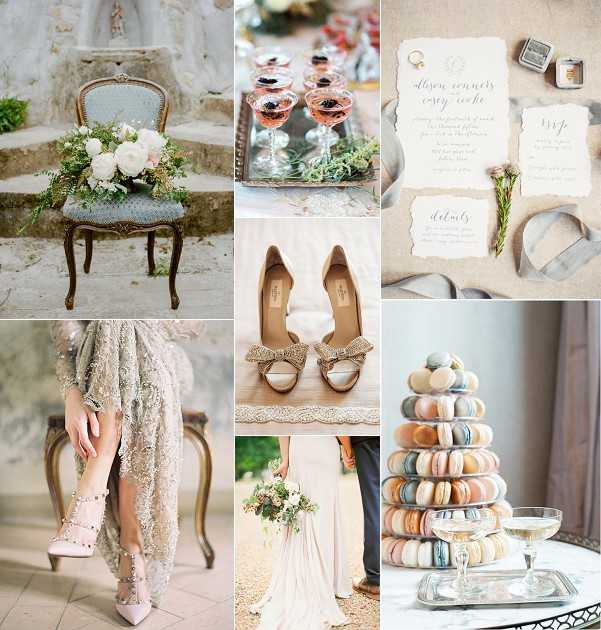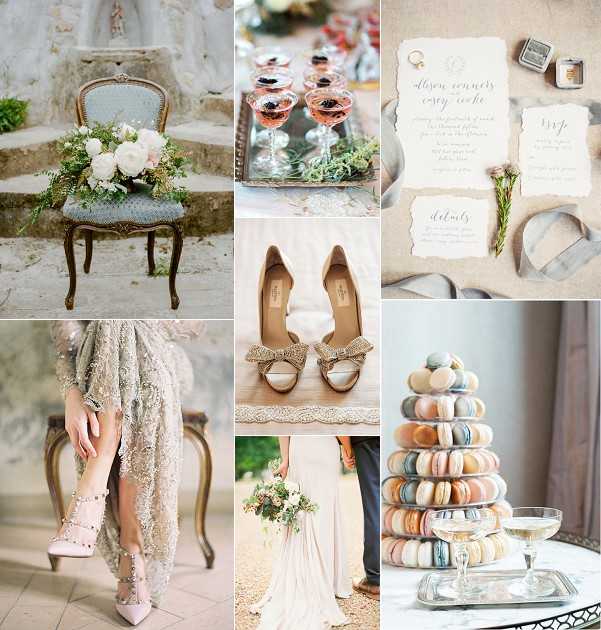 Timeless French Elegance – Shop This Look:
The gold Valentino bow shoes add a touch of glamour to this look paired with an exquisite vintage inspired gown from Jenny Packham or Anna Campbell, you're sure to make an impression on your beloved husband-to-be.
A macaron tiered wedding cake is perfectly French, paired with a glass of champagne it's sophistication at its best! If you're tempted to add the sweet meringue-based confectionery to your big day why not spoil your guests with nothing less than Laduree (one of the best luxury bakery's in the world).
When planning such an elegant event it's easy to underestimate the importance of your wedding stationary. Done correctly wedding stationary can add a touch of luxury to your details and when sent to your guests can excite them with a taste of what's to come.
Todays post has made me all excited about a beautiful Provence wedding at Château de Castellaras I'm off to second shoot at in September this year.
To view more beautiful inspiration boards click here.
With love,
Christina x
Credits
Inspiration Board Created By: Christina Sarah Photography | Top left image: Sylvie Gil Photography | Middle top image: Pauline Conway Photography | Top right image: Mint Photography  | Middle Image: Embrace Life Photography  | Bottom Left Image: Erich McVey Photography | Bottom Middle Image: Gert Huygaerts Photography | Bottom Right Image: Anna Grinets Photography