Time for an inspiration board that offers something a little bit different, yet at the same time is wonderfully romantic. Today we're getting in touch with mother nature in the best possible way.
Yes, today's treehouse wedding inspiration board is bursting with fun, eclectic, vintage ideas that are sure to make your day one that is not to be forgotten.
So, if you're still rooted to the spot (pardon the pun) and finding it difficult to decide on a wedding venue maybe today's inspiration board will be something that you hadn't thought of before!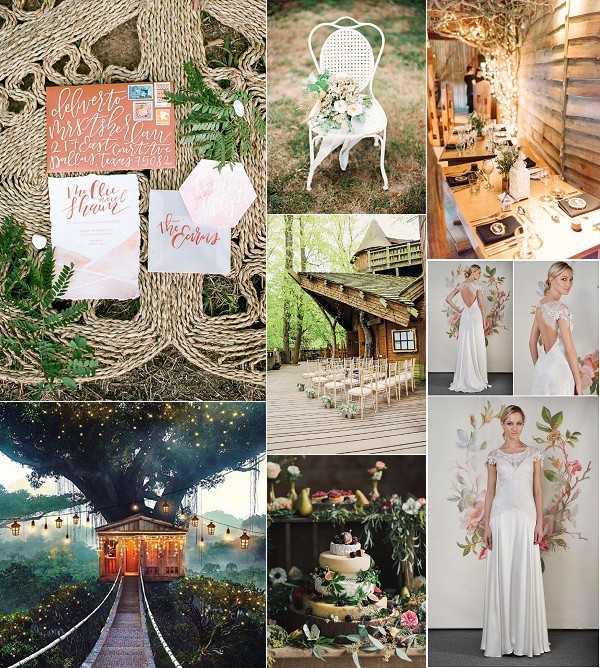 TREEHOUSE WEDDING INSPIRATION BOARD – SHOP THIS LOOK:
Claire Pettibone Primrose, a vintage French embroidery with guipure lace neckline and velvet waist with detachable tulle train will add that whimsical touch to your rustic countryside wedding day. Claire Pettibone is an American fashion designer based in Los Angeles. She is prominently known for her couture wedding gowns.
Fairy lights, perfectly add a touch of magic to any wedding reception. Imagine a wedding reception high up amongst the tree tops under the stars… so romantic!
Wedding Cake, why not try something different… like a lovely tiered cheese wedding cake, perfect for a midnight snack as you dance among the stars until the early hours. Why not add a few bunches of grapes, figs and a selection of nuts scattered around the layers and decorate with some straw, fresh woody herbs and some beautiful flowers (Flowers from your bouquet would be a perfect compliment). The perfect woodland cake.
Rustic Flowers, flowers are one of the elements that really set the tone for your big day and nothing says country wedding like a bouquet of wild flowers prepared as they have just been picked from the garden.
Treehouse, if saying your vows in a romantic woodland treehouse is something you want to consider or if you're looking for a honeymoon idea that's quirky then have a look at Canopy & Stars for more inspiration.
With love,
Christina x
CREDITS
Inspiration Board Created By: Christina Sarah Photography | Top Image: Sarah-Jane Ethan Photography | Top Left Image: Chelsea Q White Photography | Top Middle Image: Gert Huygaerts Photography | Top Right Image: Sarah-Jane Ethan Photography | Middle Image: Helen Russell Photography | Bottom Left Image: Robert Jahns Photography | Bottom Middle Image: Paula O'Hara Photography | Bottom Right Image: Anton Oparin Photography
Save
Save
Save