Welcome to Tuesday which means it's inspiration board day and today I am looking at Bohemian inspired crochet wedding ideas.
As a big fan of adding in texture not just colour to wedding styles, a crochet wedding theme truly incorporates this.  With traditional crochet being in a mix of different ivory and white tones, I have kept this running throughout the inspiration board and adding in subtle hints of colour.  This includes soft pinks in the table decorations and olive greens in the bridal headwear and in the crochet bridal bouquet.
Adding in a pop of yellow, makes this a wonderful style for a spring or summer wedding and daisy and baby's breath are ideal flowers for a Bohemian take on crochet in weddings.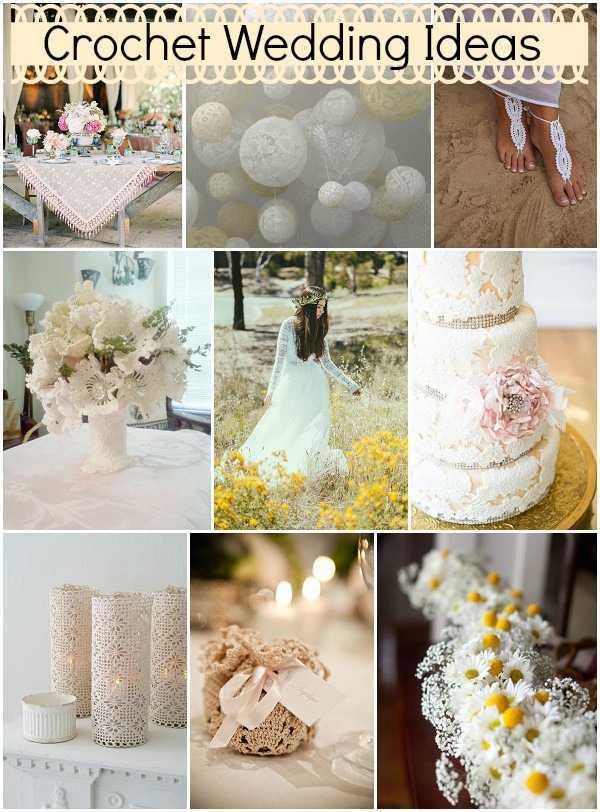 Table: Caroline Tran via SBChic, DIY lace balloons: Pinterest, Barefoot sandals: Barmine on Etsy, Bouquet: Sk* Glitz,  Bride: HelloMay,   Wedding Cake: Victoria Rose Bridals via Pinterest,  Candles: Backyard Style,  Favours; Glitter in the Air,  Flowers: My Flower Affair via Pinterest,
A little look further at the beautiful crochet wedding dress from above, that highlights the crochet on the sleeves overlaying a simple bridal skirt.
I wonder where my creative whims will take me next week….