Driving back through France recently on a misty and grey day, my mind went a wandering through the open fields to the misty covered Chateaux that lay beyond.  I have always been a Spring/ Summer person  – not that I like package holidays to the sun, but born in May, I love the smell and feeling of the warmer months.
However recently I have been drawn to the winter months and seeing a revived beauty in the ambiance that winter can provide to a wedding.  This combined with a recent stay at an area known for its royal connections and wildlife that roam the estate, I started to create my winter queen wedding inspiration board.
As always texture is the key to this tactile board, featuring lace and faux fur, all encompassed with the smell of an oak fire that burns nearby.
Combining tones of ivory, bronze, browns and olive greens – the palette is soft and romantic.  This is perfect for those brides like me who crave a whimsical drama to their big day.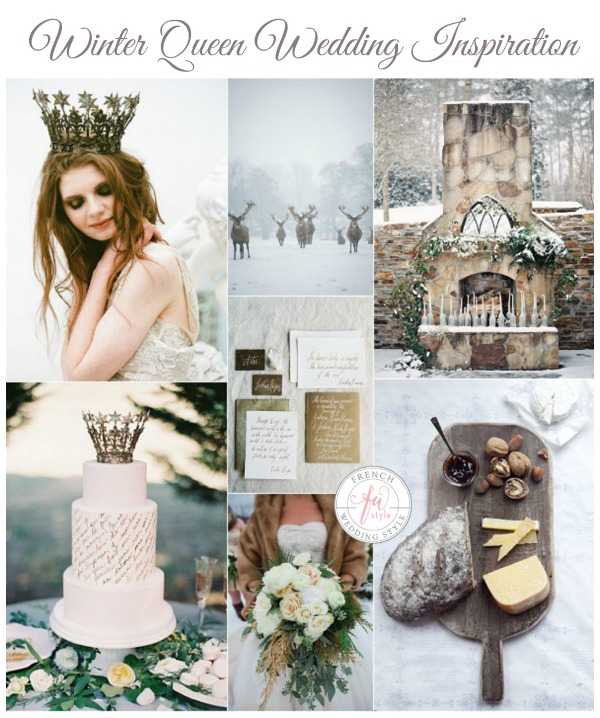 Bridal Queen: Amanda Wilcher Photography via Style Me Pretty | Landscape: via Pinterest | Fireplace setting: Gracie Blue Photography | Cake: Brides | Stationery: Styling Pearl & Godiva with photography by Jen Huang |  Bouquet: Lauren Fair Photography via Ruffled |  Wedding Appetizer: Colin Cowie Weddings |
Creating this board makes me want to rent a snowy log cabin and retreat with my laptop, to enjoy some creative whimsical wonderland!
Don't forget if you would like some help with your styling dilemma for your wedding send me an email info@frenchweddingstyle with Inspire Me in the subject line.