Hey lovelies, we hope you're having a great day? And if you're planning a bridal shower anytime soon I'm sure you're going to love today's French Garden Bridal Shower Inspiration board!
So to get you in the bridal shower mood start thinking nail bars, presents, beautiful sunshine and the all important champagne bar, I mean what bridal shower isn't complete without a glass or two of champagne hey ladies!?
Today's inspiration board is looking at all the things you may need to create your own French Garden Bridal Shower so lets dive in…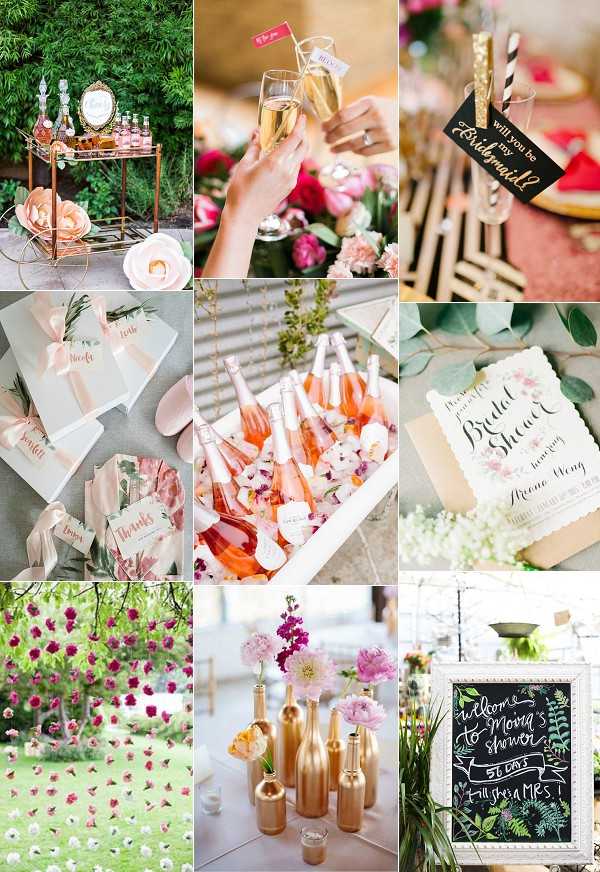 French Garden Bridal Shower Inspiration – Shop This Look:
If you are in the midst of planning a bridal shower we have some wonderful ideas for you to incorporate that will give you and your girl's memories to cherish.
Nail bars, now ladies, we all know how important it is to have good nails don't we? Especially for special occasions. So why not set up an area in the garden where you can all kick back, chat and giggle whilst refining those cuticles, filing nails and experimenting with different colours in preparation for the big day. Try to keep in mind the colour scheme for the wedding day and choose nail polish that will complement your outfits.
Bridesmaid(s) gift(s) are always a big hit and don't always need to be extravagant. Always try and keep in mind your up and coming wedding and choose something that could be helpful and fitting such as beautiful robes for your wedding morning. These can easily be sourced online or on the high street and you can have them personalised for each of your bridesmaids making for perfect photos.
Champagne bar, one of the must haves for any bridal shower is champagne!! This will add yet another layer of sophistication to any bridal shower. How you set up the bar is entirely up to you (so lets get creative), I personally like the idea of an 'ice bath' (A pretty one of course) where you can store your bottles of Champagne to keep them chilled whilst also decorating the ice with delicate flowers.
Garden party, you are celebrating so why not party a little too? Bring out the bunting, festoon lights, a few tables of food and turn the music up. Dance away, have fun and let loose, this is a time of celebration with all of your best girls around you so make the most of it!
Bridal shower games, no bridal shower is complete without a few games to keep the giggles going and no doubt the Champagne too! As there are so many games that could be played I'm not going to list them all however, one game that I'm sure will have you all laughing is Mr & Mrs… yes the same as the TV show (this can be easily adapted to girl friends), trust me, just play the paddle game and you'll all be laughing long into the night!
We hope you enjoyed todays inspiration board, if so why not check out our French Style Hen Do ideas too!
With love,
Christina x
CREDITS
Inspiration Board Created By: Christina Sarah Photography | Top Image: Julie Anne Wedding Photography | Top Left Image: Table4 Weddings | Top Middle Image: Laurelyn Savannah | Top Right Image: Lauren Rae Photography | Middle Left Image: Guy Evans Photography | Middle Image: Jodee Debes Photography | Middle Right Image: Honey Honey Photography | Bottom Left Image: E/A Photography | Bottom Middle Image: Sara & Rocky Photography | Bottom Right Image: Photography by Seneca
Save
Save
Save