Good Morning and welcome to another wedding ideas Tuesday!  When it comes to your wedding style, it doesn't have to be one style or another, but compromises is at the heart of every wonderful marriage and why not start with your wedding theme.
Today I have created a Boho Parisian Chic wedding theme board, that combines bohemian styling with effortless Parisian Chic detailing to create a relaxed and intimate wedding day style.
French wedding dress designer Delphine Manivet is the perfect choice for this style, her designs have a boho flavour combined with an effortless chic Parisian style at home on the streets of the city of love.
For any humanist wedding ceremony in Paris, as you are not restricted by legally approved buildings there are so many choices for your wedding location.  The Eiffel Tower park underneath the blossoms or sailing down the Seine on your own private cruise provide unforgettable settings and then enjoy an informal Parisian picnic with your wedding guests.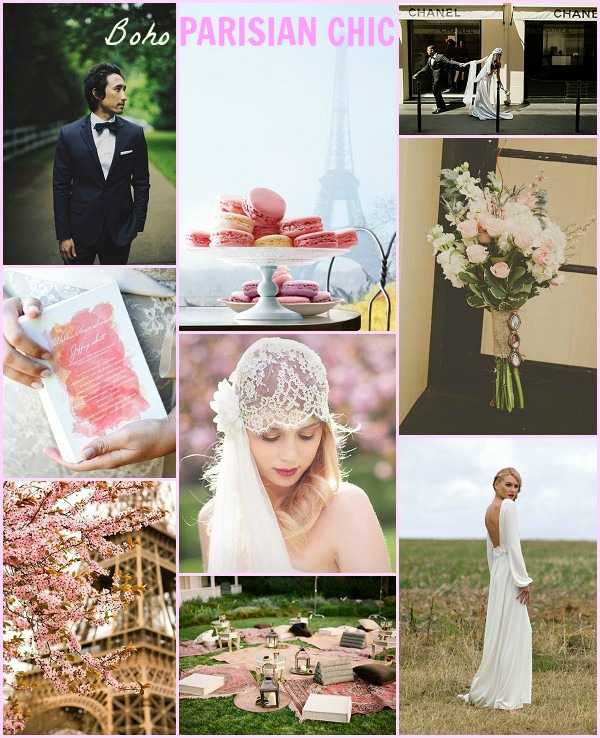 Groom: Photography Ariel Renae via Style Me Pretty, Macaron Picnic: French Entrée, Bride at Chanel: Delphine Manivet with image by Magic Flight Studio, from French Wedding Style, Invitations: Minted, Veil: Rhapsodie Paris,  Bouquet: Alta Fleura with image by Stacy Paul Photography via Wedding Chicks, Eiffel Tower: Tumblr, Picnic: Elizabeth Anne Designs,   Dress: Delphine Manivet,
A little closer look at the details with this beautiful images from Rhapsodie, bridal accessories designer.
You never know one day I may just take an inspiration board and make it come to life in a styled shoot.