Colours, textures and art – all three can have a profound effect on your mood and emotional state, so it only stands to reason that  colours, textures and art can also have a profound effect on your wedding ambiance.
As I write this post, I have smooth jazz playing in the background and a sense of romance fills the air.  That is the ambiance that I am channeling with my Watercolour Wedding Ideas today.
When looking at a watercolour wedding style, there are many different colours that you can use to base your theme on.  I have opted for a peach and pink scheme with hints of tangerine.  I love the way that these colours work together for watercolours providing a romantic yet chic tone, with just a hint of the vibrant tangerine to lift the colour palette.
Just as with any wedding inspiration board or theme, adhering to your theme strictly can make it look regimented.  Instead of every item being watercolour, add in block sections of your colour palette and why not include this into your bespoke drinks.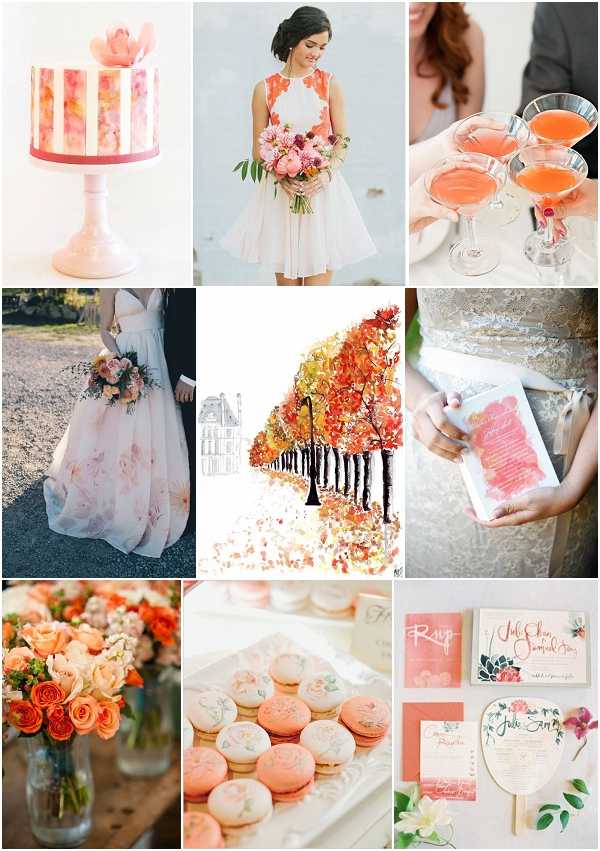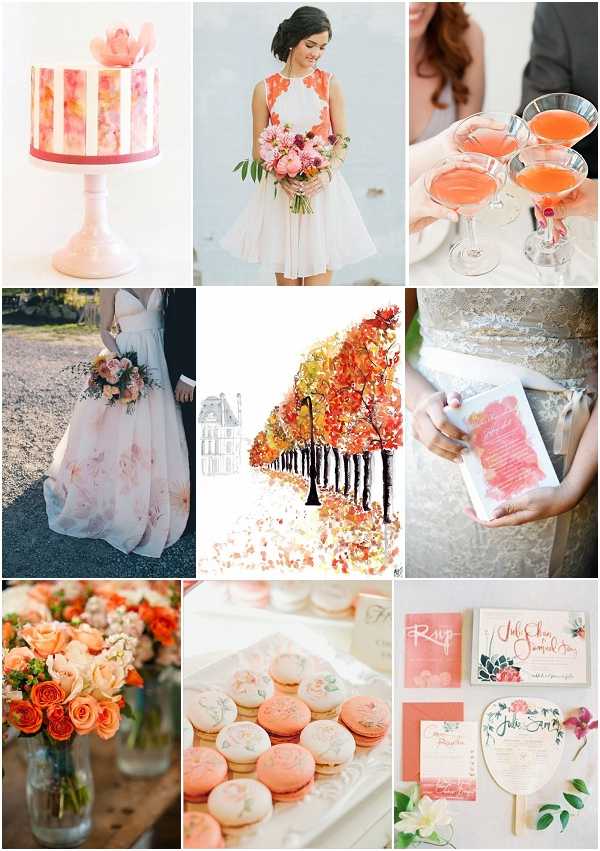 Cake: The Cake Blog | Bridesmaids: Apryl Ann via Green Wedding Shoes |  Cocktails: Mikkel Paige Photography via Wedding Chicks | Wedding Dress: Katie Slater Photography via Style Me Pretty | Watercolour painting: Etsy |   Invitation: Julie Mikos | Photographer via Style Me Pretty | Flowers: via Pinterest | Macarons: Mango Studios via Wedding Chicks | Stationery: Julie Song Ink image by Jose Villa  via Elizabeth Anne Designs |
For the discerning connoisseur of cakes and fine patisseries, there is a movement of using delicious treats as an artistic canvas.  This has lead to hand painted water colour cakes, delicately painted macarons and cookies, what is more personalised that your own piece of edible art!
If you would like some help with your wedding theme, send me an email info@frenchweddingstyle with Inspire Me in the subject line.