Welcome to Tuesday!  My mine is a whizz with inspiration boards and styling tips ahead of Thursday when we head to France for the photo shoots. So channelling my creative energy into a different direction with my pretty pastel wedding ideas.
Amongst my hectic schedule ready for the weekend, I found the pretty pastel pinks and blue with a hint of wint were really calming.  Research and putting together the post really took me to a tranquil space and what a wonderful idea that it could have the same effect on your wedding day or even the run up to the big day.
Are pastel brides more relaxed I wonder?
This colour palette has a whimsical fantasy about it  that includes pinks, peach, mint, baby blue, lavender and white.  It utilises a variety of different hues and tones within a colour and not element sticks to just one colour,  but compliments other pastels.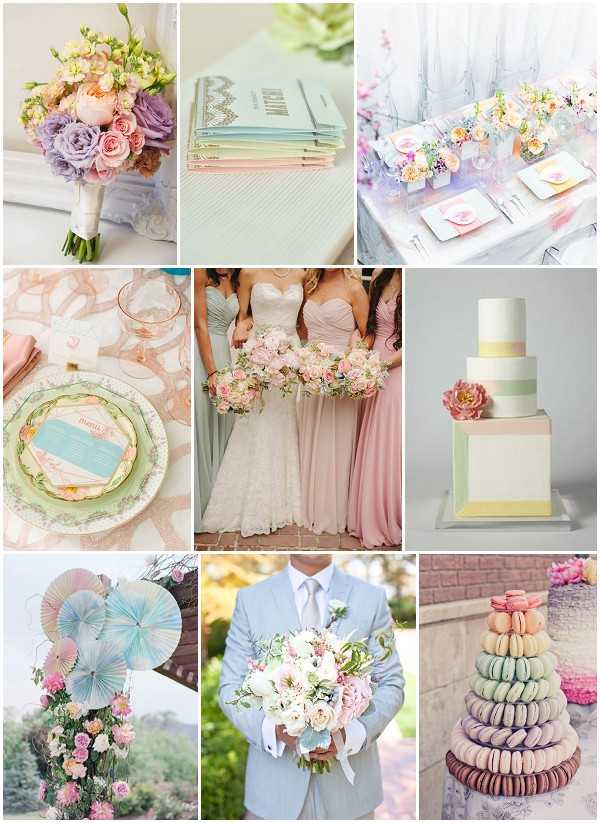 Bouquet: Livng Fresh, Stationery: Twig and Thistle,  Tablescape: Style Unveiled,Table Setting: City Love Photography via Style Me Pretty,  Bridesmaids: Matthew Morgan Photography via WeddingChicks, Cake: Brides, Decorations: Laura Murray Photography via Ruffled Blog, Groom: Jana Williams via Green Wedding Shoes, Macarons: onelove photography via Style Me Pretty,
Full of the joys of Spring I love this bride, bridesmaid and groom combination, so fresh and evocative of new beginnings.
Have a great inspired week!