Today's yellow and grey wedding ideas post is based on shoes, plain and simply.  Do you ever get an accessories, pair of shoes or item of clothing that just sticks in your mind?  Well that is what happened with a certain mustard colour pair of shoes (they do make a cameo in the post), but I love the mustard yellow and grey combination as a wonderful colour palette to move from winter to spring.
The yellow has such a promise of spring that effervesces for a transitional wedding, where as the muted grey tones add a depth and chic element to the colour palette.
Bride: Apryl Ann Photography of Claire Pettibone Dress, Cake: via Pinterest,  Macarons: via Pinterest,  Bridesmaid Gifts: Ingrid and Evan, Floral decorations: Pretty Chic Blog, Sweetheart table: Driver Photo via Glamour and Grace, Bridesmaids: Stephanie A. Smith Photography via Wedding Chicks, Flowers: Travis J Photography via My Lovely Wedding, Shoes: Office,
And as if my mustard shoe love needed any encouragement, a lovely array of bridesmaids mustard shoes.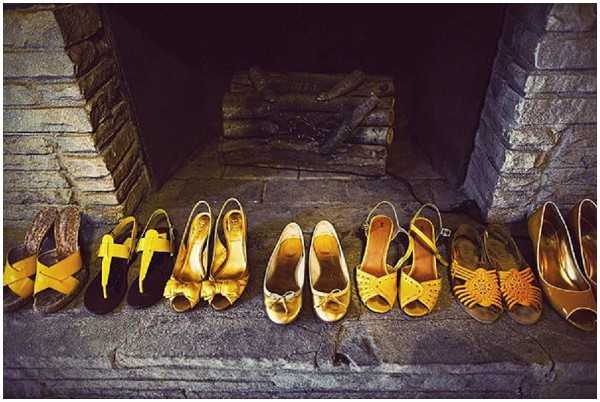 Shoes: Two Pair Photography via Ruffled
That is it for another week of wedding inspiration, but don't forget I don't bit and if you would like to suggest an inspiration board theme email info@frenchweddingstyle with Inspire Me in the subject line.