Happy Friday FWS readers, I hope your week has gone wonderfully. As you may know Monique recently visited the beautiful island of Ibiza (not a bit envious honest!) to celebrate her birthday and so we've decided to shower you with some gorgeous Bohemian Ibiza inspired wedding ideas.
Imagine getting married to your beloved under clear blue skies as the sun shimmers on the Mediterranean ocean… heaven!
Todays inspiration board was inspired by this exotic island, vibrant summer hues, loose bohemian bridal bouquets and summer cocktails, everything you need for the perfect celebration…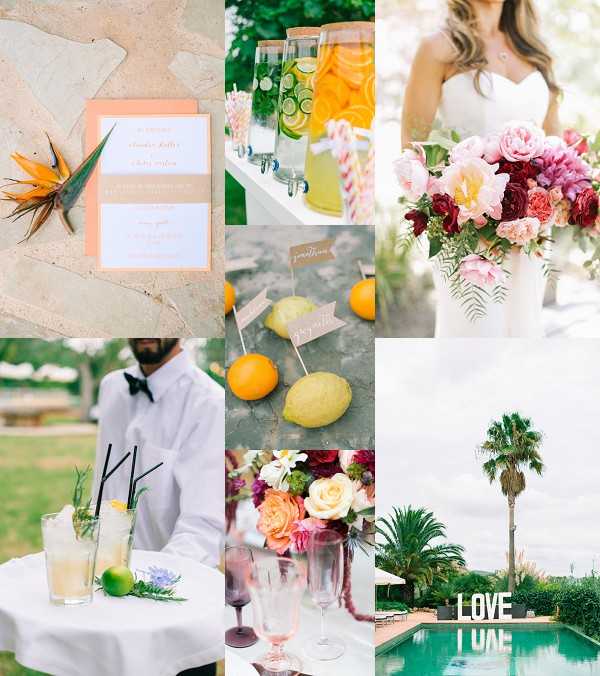 BOHEMIAN IBIZA INSPIRED WEDDING – SHOP THIS LOOK:
The stunning Elixir wedding venue situated above Cala Codolar Beach will add a touch of glamour to your big day. This venue with it's breathtaking views is sure to make an impression on your guests.
For a real bohemian touch to your outfit why not become a barefoot bride with these beautiful lace anklet jewelry and add a voluptuous bridal bouquet for a real bohemian feel!
When planning such an exotic event it's easy to underestimate the importance of keeping your guests cool and hydrated. You can have fun and personalise these elements with touches such as your order of service doubling up as fans for cooling down at the ceremony, lace umbrellas for the little ones and I can't think of a better way of cooling down on a hot summers day than with a delicious ice cold cocktail but don't forget the water, you can pimp it up with slices of your chosen fruit like lemon and lime.
All I can think of now is a dreamy summer holiday: a full week of crystal clear waters, white sandy beaches and moments in the sunshine reading a good book while sipping on an ice cold fruity cocktail, perfect!
To view more beautiful inspiration boards click here.
With love,
Christina x
Credits
Inspiration Board Created By: Christina Sarah Photography | Top left image: Ana Lui Photography | Middle top image: Ana Lui Photography | Top right image: Brandon Kidd Photography | Middle Image: Ana Lui Photography  | Bottom Left Image: Ana Lui Photography | Bottom Middle Image: Sarah Dunn Photography | Bottom Right Image: Ana Lui Photography