It can be all to easy to be seduced by stunning table designs seen in wedding magazines and on blogs (you know that I like to bring you plenty of pretty), but what if you are on a budget and looking to create your table design yourself?
Today with the help of Event Decor Group I am going to show you, how with a little imagination and wedding decorations for hire options, you can create your own tablescapes within budget.
I am going to be looking at 3 tablescapes the first being a romantic pink and purple wedding style.  If you are working on a budget, then incorporating two similar tonal colours can be a great budget ally as you are not wasting time and money looking for an exact match.
This look is for the romantic bride, using soft pinks and purple hues, create an opulent effect by incorporating gold and silvers along with seasonal flowers against classic ivory or white.
Romantic Pink and Purple Wedding Style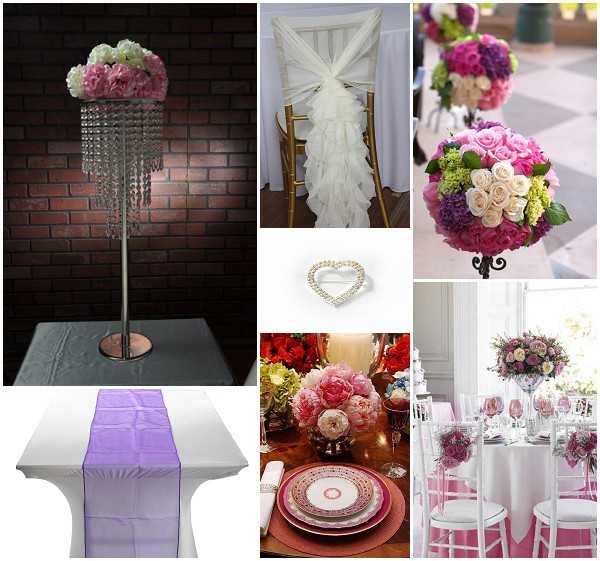 Crystal Stand Candelabra: Event Decor Group, Ruffle wedding chair sash: Event Decor Group, Flowers: Pinterest,  Heart Napkin Ring: Event Decor Group, Purple Runner:  Event Decor Group, Table: Pinterest,  Table Setting: Pinterest,
Burlap Wedding Style
It might be a trend, but for shabby chic and rustic lovers, burlap has been a staple and cost effective way of adding in rustic chic styling to your wedding day.  Burlap as a fabric can be lifeless, so you will need to be creative to bring out the best in it, using seasonal white cost effective blooms and carnations are the perfect friend to burlap.
The key to creating your stylish burlap tablsescape and wedding theme is to add it in sporadically, to key elements of the day, such as a chair sash on every other chair.
Table centre: Pinterest, White Tablecloth: Event Decor Group: Tealight centrepieces: Event Decor Group, Invitations: Pinterest, Burlap Chair Sash: Event Decor Group, Favours: Pinterest,
Black and Red Wedding Design
One of my favourite designs, black, red and white combination is just classic.  Not for the faint hearted this wedding style is dramatic.
For most situations you are looking to use white as the base colour with red and black accents to create the drama.  Add some glitzy and glamour to the design with silver candelabra, diamanté napkin rings and the glass polished wine glasses, glimmer against the black and red background.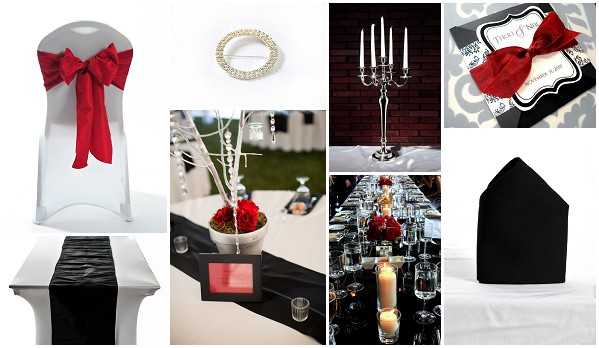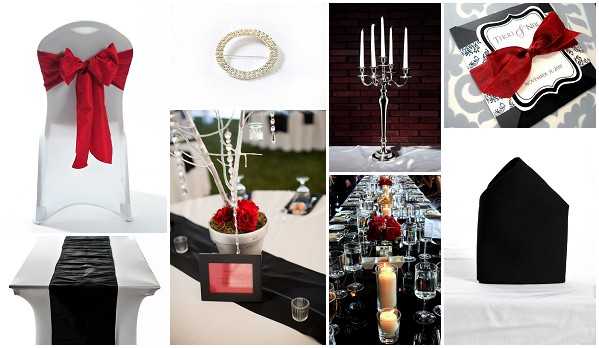 Red Chair Sash: Event Decor Group, Round Diamanté pin: Event Decor Group, candelabra: Event Decor Group, Invitations: Pinterest, Black table runner: Event Decor Group, Table Runner: Pinterest, Table Design: Pinterest,  Black napkins: Event Decor Group.

This post was brought to you by Event Decor Group