Red Velvet, do you love or loathe?  Used in moderation I am completely in LOVE with red velvet. A shimmery and sumptuous fabric, velvet adds a sensual texture to a wedding style.  Plus make it a red velvet wedding style, and you have some serious style credentials!
Red velvet has made appearances back on the catwalk this autumn and velvet is akin to diamonds, in that it changes tone and richness as the light hits it.  The key to pulling off a red velvet wedding style is to play with the fabric without feeling suffocated in it.  Incorporate it in unexpected ways for a playful richness that is perfect for an Autumnal and Christmas inspired wedding.
And to enhance the sumptuous qualities of red velvet – why not listen to Black Velvet, I did when I was creating this board!
Tying in red velvet into the brides and grooms ensembles can be difficult, but don't go for competing outfits.  If the bride is having a couture dress that features red velvet, as much as I LOVE the red velvet smoking jacket – as a combination this could be too much!
Bride: Ciara Richardson  via Bridal Musings |  Red Velvet Furniture: Levi Stolove Photography  via Ruffled Blog | Shoes: Louboutins | Cake: The Knot | Groom: via Pinterest |   Stationery: Elisa Bricker via 100 Layer Cake |
Creating a quiet space for guests using red velvet furniture is a wonderful way to accent an area, without drowning it in red velvet.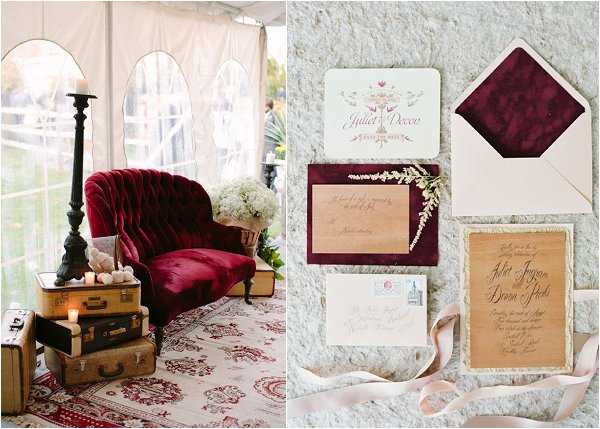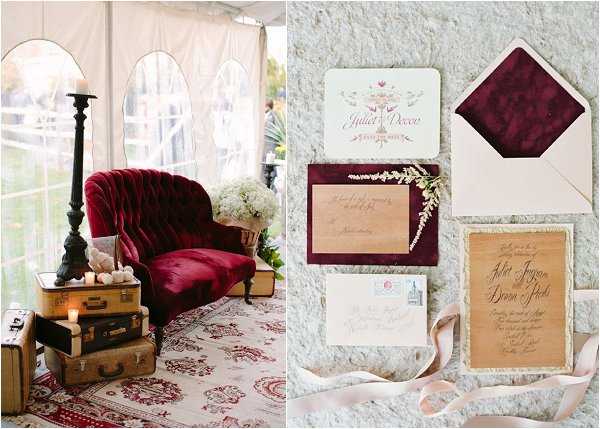 And for the super DIY brides, why not make your own red velvet envelope liners to give an indication to your guests for the style of wedding that they are attending!
Don't forget if you would like some help with your styling dilemma for your wedding send me an email info@frenchweddingstyle with Inspire Me in the subject line.

Elisa Bricker
Elisa Bricker
Elisa Bricker