Morning lovely ladies and gents!  It is the day of the Wedding Magazine awards today and I am super excited, mixed in with a little nervous.  The award ceremony tonight is at The Ritz in London I will be sure to try and instagram as many pics as I can!
But before that, I have mentioned before about my lack of skills when it comes to plants and gardening, but that is not to say that I don't love flowers, especially when it comes to wedding decoration and styling.  With this in mind I am creating a baby's breath wedding ideas board today.
Now if like me you know the name baby's breath but are not to sure as to what it actually is, this is what I have concluded, but any florists do please fee free to leave a comment below if this needs correcting.
The official name for baby's breath is Gypsophila Paniculata or Gyp for short and is known for its small white flowers.  It is often seen as part of a bouquet, but doesn't often take the limelight as the star flower.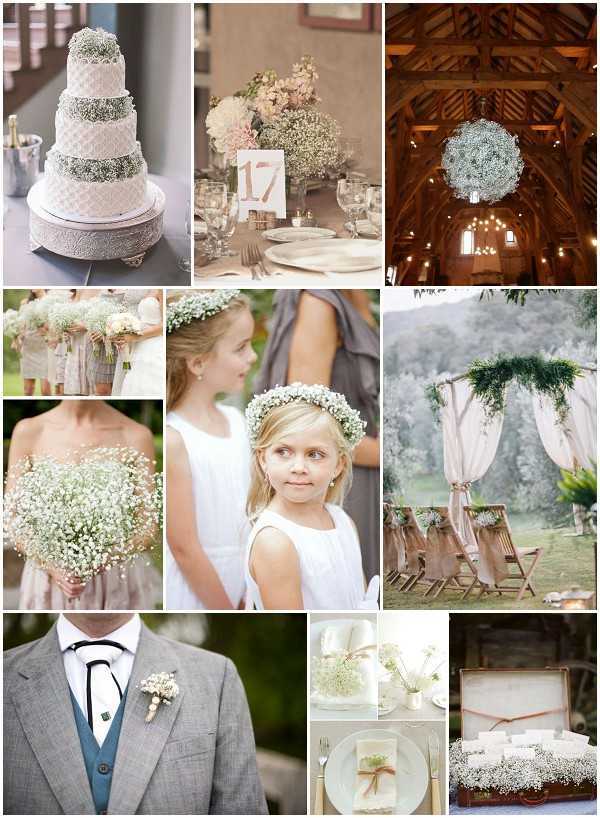 Cake: Photography: Kathleen Amelia Photographer on Style Me Pretty, Table Decorations: Photography: onelove photography,Floral Design: BB Blossom on Style Me Pretty, Hanging Ball: Girls and Roses, Bouquet:  1313 Photography, Flower girl: Event Design – Restaurant Cabane with Photography from Alexander James on Elizabeth Anne Designs, Chair Decorations: Event Styling – Cathrin D'Entremont Weddings, photography Natasja Kremers on Elizabeth Anne designs, Place Settings: KeyLime Weddings, Suitcase: Loveolio, Groom: Ruffled Blog,
If you have every wondered what goes into creating a large hanging decoration, I just had to share this sneaky peek behind the scenes with Paris Florist Girls & Roses as they create one at their Paris workshop.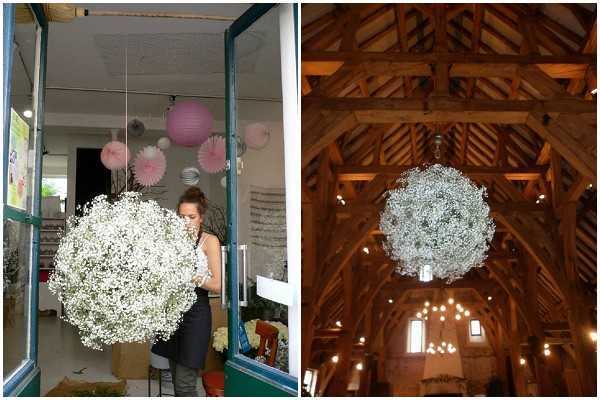 As always be sure to check in again next Tuesday for the next in our inspiration board series and if you would like to suggest an inspiration board theme email info@frenchweddingstyle with Inspire Me in the subject line.