Good Morning lovelies, I'm excited to be showering you with another pretty inspiration board today full of wonderful inspiration for your countryside nuptials and all you budget conscious brides to be.
Today's French farmhouse wedding inspiration board was inspired by a gorgeous shabby chic style country wedding I had the pleasure of second shooting at in Surrey recently. Full of beautiful handmade details it reminded me of how much fun it is to create personal details for your wedding. If you are working with a smaller budget these ideas might be just the inspiration you need…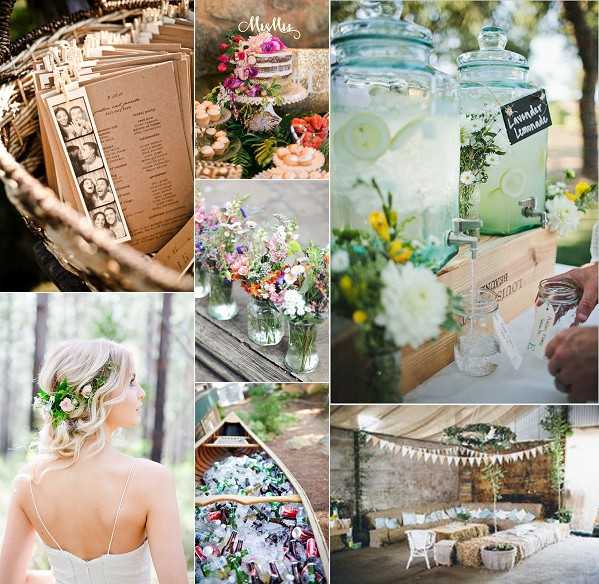 French Farmhouse Wedding Inspiration Board – Shop This Look
I'm in LOVE with the garden party glass drinks dispensers which can be seen throughout the high streets and online at the moment. Filled with beverages of your choice and delicious fruit segments it's the perfect homemade outdoor bar! Add carnival straws and mix matched jars and glasses and you have the perfect cocktail.
For me it's all about flowers which when dealing with a smaller budget can be worrying but why not go for the wild flower rustic look. Enjoy growing a few in the garden for an abundance for next to nothing. Top Tip: Sweet Peas are pretty and very easy to grow!
No need to panic over where you'll find endless numbers of chairs for your guests, this year it's all about hay bale seating! Hay bales, throws, cushions, bunting = fabulous rustic lounge!
Photo Booth time, your wedding is all about making new memories after all… so what better way to inject a few giggles to the day than a rustic photo booth. You can hire or create your own, either way your guests will love this fun element and why not let them take home their pictures as wedding favours. It's always good when your efforts tick two jobs off the list.
Since we can't get enough of fresh flowers here at FWS why not throw out the idea of a traditional wedding cake and go with a scrumptious naked cake adorned with fresh blooms for that WOW factor!
All this talk of a DIY countryside wedding has got me reminiscing about my own wedding back in July 2013… I was beyond excited to feature on French Wedding Style blog, you can see our garden party efforts here.
For more inspiration view our beautiful collection of inspiration boards here.
With love,
Christina x
CREDITS
Inspiration Board Created By: Christina Sarah Photography | Top Image: Julie Cahill Photography | Top Left Image: Becca Howell Photography | Top Middle Image: Elate Photography | Top Right Image:  Nick Radford Photography | Middle Image: Shea Christine Photography  | Bottom Left Image: Lindy Yewen Photography | Bottom Middle Image: Summer Street Photography | Bottom Right Image: Mike Plunkett Photography
Save
Save