Hello Trulovers! For those UK readers, I hope that you had a lovely warm and fun filled weekend.  Today's inspiration board is brought to you by Julie's readers request for ideas for her upcoming wedding in Provence.  Julie from Arizona USA, is renting out a large private farmhouse and for the main wedding day is looking to create an informal wedding style and is seeking backyard BBQ wedding ideas.
Of course I was only too happy to help and given the lovely weather currently, this board left me counting day the moments until summer is here!
A rustic backgarden wedding really does open up the world of possibilities not only for decor but of course also food.  I will turn to the food and refreshments first!  With French cuisine being renowned the world over, if you are planning a DIY BBQ wedding reception, the supermarkets, butchers and local shops can provide you with all of the fare that you will need.  In order to combine the American take on BBQ with the French, which not add in some speciality items for your more daring wedding guests.
Whilst the wedding look is rustic, a great deal of planning and decorations go into a achieving a beautiful backyard style wedding.  Do take into account the time of year of your wedding reception and be sure to tie in the season colours of the countryside.  Wild flowers can also be a wonderful addition to decoration, but a great florist can help you create the rustic ambience with style and those unique wedding decorations.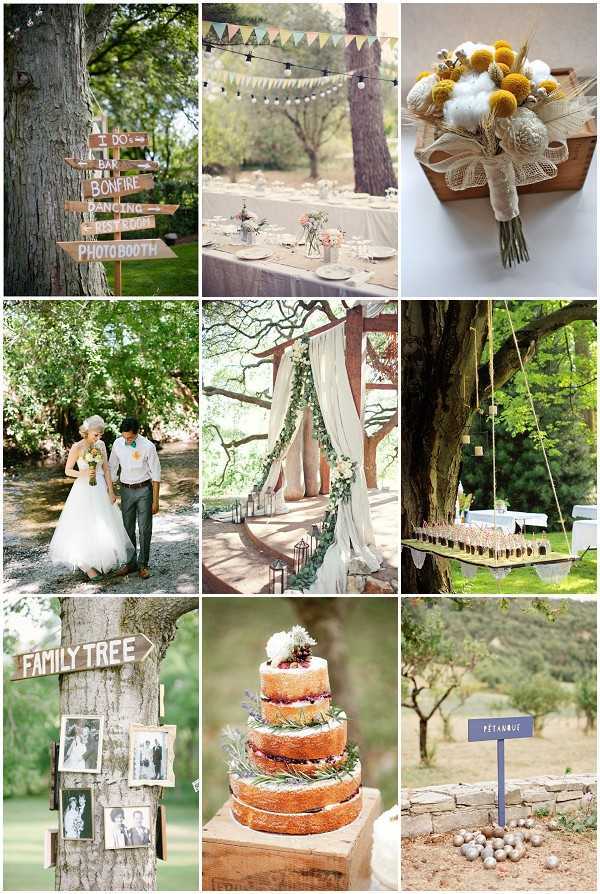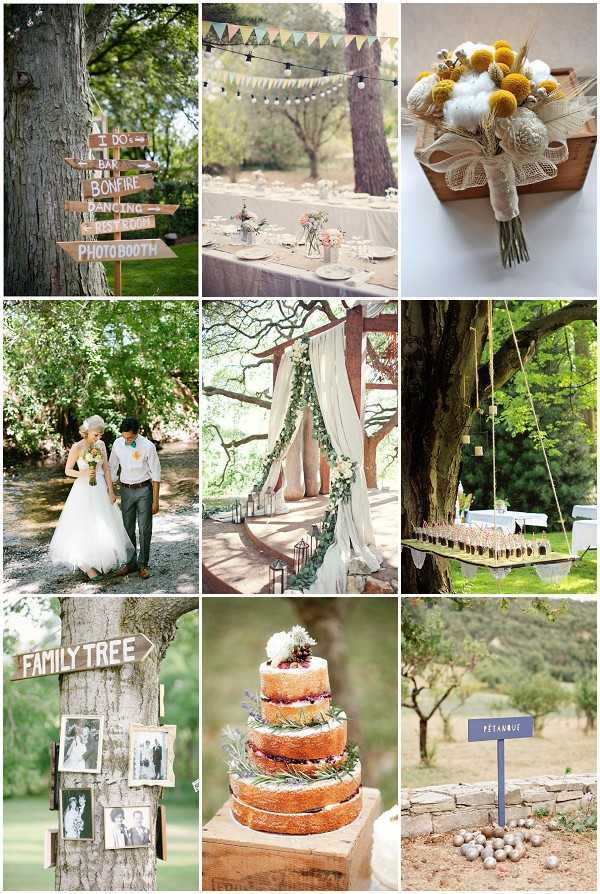 Signage: Gina Cristine Weddings, Outdoor Reception: Anne-Claire Brun  via 100LayerCake, Bouquet: Trendy Bride, Couple: Brent Van Auken Photography via Snixy Kitchen, Ceremony focal point: The Nichols via Style Me Pretty, Hanging Drinks: Capitol Romance, ,Family Tree: GreenAutumn Photography via Style Me Pretty, Cake: Naomi Kenton Photography via Style Me Pretty, Petanque: Xavier Navarro via Knot and Pop,
That is it for another week of wedding inspiration, but don't forget if you want me to create a style and board for you email info@frenchweddingstyle with Inspire Me in the subject line.