Since I saw the lace appliqué for the bodice and skirt of Kate Middleton's royal wedding dress by Alexander McQueen's Sarah Burton, I have been fascinated researching traditional lace making techniques, places of excellence and how to apply a vintage lace wedding ideas into a modern wedding.
The Royal School of Needlework, based at Hampton Court Palace, was enlisted by Burton's team to create the intricate appliquéd bodice.  However despite the emphasis placed on the "Britishness" of the design, the intricate lace making motifs from the small town  just outside Lille have also been rumoured to have worked into the gown by The Royal School of Needlework.
The tulle and lace making in Caudray can be traced by to the 19th Century, when the first loom was installed with parts from England.  Caudray is now second only to Calais, employing 6,500 staff and exporting 80% of what they make.
During my research for vintage lace wedding dresses I came across one of the most amazing vintage lace wedding dresses that I have seen, recently sold by Augusta Auctions.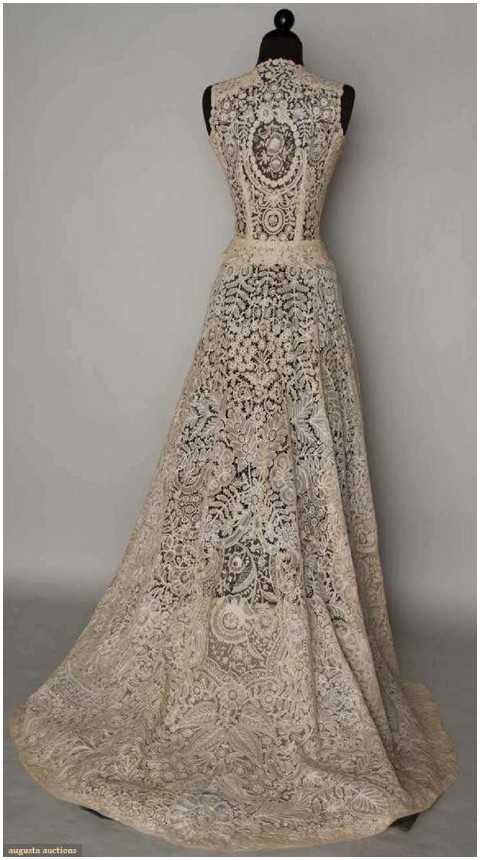 The dress is a 1940s Brussels mixed vintage lace wedding gown which has possible been made from a 1860-1870's veil and converted into the gown.  The dress was previously part of an exhibit from the Brooklyn Museum and is simply stunning! View more original vintage wedding dresses.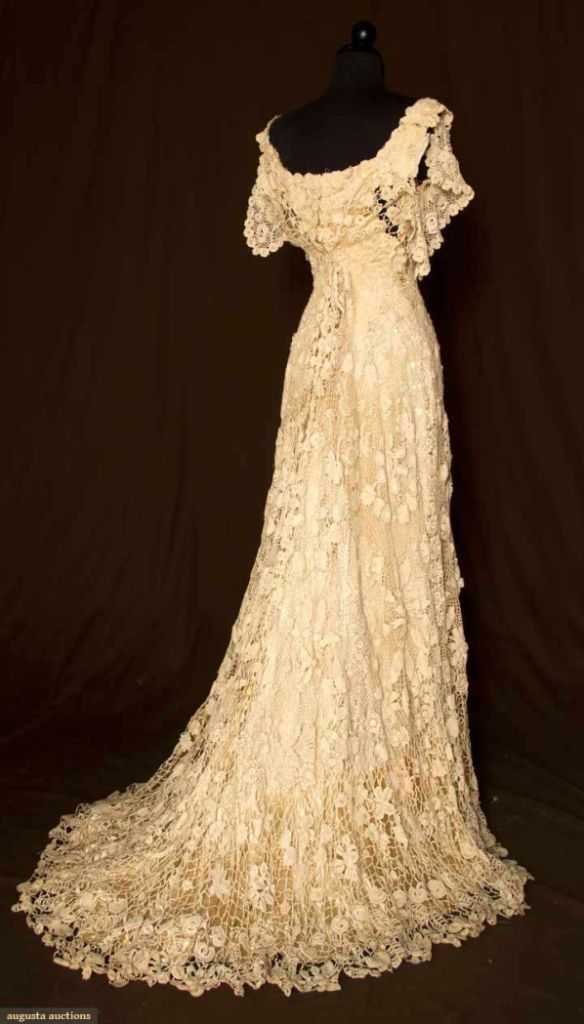 The above dress is an Irish wedding gown 1908 – cap sleeve, low rounded neckline front & back, fitted through high waist, very full trained skirt, small, large & 3 dimensional crochet flowers & foliage, cream satin built in boned lining, waist tape stamped "TRAVERS, 106 E. 58TH ST, NY", B 32″, W 22″,FL 59″, BL 76″.
For those of us who don't have the money to invest in a genuine vintage lace wedding gown and have it restored, how do we include vintage lace ideas into our wedding ensemble?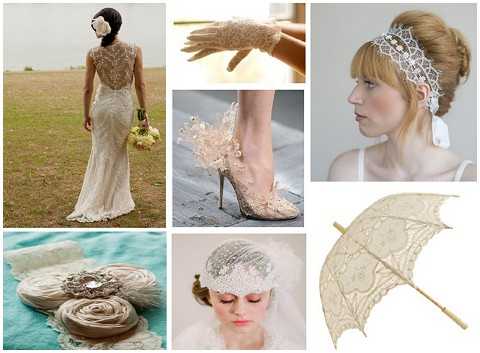 Dress: Claire Pettibone, Veil: 1920s romantic French inspired bridal cap with lace and a sweeping veil from Twigs and Honey, Shoes: Valentino, Ivory Garter: Little bits of Joy, Lace Gloves: Other Peoples Property, Headband: Twigs and Honey, Umbrella: Wedding Bridal Boutique.
If you are looking for hair adornments check out the new collection by Twigs and Honey, including the 1920's romantic French bridal cap with lace veil as featured in the mood board and a French bandeau veil with silk organza flower bomb.
If you've fallen in love with the vintage lace and vintage style theme then you can also incorporate it into your vintage lace wedding ideas.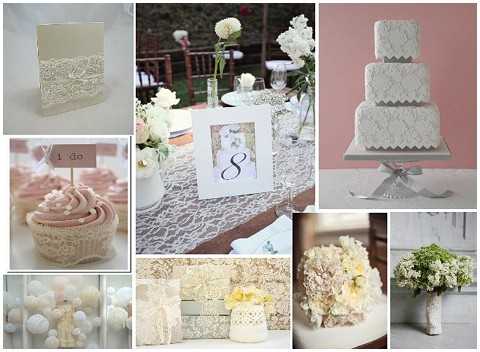 Stationery: Imagine Wedding, Lace Table Setting: My Sweet and Saucy, Cake: Zoe Clark Cakes, Cupcakes: Intimate Weddings, Green and White Flowers: JL Designs, Silk Flowers: Elizabeth Anne Design,   Lace Balloons.
And for those brides wanting to take a little piece of their wedding style on honeymoon, how about your own custom lace suitcase.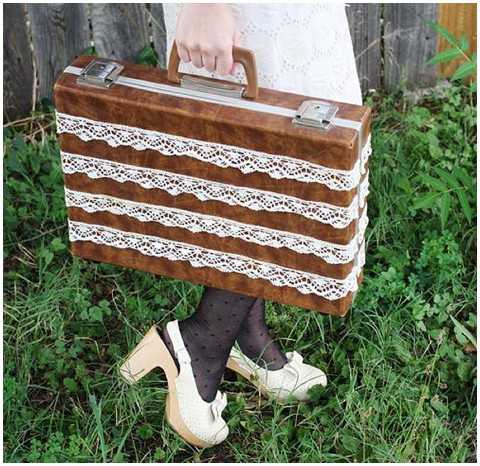 So there it is, inspiration on how to include lace into your wedding day and feel like a princess.
Need more lace wedding dress inspiration view some of the beautiful lace wedding gown collections:
The 2013 Delphine Manivet collection interprets the elegance under a new angle and turns the bride into her muse, and the quest for Grace, her inspiration. The collection volts the senses compared to other looks seen on the bridal catwalks this season, offering dramatic tailored chic looks alongside flowing shabby chic dresses along with knitwear!  View collection.
Yolan Cris 2013 Seven Promises.
Seven Promises explores seven different time periods and styles to create a new collection of stunning gowns fit for every genre of bride.  Each and every design is hand crafted in the Atelier in Barcelona, see full collection here.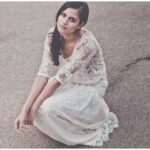 The talented Laure de Sagazan bridal outfits from her first collection catering for the non traditional bride.  A graduate from Lille School of Fashion Design, Laure designed for trendy Parisian house ba & sh before being asked by a cousin to create for her a bespoke wedding dress.
Utilising the trends that Laure had seen at ba & sh she created a non traditional wedding dress, part rock n roll but with elegant undertones.  See full Laure de Sagazan collection.