Fancy a big splash of sun to forget the dullness of winter? Look no further, the sunny wedding ideas boards today by our resident wedding inspiration expert Fabienne Slater from Elian Concept Weddings and Events, are vivid and slightly audacious but they will brighten up your day.
They were inspired by two of the three famous winter festivals that starts this week end on the Riviera. The Nice Carnival is renowned, but 2 other towns celebrate their local production: lemons in Menton with La Fete du Citron and mimosa in Mandelieu- La Napoule near Cannes with la fete du Mimosa. Three great opportunities to party and a source of wonderful inspiration!
Image Source Left Fete du Mimosa, Right Fete du Citron
Aside their favoured place of growth, the common factors of the two plants is their yellow colour which is not an easy choice for a wedding and should be used spaingly. A few touches here and there will work wonders to add a sunny feel without overdoing it.
If they are to be the main colour focus then I personally prefer them associated with white. Subtle shades of grey, purple or blue also help to soften the intensity of the yellow.
Image Source Left Mimosa, Right Lemons
Mimosa flourishes from January to March therefore making an ideal flower for late winter weddings and an original alternative to traditional winter bouquets for brides who like a more cheerful atmosphere.  The fluffy flowers are light and unpretentious and release an enchanting smell.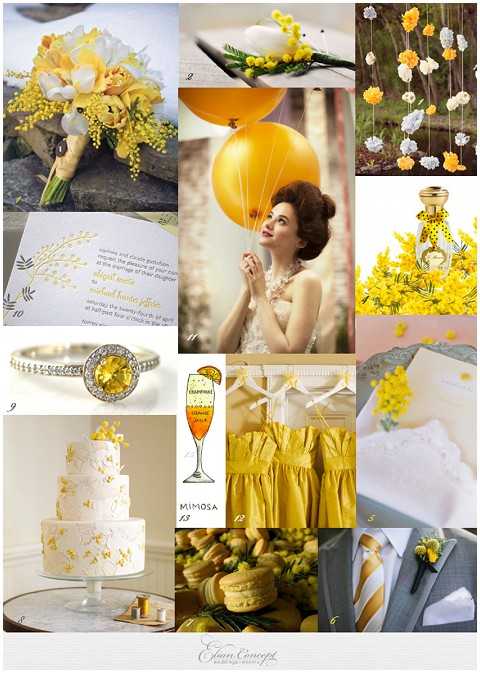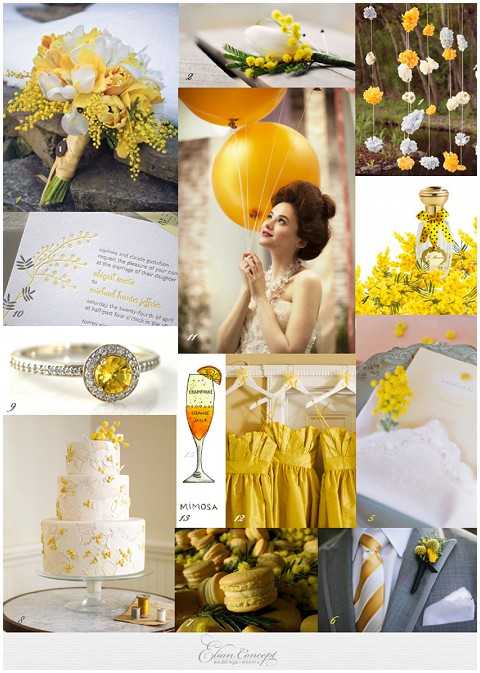 1. Mimosa Bouquet Mimosa Flowers, 2 Mimosa Buttonhole Sweet Root Village, 3 Hanging Decortations Pocket Full of Dreams 4 Mimosa Purfume Plurielles, 5 Mimosa Invites Jessica Claire, 6 Mimosa Buttonhole This Modern Romance, 7 Mimosa Macarons Mad About Macarons, 8 Mimosa Cake Martha Stewart, 9 Yellow Sapphire Ring Etsy, 10 Mimosa Invites Delphine Press, 11 Yellow Balloons Style Me Pretty, 12 Yellow Bridesmaid Dresses Style Me Pretty, 13 Mimosa Drawing Pinterest,
Lemons and other citrus fruits are commonly associated with Mediterranean ambiances and are a great source of inspiration for a wedding. While it might be more appropriate to only use the mimosa in season, the lemons can be brought into play an all year round. It will bring a zest of sun during the winter months, but is refreshing for the summer times.
1 Yellow Fan Wonderful Wedding Hair, 2 Yellow inspired table setting Inspired by this, 3 Lemon Sign Green Wedding Shoes, 4 Lemon table setting Grey Likes Weddings, 5 Limoncello Matt Bites, 6 Lemon wedding cake Pacific Weddings, 7 Lemon place cards Green Wedding Shoes, 8 Yellow Flowers This Modern Romance, 9 Lemon Drinks Martha Stewart Weddings, 10 Yellow Bow Tie This Modern Romance, 11 Yellow Place Cards Inspired by this, 12 Flower arrangement Ruffled.
I will leave you with famous painter Vincent Van Gogh who once said: "How wonderful yellow is. It stands for the sun."
Thank you to Fabienne at Elian Concept Wedding and Events for bringing some sunshine into my day.  If there is a certain style or theme inspiration that you are looking for, drop me a line below to let me know.
Monique xx