Happy Bastille Day or La Fête Nationale ! I am handing over the blog today to planner extrodianaire Fabienne Slater from Elian Concept Weddings and Events for some Bastille Day insights and inspiration.
Fabienne: "The 14th of July is France's national day and is an unrivalled opportunity to party.
A festive mood spreads across the country with events popping up everywhere from the big cities to the smallest villages.
In English, it is known as "Bastille Day", which is a direct reference to the origin of the celebrations. On 14th July 1789 the people of Paris stormed the Bastille fortress and prison, a symbol of the Royal power. Its fall was one of the French revolution's major events, leading to the creation of the French Republic which motto " Liberté , Egalité , Fraternité" (Liberty, Equality, Fraternity) is displayed alongside the emblematic profile of Marianne and the blue, white and red flag.
The day usually starts with military parades, the most prestigious being held on the Champs Elysees in Paris with the elite of the French Army honouring the French President and concluding with a blue, white & red coloured fly pass above the Arc de Triumph by the Patrouille de France (France's equivalent of the Red Arrows).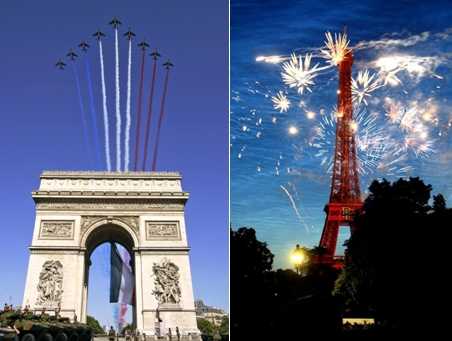 Left Source; Right Source
Bastille day has a very patriotic feel, the 3 colours are used extensively during the festivities, and not only with flags. After the parades, parties take place on town and village squares, culminating with firework displays, the most famous at the Eiffel Tower. The final bangs mark the beginning of the traditional 14th July ball.
LeftTypical on 14th July 'Bal populaire'; Right A French village 2012 Bastille day bal poster
Fancy a 'Bastille day' inspired wedding? The mood is relaxed. Partying and dancing are on the agenda, as are blue, white, red decorations and lights, long informal tables and a friendly atmosphere. The true French 'guinguette' spirit. The 'guinguette' is an open-air small restaurant with live music, very popular in the 19th and early 20th centuries.
Left Dejeuner des canotiers – Renoir; Right An modern illustration of the 'guinguette' spirit
The inspiration board captures the essence to help recreate the ambiance of a typical 14th of July party.
1,3,10; 2; 4; 5; 6; 7; 8; 9;
11; 12; 13; 14; 15; 16; 17;
Want to join the festivities this year? To do so in Paris, look at the official programme on  en.parisinfo.com/shows-exhibitions-paris/bastille-day-in-paris. If you are in London visit www.bastillefestival.co.uk"
Merci beaucoup to Fabienne and Elian Concept Weddings and Events for today fabulous post and I hope that you have a wonderful day.  Please do leave a comment below and let me know how you are celebrating.
Monique xx