Today sees the start of the 65th annual Cannes Film Festival and I am so excited for the fashion, the films and the sights of the French Riviera.  Over the course of the festival I will be sharing with you my usual range of wedding style and inspiration, including some specific posts on how to include the red carpet style into your wedding day.
The Cannes Film Festival this year have decided to pay tribute to Marilyn Monroe on their official poster. "Fifty years after her death, Marilyn is still a major figure in world cinema, an eternal icon, whose grace, mystery and power of seduction remain resolutely contemporary."
"The Festival poster captures Marilyn by surprise in an intimate moment where myth meets reality – a moving tribute to the anniversary of her passing, which coincides with the Festival anniversary. She enchants us with this promising gesture: a seductively blown kiss. The Festival is a temple of glamour and Marilyn is its perfect incarnation. Their coming together symbolises the ideal of simplicity and elegance."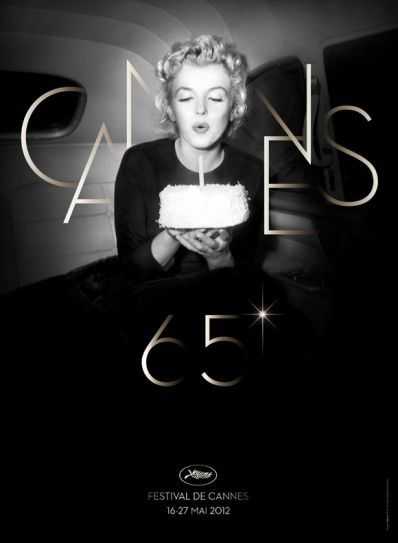 The whole ambience of Cannes can provide the inspiration for your wedding theme starting with your dress.  Kate Beckinsale's Cannes premier look is not a traditional bridal style, but is has a delightful mix of high-octane glamour and relaxed sophistication. Glittering embellishment and the softest pink hue ensure a large dose of style romance, that while not your typical wedding day dress, is no less scene stealing and at home on the French Riviera.
Source
Uma Thurman choose a white Versace dress for the opening ceremony on last year's 2011 Cennes Film Festival, I wonder what she will be wearing this year?
Source
Jessica Biel's Gold Globes red carpet dress by Elie Saab is delicate lace gown for a vintage red carpet look.
Source
When looking to the Cannes Film Festival wedding ideas and red carpet wedding inspiration,  combining a mix of red, white and blacks provides a stylish yet dramatic look.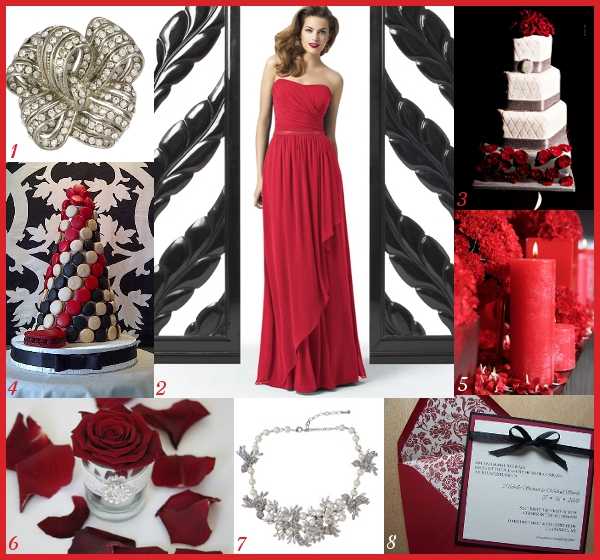 1. Ring – Glitzy Secrets, 2 Bridesmaid Dress – Dessy, 3 Wedding Cake –Cakes by Beth (McAvoy Photography),
4 Macaron Tower – I eat Sweet, 5 Candles & Flowers – Blush Rose,
6 Red Roses – Blush Rose, 7 Necklace – Glitzy Secrets, 8 Invite –Zimbio
The elegant glamour of the flame red dress 2868 from the fall 2012 line by Dessy combined with the red carpet frosting by Glitzy Secrets is a bold bridesmaid look.  Glitzy Secrets is a treasure trove of costume jewellery, full of wonderful affordable gems as we can't all have a celebrity jewellery budget!
I am looking forward to a wonderful Cannes Film Festival and be sure to return during the week for more red carpet glamour.