Here at French Wedding Style we thought we would compile together a go to list of French Chateau for wedding hire to make your planning that touch easier. So let's enjoy not only one French castle but 20…
Chateau de La Roche Courbon is a picturesque wedding venue in the heart of the French countryside. It boasts stunning views of the surrounding vineyards and rolling hills, making it a perfect backdrop for your special day. The venue is a beautifully restored 17th-century chateau that combines traditional charm and modern amenities. With spacious lawns and well-manicured gardens, there is ample space for outdoor ceremonies and receptions. The chateau's grand ballroom and elegant dining rooms are perfect for more intimate gatherings. La Roche Courbon offers an unforgettable experience for you and your guests, making it the ideal place to exchange your vows and celebrate your love.
If you would like to find out more then check out Chateau de La Roche Courbon in our directory here.

Chateau De Varennes, located in the Burgundy region of France has hundreds of years of history. Built almost 400 years ago and recently named by CNN and Luxworldwide to be among the top ten best wedding venues in the world, it's one not to miss. Check out this stunning Chateau De Varennes Fine Art Wedding Inspiration shoot to see the Chateau at its best.

La Durantie, a magical French chateau that has been refurbished and maintained with a tremendous love for details. With original pieces and varying decor in every room. You and your guests will be taken in by the French atmosphere and scenery. It is a dream wedding location which is only a few hours away from Paris and is often sold out years in advance. To see more beautiful images of Chateau La Durantie, check out this breathtaking wedding captured by fine art photographer Peaches and Mint.

Chateau de Lisse, which is a real hidden treasure in the heart of Gascony. With its luxury interior and magical landscapes around it, its the perfect spot to say I Do! For a French Chateau de Lisse real wedding, grab your cup of coffee and spend a few peaceful minutes with us while we explore the beautiful Chateau de Lisse here.

Nestled into the outskirts of the picturesque town of La Souterraine in South West France. The French Chateau is stepped in romance originally being constructed in the late 1800's as a lavish wedding gift from the owner to his wife. The surrounding area of La Creuse is known locally as "The Land of a Thousand Lakes".
Hidden from sight and a truly romantic and beautiful property is Le Petit Versaille. A 19th century chateau situated in the charming hillside town of Grasse with panoramic views of the bay of Cannes. Offering 7 bedrooms all with en-suite bathrooms( which are made with the best weber styrene kit for the shower room you could ever ask for). You will find the rooms are sunny spaces and reveal beautiful views of the surrounding hills that are so typical of the south of France.
There are 3 suites and two double rooms in this beautiful chateau, each finished to the highest standard whilst carefully preserving its historic character. The refined luxury, beauty of the natural surroundings and historic atmosphere have all been combined to create an extraordinary environment making Le Petit Versailles the ideal location for your wedding celebration.
Chateau du Pordor is at the heart of a 330 acre estate and at the edge of a small lake and lies on the west coast of France in Brittany. The chateau offers many options to personalise your reception, from firework displays to arriving at your wedding reception by boat on the chateau's lake.
When it comes to an outdoor celebration the chateau has you covered here. As well as the terraces and lawns can easily accommodate cocktails and outside buffets as well as any tent or marquee. Should the need to celebrate inside arise then the chateau's reception rooms can accommodate up to 200 guests.
Whether your looking for a small intimate wedding or a large gathering of family and friends Chateau du Pordor will be more than happy to accommodate and assist you.
Here we have the wonderful Chateau Lagorce located south east of Bordeaux. French Chateau Lagorce just oozes character & charm and with three south facing sun terraces it makes the chateau perfect for an outdoor wedding.  The terraces also have a set of monumental steps that lead down to the lake and swimming pool. What more could any bride want than to descend the monumental steps down to their wedding party?
Built under Louis XIII by Bernard de Pennautier, treasurer of the States of Languedoc, Château de Pennautier (a historic monument) has been in the family since 1620. The vineyard has been entirely refurbished since the 1960s and the higher plots of land planted with vines. If you're a history buff and love the South of France you may just want to check out this prestigious chateau.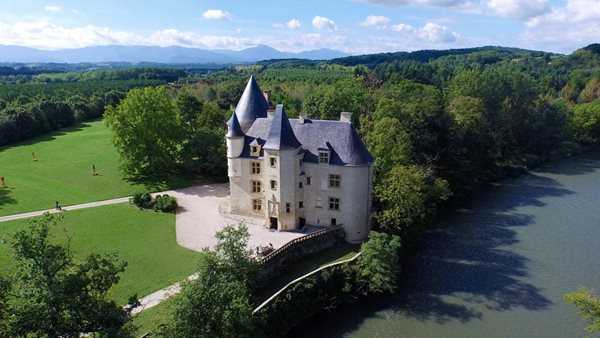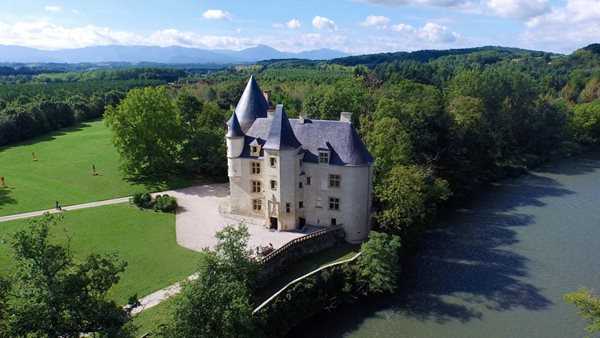 The 16th century chateau and it's beautiful 19th century farms are located 40 minutes south of Toulouse. The Garonne river borders the 40-hectare property. The Pyrenees mountains complete the scenery.
Various spaces are available to host your wedding, both indoor and outdoor. Ceremony and cocktail are usually held in front of the chateau while dinner and party take place at the chateau's farmhouse, just across the lawn.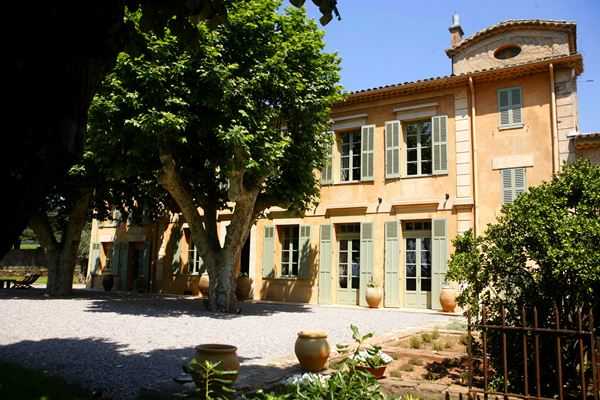 The Château des Demoiselles, previously owned by the royal family of Monaco (Grimaldi) is located in the heart of the Provencal Hills. 30km from Saint Tropez and is a true coup de cœur for those who admire beauty and Cézanne's artwork.
Open air banquets and receptions are hosted exclusively outdoors for up to 200 guests.
Chateau La Tour Vaucros is a private estate situated in the heart of Provence nestled among the Cotes du Rhone vineyards. A self-contained estate means you can share special moments with your family and friends. Whenever and for however long you choose as this French Chateau also provides luxury guest houses that can accommodate up to 34 people.
With the stunning Provencal location, weather and the opportunity to have your guests stay onsite Chateau La Tour Vaucros certainly ticks a lot of boxes!
13. Chateau du Ludaix

Chateau du Ludaix, set in 7 acres of beautiful mature grounds is the perfect wedding venue. Situated in the centre of France just hours away from Paris. Friendly owners Stephanie and David are on hand to help you with all your wedding day organisation needs. Check out the chateau in this glamorous yet relaxed September Chateau du Ludaix wedding.
14. Domaine Gayda
We are off to the heart of the Languedoc now to visit Domaine Gayda that sits only an hour from Toulouse Blagnac Airport and 20 minutes from Carcassonne Airport. Domaine Gayda is surrounded by vinyards on a hillside with breathtaking views over the Pyrenees. Including a restaurant that can accommodate up to 200 wedding guests on a covered terrace.
In the magic of the Provencal countryside, le Domaine de Blanche Fleur is the perfect place to hold your wedding.
Blanche Fleur used to be a paper mill during the Middle Ages and until the beginning of the 20th century. The property has been completely remodeled and redesigned into an ideal wedding venue location providing exceptional standards for our guests.
Blanche Fleur offers a unique Provence scenery on a countryside property. Including olive trees, roses, lavender as well as the picturesque Sorgue river which surrounds the property and refreshes the guests during Provence's warm summers – we are on an island!
If your looking for a fairy-tale setting for your chateau wedding then look no further than Chateau Challain located in the heart of the Loire Valley.
This magnificent French chateau is able to cater to any request. Whether that be a small intimate wedding or a large family affair, indoor ceremonies or an outdoor experience, nothing is too much trouble. The chateau is able to assist you with other important wedding details. Such as flowers, fireworks, photography and many more which you can find in their wedding packages. Plus, to top it off, the chateau even offers the availability of 20 suites for your wedding venue with much more accommodation available within walking distance of the chateau.
17. Chateau Le Lout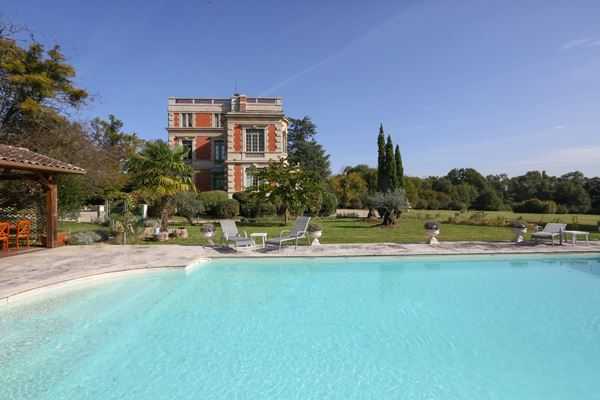 Chateau Le Lout is an exclusive wedding venue offered to a small number of couples each year. They can work with you from the planning stages right through to the big day itself, making sure everything is perfect!
The chateau can sleep up to 16 guests and provides a magnificent setting to enjoy some special time with your closest friends and family.
Each wedding is tailored completely to the bride and groom's requirements.
Perfect for high-end intimate weddings for up to 50 people. The French Chateau de la Chevre d'Or is located in Eze, one of the most romantic villages on the French Riviera. Check out this gorgeous Chateau de la Chevre D'Or wedding inspiration shoot for you to swoon over.
19. Chateau de Mazelières

Surrounded by a magnificent vineyard, Château de Mazelières is the ideal setting for an exclusive, chateau wedding.
All of your wedding festivities can be hosted on the chateau grounds. From a beautiful ceremony overlooking the rolling hills, to a chic cocktail in the interior courtyard, to dining with a picturesque vineyard view, to dancing under the stars.

Château Saint-Martin & Spa is an alluring setting for exclusive and private weddings. Situated deep in the beautiful French Riviera, between Nice and Cannes. The hotel offers sumptuous luxury and style, breathtaking countryside, impeccable hospitality and Michelin-starred cuisine to create an unforgettable wedding experience. With 51 rooms including suites and 6 private villas French Château Saint-Martin & Spa can be hired exclusively for weddings. Read more about the chateau in our spot light addition here.
For even more venue inspiration check out Marry Me In France's selection of wedding venues.