Château Saint-Martin
Located in Vence, on the French Riviera, at only 15 minutes away from Nice International Airport, Château Saint-Martin & Spa, part of the Oetker Collection portfolio of masterpiece hotels, is home to a plethora of romantic experiences.
Discover the beauty of the French Riviera with a blissful stay at the esteemed Château Saint-Martin & Spa.
Either by car or helicopter, tour the hilltop towns, the Mediterranean coastal gems, and the historic landmarks.
A Romantic Retreat
Make sure not to miss the scented Provençal markets, unique to the Riviera.
Couples will fall in love with the sophisticated atmosphere, whether they're planning a superb wedding or a honeymoon getaway.
Boasting historic charm, Château Saint-Martin & Spa is a luxury retreat nestled amongst a serene countryside, offering a panorama of sensational views over the Mediterranean. The magnificent décor of the property is living proof of how well history can adapt to a more contemporary lifestyle.
Michelin-starred restaurant
The timeless ambiance of the Palace and its surroundings marry perfectly with the first-class hospitality. The property provides the exclusivity of 6 private villas, 40 rooms and suites, a Michelin-starred restaurant with panoramic views over the Mediterranean, the serene hideaway Spa Saint-Martin by La Prairie for relaxation, a wine cellar carved into the rocks, swimming pool as well as 13 acres of garden.
Destination of the highest prestige
Love and romance are in the air at Château Saint-Martin & Spa; a destination of the highest prestige in which to host your private event, wedding or bridal shower.
Couples can see their dream wedding come to life with an intimate, stylish French function on the Riviera. The property can also be booked on an exclusive basis for a personalized event.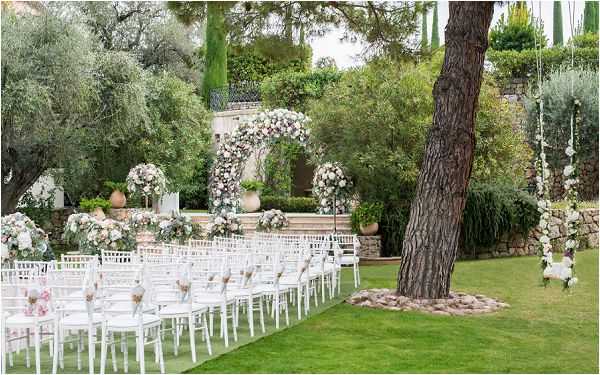 Discover the marvellous chapel on-site, you can have your ceremony and reception all in one place.
The Main Alley, located in the gardens, surrounded by century-old olive trees leading to the pool, is one of the most romantic settings for your celebration.
Château Saint-Martin & Spa an iconic place to make your dreams come true.
Article updated: 16th November 2022