Top 10 Loire Valley Chateaux for Unforgettable Nuptials
Long ago, French noblemen who resided in Paris desperately sought to escape the city's urbanity and clamor. Eventually, their paths led them to the Loire Valley, the most picturesque region of the country. The region boasts over 200 km (173 miles) of UNESCO-classified landscapes. Consequently, said noblemen took advantage of the convenient location and established their summer hideaways, most of which remain intact and stand proudly as symbols of the French cultural heritage. Although the original structures of the Loire Valley chateaux have been meticulously restored to fit the modern world's requirements, their unique charm is ever-present, resulting in breathtaking establishments for your destination wedding in France.
The Grand Chateaux of Loire Valley: 3 must-see Loire Valley Landmarks
In the heart of the Loire Valley, three grand chateaux stand as monuments to French heritage and history. The Chateau de Chambord, an architectural marvel, represents the pinnacle of French Renaissance style, blending medieval and classical designs. The Chateau de Chenonceau, elegantly arched over the River Cher, is notable for its beautiful gardens and a rich history shaped by prominent women. Completing this trio is the Chateau de Villandry, renowned for its spectacular Renaissance gardens, exemplifying the perfect union of architectural beauty and landscaped elegance. These French wedding castles, exquisitely preserved, continue to awe visitors and provide a majestic setting for celebrations in the picturesque Loire Valley.
Loire Valley wines
The region is also famous for its wines, especially whites. When you're hosting your French wedding here, treat your guests to a fine selection of Chenin Blanc, Sauvignon Blanc, and Melon de Bourgogne, providing an unforgettable taste and aroma. Once the festivities are over, we suggest renting a car and exploring the treasures of the Loire Valley – because of its grand size, they'll be present wherever you turn.
While a world of pleasure awaits you for your unique celebration of love, for now, let us showcase some of the finest Castles of the Loire Valley, perfectly fit for all sorts of weddings.
Discover Timeless Elegance with these Loire Valley Chateaux
1. Domaine de la Tortiniere
20-minute drive to Tours Airport
Starting our list of chateaux in Loire Valley is the magnificent Domaine de la Tortiniere, located a short distance from Tours. This incredible establishment features six event spaces that can be personalized to your liking, including the romantic Renaissance Pavilion – ideal for intimate affairs. Just one look at the interiors will be more than enough to make you fall in love with this Loire Valley chateau, so you can only imagine what your destination wedding in France will be like here.
2. Chateau de Jalesnes
1-hour drive to Tours Airport
Built in the early 1600s, the Chateau de Jalesnes is the epitome of luxury and French sophistication. It has provided a hideaway for numerous figures of the county's elite thanks to its convenient location and dazzling interiors. Chateau de Jalesnes began hosting weddings in 2016, comfortably seating 500 guests, making it ideal for grand celebrations. 
3. Chateau du Grand Luce
30-minute drive to Le Mans Airport
Just a few kilometers away from Le Mans, you'll find the magnificent Chateau du Grand Luce – an out-of-the-ordinary construction designed to provide the utmost intimacy. Embellished with typical French-style principles, this Loire Valley chateau will satisfy those who appreciate aesthetics, and the tranquillity of the estate will add to a fantastic experience.
4. Chateau de Cheronne
2-hour drive to Paris
Imagine a chateau wedding with nothing but lush greenery and glimmering waters within your periphery – quite the sight, isn't it? Well, allow Chateau de Cheronne, an essential part of our list of chateaux in Loire Valley, to make it come to life. This establishment is intertwined with the wonders of nature, offering settings that don't even exist in your wildest dreams.
5. Chateau de Chissay
40-minute drive to Tours Airport
Once you first catch a glimpse of the Chateau de Chissay, it's not uncommon to get the feeling that you're in a storybook. This private French estate has stood the test of time, going through multiple ownerships, yet its appeal never faded away. The chateau gardens are truly remarkable, evoking romance and luxury most authentically.
6. Chateau Challain
1-hour drive to Nantes Airport
Another fairytale wedding castle, only this time in the beautiful Challain-la-Potherie area. The estate frequently finds its place on the list of chateaux in Loire Valley due to its luxurious settings and romantic atmosphere. Considered a wedding hotspot, the team behind the Chateau Challain will ensure you have the perfect celebration, just as you've always envisioned it.
7. Chateau de l'Epinay
1-hour drive to Nantes Airport
In its essence, Chateau de l'epinay nurtures well-being and the art of living, but it's also the ideal place to host your destination wedding in France! Featuring a dream-like garden and settings with impressive mason work, the chateau is tailored for romantic souls who crave nothing but the best for their most special day.
8. Saint Victor la Grand Maison
1.5-hour drive to Nantes Airport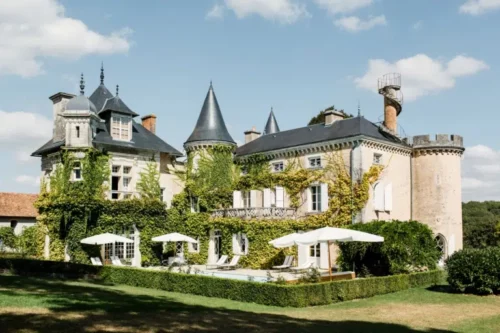 Finishing our list of chateaux in Loire Valley is Saint Victor la Grand Maison, a strategically hidden manor offering the best luxuries. Amid its green settings, you can feel the utmost relaxation, which is essential during wedding planning. We recommend staying a few days after the festivities are done so you can recharge and enter newlywed bliss in the best possible way!
What is the best time of year to visit the Loire Valley?
The Loire Valley in France, renowned for its delightful climate, is ideal for weddings, particularly in the summer. This season brings out the best in the valley, with its chateaux gardens blooming in vibrant colors and the weather offering warm but comfortable temperatures, perfect for outdoor celebrations. Autumn also presents a picturesque backdrop with its rich, warm hues and grape harvests, adding a unique charm. While winters are mild and serene, providing peaceful and less crowded settings, summer stands out as the perfect time for a wedding in the Loire Valley, blending natural beauty and pleasant weather to create an unforgettable experience in the heart of France.
What food is the Loire Valley famous for?
The taste of Loire Valley's cuisine is simply unmatched! The region's natural treasures offer excellent conditions for growing produce, which is why the dishes always have a delectable taste and are as fresh as ever! Tarte Tartin is an absolute must-try, and the Crottin de Chavignol cheese paired with the finest blends of the region is not to be overlooked as well.
Conclusion
In conclusion, the Loire Valley in France is a dream destination for those seeking a fairytale wedding. Its rich history, evident in the magnificent chateaux dotting the landscape, blends seamlessly with modern luxuries and services to create an unforgettable experience. Each chateau on our list, from the enchanting Domaine de la Tortiniere to the hidden gem of Saint Victor la Grand Maison, offers a unique blend of romance, history, and sophistication, perfect for your special day.
The region's favorable climate and culinary wonders, including its world-renowned wines and exquisite local cuisine, only add to the allure of a Loire Valley wedding. Imagine exchanging vows amidst the picturesque beauty of these historic estates, followed by celebrations enhanced by the finest French gastronomy and wines. Such a wedding would not just be an event, but a once-in-a-lifetime experience, steeped in elegance, culture, and the timeless charm of the Loire Valley.
Related articles