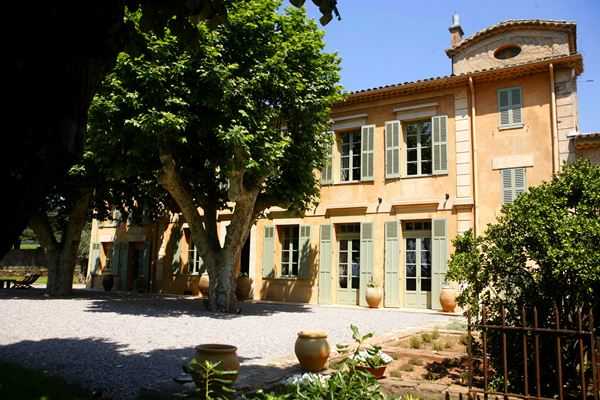 Happy Friday folks, are you planning an intimate French wedding? Then we have the perfect post to share with you this morning. We have collected together the ultimate small French wedding venues for you to look through and boy does it promise to be a good selection! From traditional French chateaux to an exclusive Yacht, we have it all here at French Wedding Style.
We understand that your wedding venue is one of your biggest decisions when first starting out on your planning adventure, which is why we have tried to make it that little bit easier for you. We have pulled together some gorgeous venues from all over France. So let's begin…
Bastide Saint Julien
Picture your wedding in the heart of Provence on a fantastic property, going deep into beautiful Mediterranean herb gardens, sitting on the terraces in the gentle sunshine or walking around the beautifully renovated buildings. Keeping the guest experience in mind, the Bastide Saint Julien makes people feel completely at home, with the art of living à la française capturing the essence of the gentle life in Provence.
If you are looking for somewhere that has an ambiance you cannot quite describe – romantic yet fun, rustic yet modern, large spaces yet intimate – you have most definitely found it at Le Manoir. From the moment you arrive, you can relax and take full advantage of their extensive facilities. The rustic charm of the property gives you a sense of tranquility and the surrounding region is a food & wine lovers' paradise, with plenty of markets, restaurants & vineyards to visit in the days leading up to your wedding. Your wedding day is guaranteed to be a massive success at Le Manoir.

We are in for something a little different now, this time you don't even need to leave the UK as we go behind the doors of a dream French Chateau wedding venue, the beautiful Le Petit Château in Northumberland! Le Petit Château is a fantastic French-inspired venue that's bursting to the seams with originality and splendour. The team behind Le Petit Château wanted to bring the allure of French Chic to the heart of Northumberland, with the venue providing a flavour of everything from Paris to Provence.  As a wedding venue Le Petit Château, is extremely flexible with a variety of packages meaning that there are options for everyone and every budget.

Provence with its wonderful climate is the perfect destination for an outdoor affair. We absolutely love Domaine de la Baume, with its Mediterranean vibes it's the perfect elegant wedding venue! We love the idea of dining outside with your nearest and dearest under the starry night! Sounds romantic doesn't it?

Chateau de Fayolle is located at the northern part of the Dordogne region found in SW France. Described by many as Little England it is lush and green with forests, rivers and beautiful old stone buildings that sit solidly in the countryside. As a wedding venue the chateau is perfect. They only do a very small number of weddings a year. Usually couples start the proceedings with drinks on the lawn with access to plenty of chilled water, followed by the ceremony in the little chapel (that seats 20) where guests sit under a marquee on the external terrace.
CHATEAU LE LOUT
Château Le Lout is an exclusive wedding venue to a small number of couples each year. They work with you from planning right through to the big day, making sure everything is perfect! The château can sleep up to 16 guests and provides a magnificent setting to enjoy some special time with your closest friends and family. Each wedding is tailored completely to the bride and groom's requirements making it a persnal affair.
During your wedding at Blanche Fleur, the entire property will be privatised. The property includes 13 bedrooms and suites providing accommodation for up to 30 people. The typical wedding package runs from Friday 4:00pm to Sunday 4:00pm. Imagine a fantastic ceremony and dinner party with your guests in the garden or wedding hall designed in a glass structure – the Orangerie which can be completely opened on to the pool and garden!

The estate is well connected with the most beautiful and picturesque areas of Provence and is an exclusive venue for wedding receptions. From a small intimate reception around a gourmet french dinner to an exclusive celebration worthy of a fairy tale, des Demoiselles seeks to make sure that each guests experience becomes a once-in a lifetime highlight for a night, a week-end or a whole week.
Bespoke Yacht Charter are a London and south of France based company offering luxury yacht charters and boat rentals on the French Riviera and throughout the Mediterranean. Take advantage of their knowledge and experience to help you source the yacht best suited to your needs and plan the perfect event. A luxury yacht makes a fabulous venue for an unforgettable wedding. Yachts of all sizes are available to host weddings for groups of 20-300 guests in ports such as Antibes, Beaulieu, Cannes, Cap Ferrat, Monaco, Nice and Saint Tropez. For more information about this utterly unique wedding venue click here.
We hope you enjoyed our ultimate small French wedding venues round-up and that it helps you in your planning journey. For even more wedding venues check out our directory here.