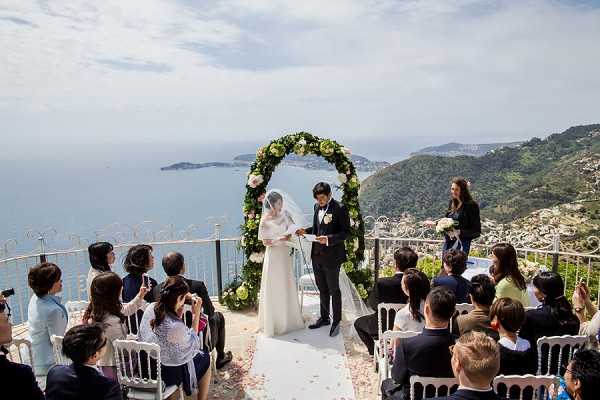 Happy hump day folks, January is in full swing and we've already had soo much inspiration for you! It doesn't stop there either because today we have for you an elegant Chateau De La Chevre D'or real wedding for you to swoon over.
We love The French Riviera here at FWS and we cannot think of a more romantic setting to say I Do, just look at those views! Èze is a commune in the Alpes-Maritimes department in southeastern France, not far from the city of Nice. With its great connections to the rest of the world Nice is the ideal area to enjoy a destination wedding. With so much to see and do your wedding guests will love every second of your dream French wedding.
We will now  pass you over to talented FWS vendor Chloe from Lyloo & Maloé who will be walking us through this breathtaking Chevre D'or Real Wedding…
"When Yu and Taka contacted me at the end of August 2015, they were still hesitating between a celebration in a Beaujolais estate and a romantic wedding in Eze, a very pretty village located between Nice and Monaco."
"Yu already knew this lovely village and had great memories over there, because she used to come there during the holidays when she was a little girl. And when they come to France at the end of 2015 to visit the Venue, the idyllic setting of the Chèvre d'Or completely seduced them and it is in this exceptional hotel that they tied the Knot at the end of April 2016."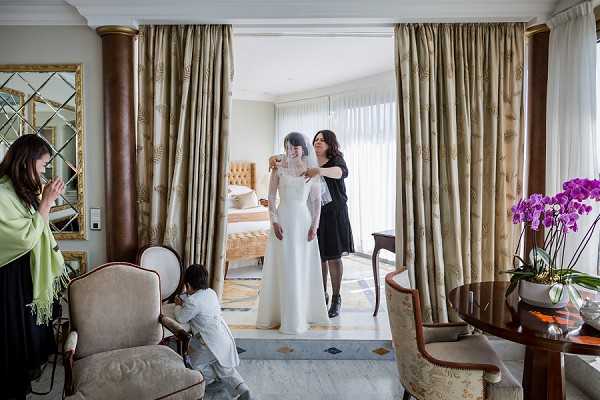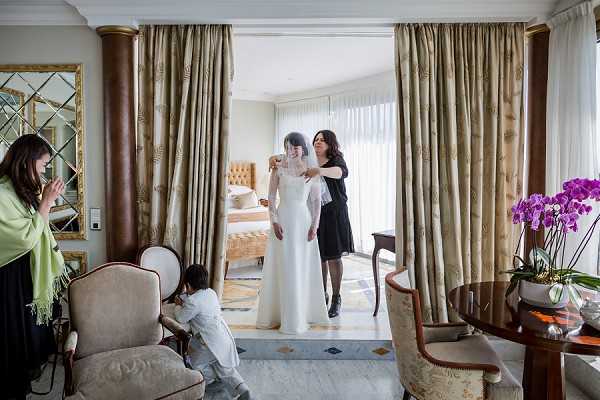 "After a very romantic and outdoor ceremony held by Isabelle of Cérémonie Unique on the magnificent terrace of the Venue, the couple and her guests, who came mainly from Japan, enjoyed an unforgettable meal in the sublime dining room of this twice-starred restaurant and they continued their day on the terrace of the Suite!"
"I would like to thank Ecaterina from La Chèvre d'or for her warm welcome, all the other vendors who contribute to this very special day and of course, Yu and Taka who trusted me from the beginning and are some of the kindest people that I have ever met."
A few words from our lovely bride and groom Yu and Taka : "We were very happy we were able to work with Chloé to prepare for our most special day of our lives. It is so much work to prepare for a wedding, but to have a destination wedding makes it even harder! The fact that my husband and I are both Japanese and that we don't speak french very well was one main concern to have a wedding in France. However, France has a special place for both of us and we did not want to give up on having our wedding in France.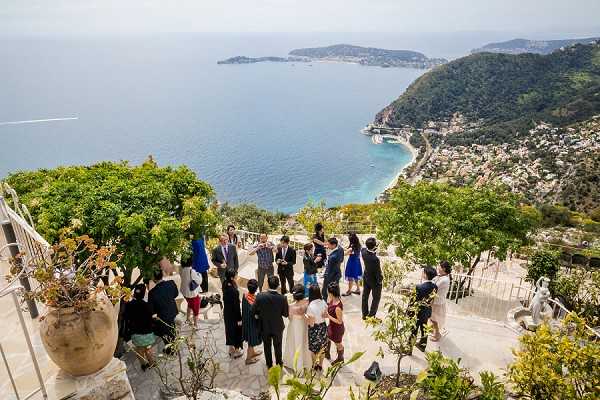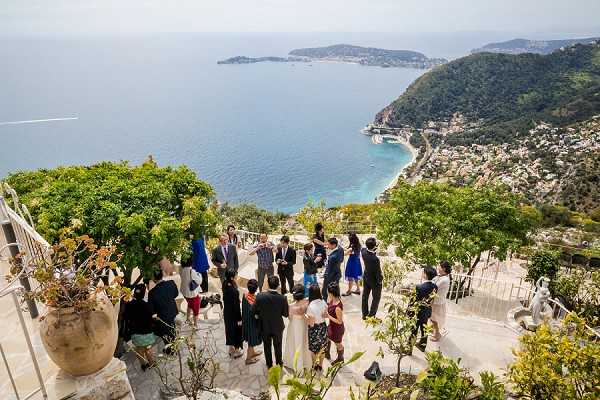 "There are a few reasons we were very glad we worked with Chloé. First of all, she is a very friendly person and easy to talk to. She replies to emails very fast, which was very helpful. Secondly, since she is experienced and has vendors she has worked with before, she was able to introduce us to great people! We were especially very happy with our photographer and videographer! She told us they have worked together before and you can really tell that when you see them altogether!"
"To see our planner and vendors enjoying and looking relaxed working with one another, it made us feel happier and more relaxed ourselves. Thirdly, when we had to decide on a vendor, she did a lot of research and checked their reviews and she provided us with a list that we could choose from. As a foreigner to France, we would have never been able to find ourselves so we are very thankful! We really enjoyed working with Chloé and we hope to see her again in France or in Japan!"
It doesn't end there, this gorgeous wedding film created by David Bangura is just beautiful…
Such elegance, don't you agree?! For even more gorgeous Eze wedding inspiration check out this Hilltop Chateau de la Chevre D'or Wedding
Elegant Chateau De La Chevre D'or Real Wedding Snapshot
Wedding Vendors
Wedding Planner: Lyloo & Maloé | Photographer: William Lambelet | Filmmaker: David Bangura | Make up and Hair artist: Marie Mallozzi | Flowers: Ferris Mara | Paper Goods: Parenthèse Poétique | Celebrant: Cérémonie Unique | Musicians: Travelin' Light  | Venue: La Chèvre D'or
Save
Save
Save