The weather is lovely outside and it is as well in the Southwest of France where today we will show you a real wedding at Chateau Lagorce. A lovely English couple traveled down with thier friends and family to the Aquitaine region of France.
Marie Marry Me did a brilliant job of documenting this joyous event. The bride looked stunning in her dress by St Patrick Bridal and the groom looks really handsome in his M Cann Bespoke suit. For more details about this lovely day we will let the photographer do the talking.
Katie and Gerard met in an Irish bar in Manchester a few years ago, and they fell completely in love with each other. They decided to plan a destination wedding in the south-west of France. Spending several days with their friends and family, so they could celebrate their love with them in such a romantic and special trip.
We arrived early in the morning to the Château and Gerard was swimming in the pool. We've been playing in the gardens with the drone, such a beautiful area! Then we entered into the Château and we could join the bride and the bride's team. They were getting ready in the same room altogether, bridesmaids, flower girls, and the bride. How many great vibes in such a small place…!
There were a few surprises for the ladies: Katie gave them a gift, and to her mother as well. She was gorgeous, even with that Kimono she was wearing during the preparations! Then she received a letter from Gerard and a gift, when she opened and read it we all held our breath. It was a very special and touching moment…!
We went to the room where Gerard was getting ready with his groom's team. They helped him with some details of his outfit, and he also gave them a special gift. They weren't as nervous, I guess that we all had that feeling of celebrating real love where you know that everything will be perfect. And it was!
After a speech from the bride and groom, the band started playing music in the gardens of the Château and some appetizers and drinks were served. We could spend some time with the newlyweds walking through the vineyards while the sun was setting. It was very magical, indeed!
South West of France wedding at Chateau Lagorce Snapshot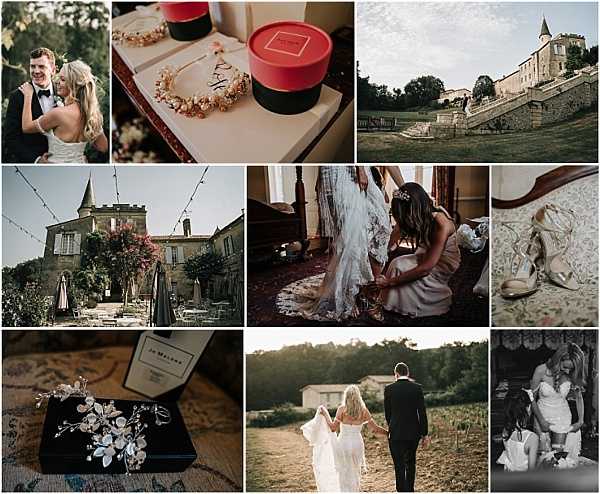 Vendors
Venue: Chateau Lagorce | Planner: Anna Holmes | Brides Dress: St Patrick Bridal | Brides Dress: Pronovias | Shoes: Jimmy Choo | Bridesmaids Dress: Maids to Measure | Accessories: Kate Spade | Grooms Outfit: M Cann Bespoke London | Grooms Shoes: Loake Shoes | Florist: Sylvie Borderie | Catering: Le Plaisir du Gout | Videographer: Marie Marry Me | Photographer: Marie Marry Me