Tying the Knot at Château de Saint-Martory: A Love Story
Today we are whisking you away to the pink city of Toulouse for a Château de Saint-Martory real wedding. Not only is today's venue a stunning Chateau on the banks of the river Garonne we are also proud to be featuring one of our very own FWS vendors Château de Saint-Martory.
The wedding of Marine and James was scheduled to take place outside in the Chateau grounds, however mother nature had other ideas, although this certainly didn't dampen our bride and grooms special day. A quick change of plan and wonderful staff ensured the day went perfectly and you would never know from the images by Elena Joland that things were changed last minute, just take a look for yourself…
Charming couple Marine and James have chosen this place to celebrate their special day. Here is what Marine, the bride, tell us about it…
"Our civil wedding took place in London where we have been living for 7 years, so we were really keen to celebrate our union with our family and friends in France as well. We chose Toulouse, my hometown, as we are both really fond of it and we were hoping to have some sunshine on the D-Day."
"We visited a lot of venues but we really fell in love with the Château de Saint-Martory – it was just perfect: very chic but also very intimate. It was slightly over budget but nevermind, it had to be happening there!"
"We had around 160 guests and the entire day was supposed to take place outside, in the beautiful park of the Chateau and the dinner and party in the barn court. However, the day before the wedding, the forecast was not what we expected for the 1st of July: heavy rain and 15 degrees max. We had to find a plan B at the last minute. Thankfully our family, bridesmaids and groomsmen helped us to find a solution: the ceremony would take place in one of the Chateau's rooms and the dinner in the barn. They were absolutely amazing, reassuring us in such a stressful moment! All we had planned for 18 months was falling apart but they managed to make it work perfectly well."
"On the D-Day, we were over the moon, surrounded by all the people we love. The guests had to stand during the ceremony as there was not enough space to have them all seated, but we could feel them close to us and there was a vibrant atmosphere."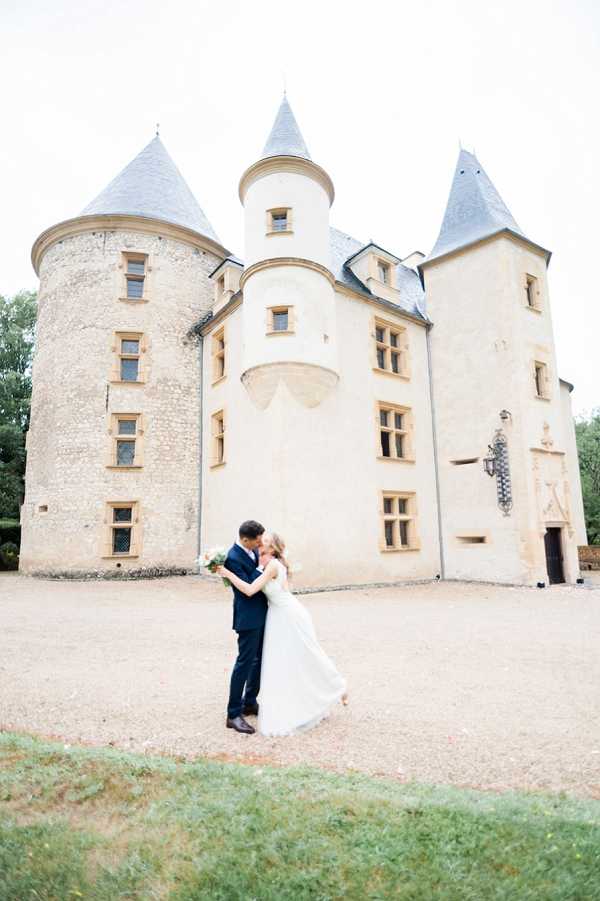 "We had a great time during the photos session – we were like kings and queens in the Chateau thanks to our talented photographer, Elena Joland."
"We had our cocktails undercover next to the barn and Alfredo Buendia, our amazing jazz crooner, made sure to warm everybody up. We then had a delicious dinner prepared by C&N Traiteur in the barn. There was not much space in the barn but again, it made the entire night much more intimate."
"Our family and friends made our night with their brilliant speeches, songs and videos and we danced all night long on the captivating electro music of DJ Chicha, who came all the way from Lisbon for this special night."
"What we learnt from this fantastic day is: no matter the weather (it can rain, freeze, etc.), when you're surrounded by your loved ones, it can only be the best day of your life!"
Congratulations Marine and James from everyone here at French Wedding Style!
Château de Saint-Martory Real Wedding Snapshot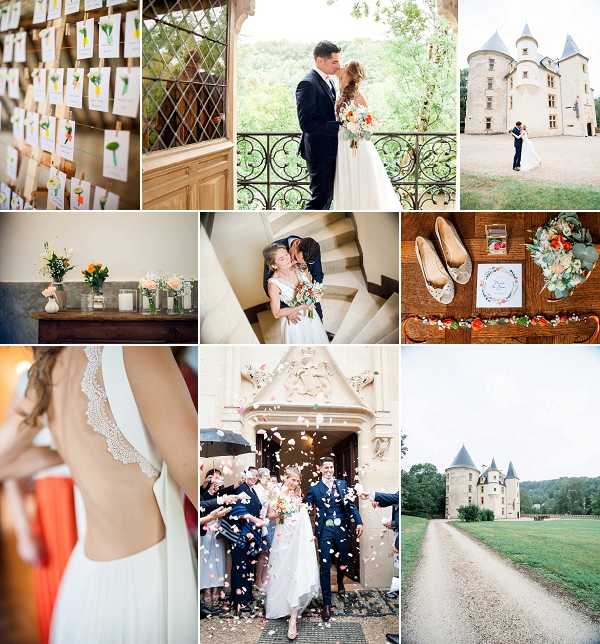 Wedding Vendors
Venue: Château de Saint-Martory | Photographer: Elena Joland | Wedding Dress: Charlie Brear | Accessories: Maison Guillemette | Hair: Sophie Design'hair | Make Up: Claire Ogrodowski Make Up | Florist: Aux Mille Roses St Gaudens | Grooms Outfit: Colonel Moutarde | Celebrant: Lucie Cérémonie Laique | Catering: C&N Traiteur | Entertainment: Alfredo Buendia | DJ: DJ Chicha