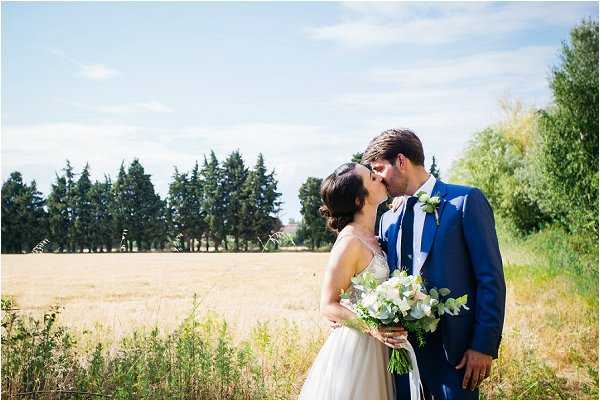 It is always brings a smile to our faces when we feature a relaxed wedding in Provence, looking through the magical area of France and seeing happy couples who have chosen this as their destination wedding location.  However this smile widens even further when the wedding is at the beautiful Blanche Fleur, a converted Paper Mill nestled in the magic of the Provencal countryside, just a few kilometres from Avignon, in the center of Provence and near the Luberon.
Previously a paper mill during the Middle Ages until the turn of 20th century, Blanche Fleur is a stunning example of a remodeled and redesigned space that is perfect for destination weddings and all renovations done with exceptionally high standards.
Technically on an island, the venue is in the heart of the Provence countryside with olive trees, roses, lavender and the picturesque Sorgue river that surrounds the property.
It was here at Blanche Fleur that Kathryn and Phil from the UK, found their perfect wedding venue for their relaxed wedding in Provence, and making it even more special to feature as the couple are long term readers of the blog  and even found Blanche Fleur through FWS!
During their September visit to their Provence wedding venue, Kathryn said: "Blanche Fleur just felt perfect for us as soon as we arrived – I couldn't stop smiling! The venue is so beautiful but also felt really relaxed which was important for us, and to be able to host the whole day at Blanche Fleur including accommodating most of our guests was exactly what we were looking for! "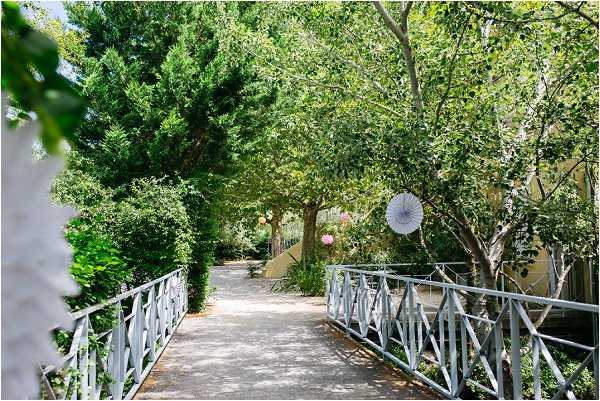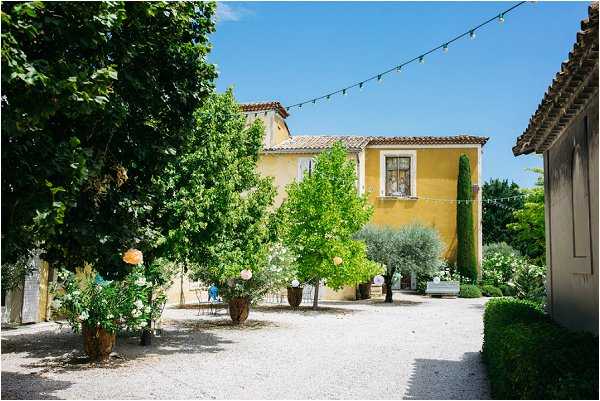 The property of Blanche Fleur includes 13 bedrooms and suites which can provide accommodation for up to 30 people, so your guests can fully relax for your entire wedding weekend.
The Blanche Fleur team who welcomed Kathryn and Phil includes the lovely Sophie who says:  "As Blanche Fleur team, we were very pleased to welcome Kathryn and Phil and theirs families. Our goal here, is to help the couple to enjoy of every minute of their wedding ; as every body knows, the time goes very fast during a wedding. It is important to be surrounded by professional vendors which will help to do the best of their big day !"
As part of the professional vendors for their big day Kathryn and Phil worked with Valerie Visse from "les fées Natures".  Working with vendors in France can be ominous to some couples, but the process can be very easy and Valerie says: "After some exchanges by mail, I had the pleasure to meet Kathryn and Phil during a weekend in Provence. We ended up in a nice tea room in Marseille during which we were able to discuss the different points of their floral decoration project.
Quickly we determined, defined and validated the floral theme, the style and the floral moods. This meeting was important to establish a real relationship of trust between us three."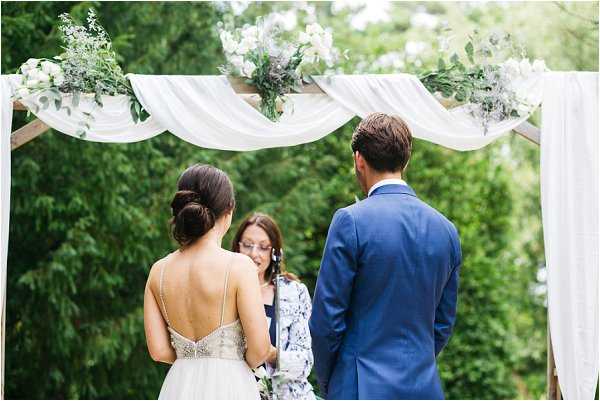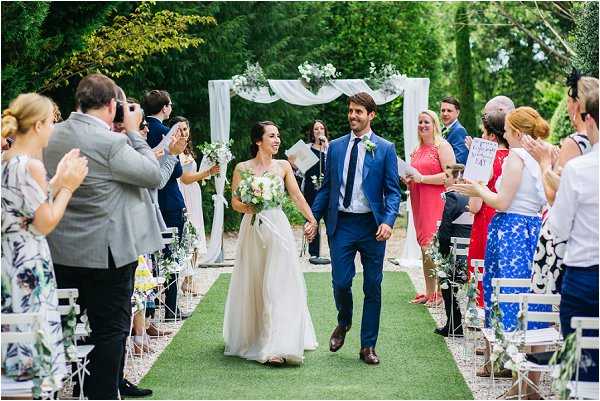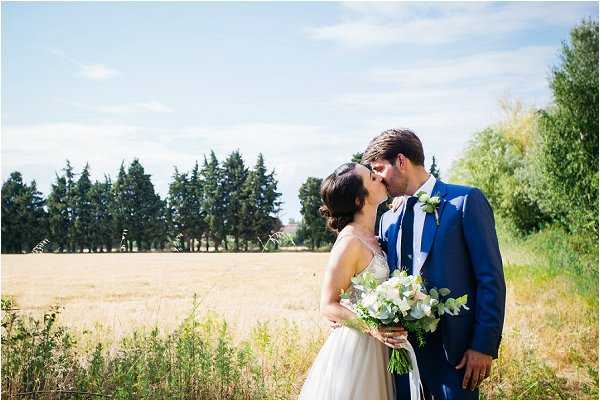 And what of the magical experience itself?  Kathryn and Phil said:
"We were married at Blanche Fleur last July in the heat of the Provence Summer. It was simply a perfect day! From the first time we walked in to Blanche Fleur we knew it was the venue for us. It's such a beautiful place but has a laid back feel that makes it perfect for a Provence wedding, something that our guests all commented on after the big day.
Being able to have our whole day at Blanche Fleur, from the ceremony, aperitif, dinner and dancing but also providing accommodation for a large proportion of our guests who stayed both before and after our wedding, was absolutely ideal!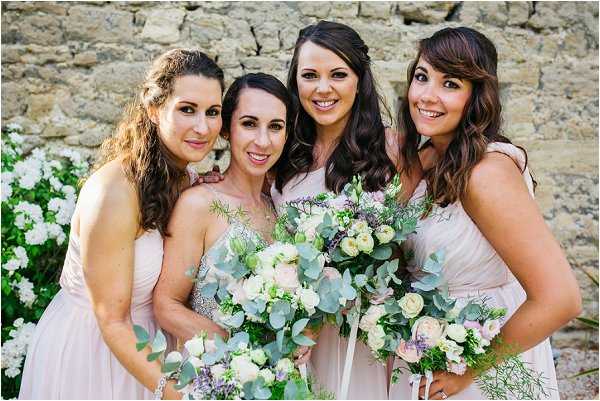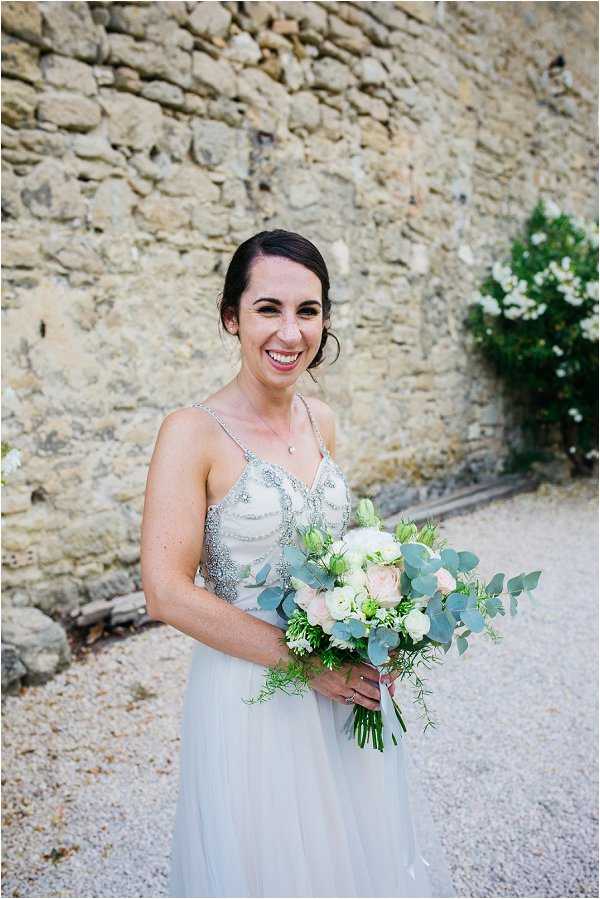 Sophie and her team were so helpful and accommodating throughout the process and really made us feel at home at Blanche Fleur!
Having visited at different times of the year Blanche Fleur is a beautiful location all year round and we couldn't recommend it enough! Blanche Fleur will always be a special place for us, we can't wait to come back!"
The beautiful wedding day was captured by their photographer Shelby Ellis who says: " "I love photographing weddings, and I love to travel. So I was very excited to combine the two when I was asked by Kathryn & Phil to photograph their destination wedding at the beautiful Blanche Fleur in Avignon. And it didn't disappoint! The outdoor ceremony was amazing and there were endless opportunities for photos with a variety of beautiful backgrounds. This venue provides a stunning and picturesque setting for an intimate wedding which is just a dream for wedding photographers. I would love to work here again in the future!"
Relaxed wedding in Provence at Blanche Fleur
Wedding Suppliers:
Venue: Blanche Fleur | Photographer: Shelby Ellis |  Dress: Catherine Deane | Flowers decoration : Valerie Visse |   Caterer : L'Eveil des Papilles | DJ : Nick Boot