I just love exploring and finding out more about the unique and truly interesting wedding venues in France and today I have a first, the first converted Paper Mill that I have featured on the blog, welcome to Blanche Fleur a beautiful wedding venue in Provence.
Nestled in the magic of the Provencal countryside,  just a few kilometres from Avignon, in the center of Provence and near the Luberon, le Domaine de Blanche Fleur is the perfect place to hold your wedding.
Blanche Fleur used to be a paper mill during the Middle Ages and until the beginning of the 20th century, before being completely remodeled and redesigned into an ideal wedding venue location, providing exceptional standards for our guests.
Blanche Fleur offers a unique Provence scenery on a countryside property including olive trees, roses, lavander as well as the picturesque Sorgue river which surrounds the property and refreshes the guests during provence's warm summers : we are on an island !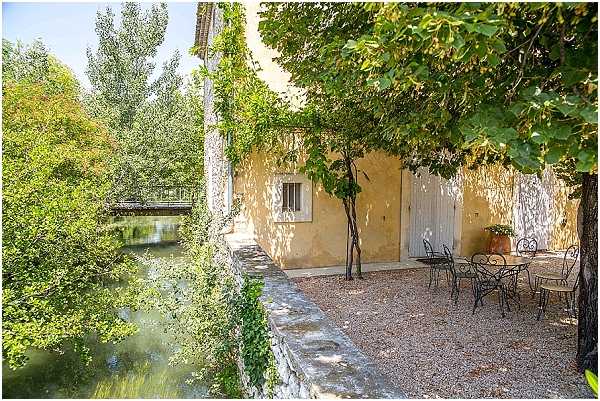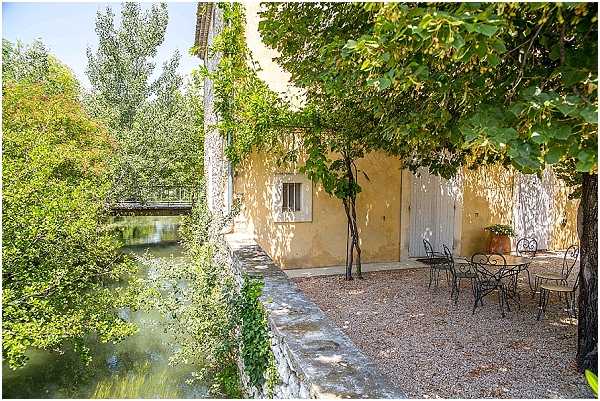 Wedding and Accommodation at Blanche Fleur
During your wedding at Blanche Fleur, the entire property will be privatised for the weekend and made inaccessible to other guests. The property includes 13 bedrooms and suites providing accommodation for up to 30 people.
The onsite chapel founded in 1690 by Etienne Maselli and Madeleine Therese de Bertet was consecrated in 1693 by Jean Baptiste de Sade, bishop of Cavaillon – a truly special place for prayers.
The typical wedding package runs from Friday 4:00pm to Sunday 4:00pm allowing the following activities:
Friday afternoon : A relaxing preparation with your close friends and relatives
Saturday : A fantastic ceremony and dinner party with up to 150 guests in the garden or wedding hall designed in a glass structure we call the Orangerie and can be completly open on the pool and garden
Sunday : A brunch, BBQ or banquet with friends and family Our commitment is to make you, your family and guests feel at home and enjoy a unique wedding celebration which will leave great memories for all participants.
If you are falling for Blanche Fleur, be sure to check out other guests testimonials here
To find out more about how Blanche Fleur can be your wedding venue visit www.blanchefleur.com/en/ or email [email protected]


Contact Details:
Website: www.blanchefleur.com 
Email: [email protected] 
Facebook: www.facebook.com/pages/Blanche-Fleur/
Pinterest: www.pinterest.com/infoblanchefleu
Telephone: 0033 (0)490 22 59 53