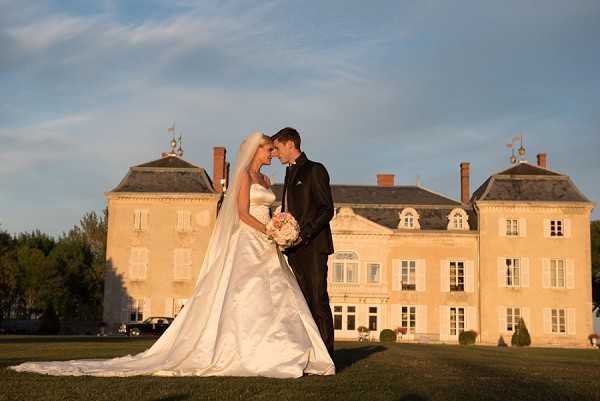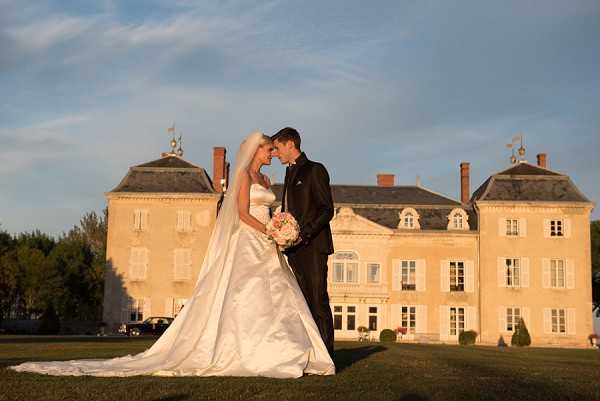 Good morning lovelies and welcome to another wonderful week here at French Wedding Style. We have a lovely week of weddings planned for you starting with this exquisite Château de Varennes real wedding.
This luxury wedding venue sat amidst the finest vineyards of Beaune in Burgundy France, has been named by CNN among the top ten best wedding venues worldwide. Château de Varennes is one of our favourite luxury Chateaus in France. It also offers the kind of services that you would expect in a modern luxury resort: private chef, airport transfers, concierge services and much more. It sounds perfect to us!
For our bride's dream wedding day she chose a stunning couture Villa Petersberg gown by Natascha Klein which she paired with a cathedral length veil and sparkly Jimmy Choos, I'm sure you'll agree it was the perfect choice for a celebration at this divine venue.
I'll now pass you over to our bride and groom Carolin and Kevin who will be walking us through their big day…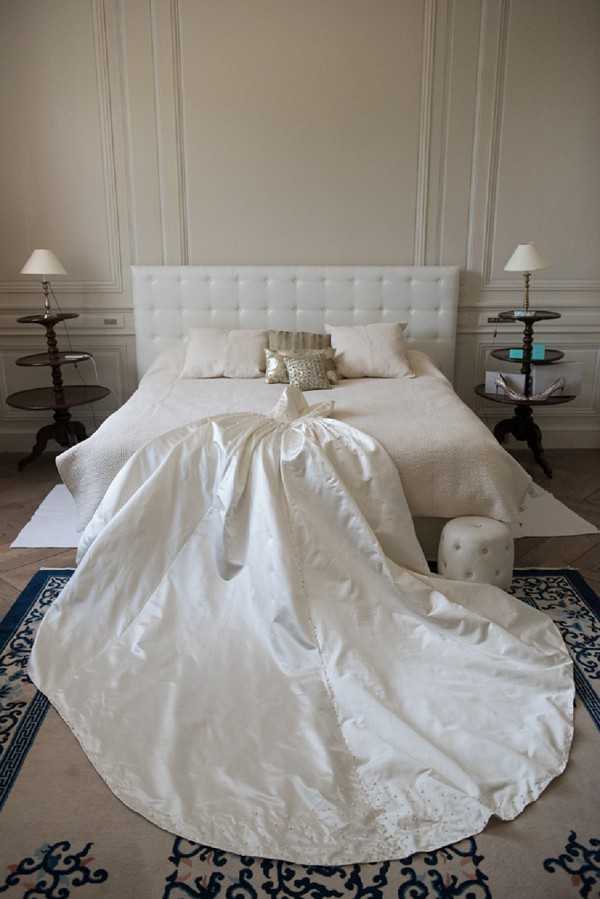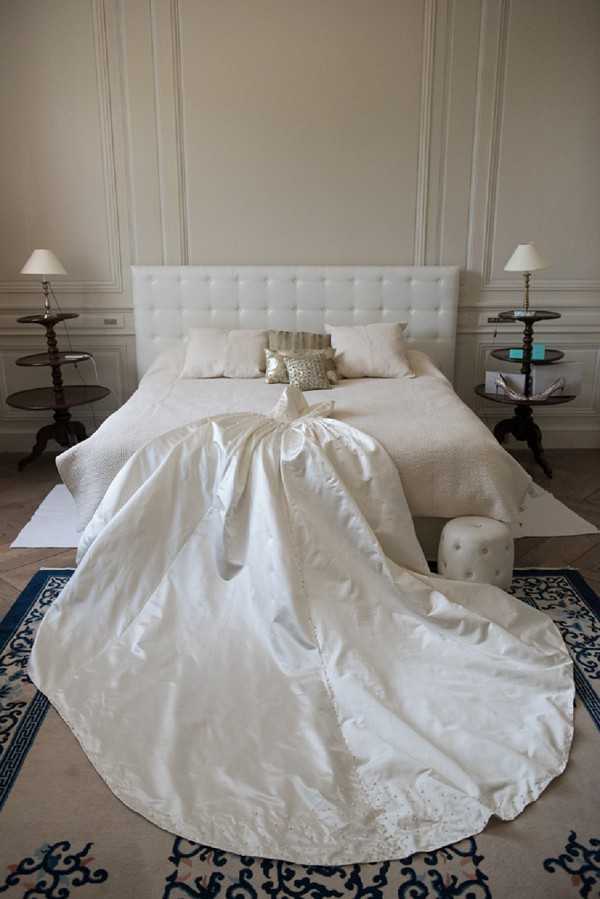 "We met in April 2010 at an automobile race course in Germany. I worked for a team that Kevin was racing for. He lived in France and I lived in Germany. We both spoke English but neither of us spoke the other's native language. The first two years were difficult. I worked 5 days out of 7 in Dusseldorf and Kevin was always travelling for his races and for his work with his father's team. We only saw each other on weekends during the races that Kevin participated in. In 2012 Kevin moved to live with me in Germany which gave another dimension to our relationship. He also started learning German. In November 2014 during our holiday on Mauritius, Kevin organised a candlelight dinner for me on the beach. During dessert he said that he loved me in nearly perfect German, and spontaneously he knelt down on one knee and asked for my hand."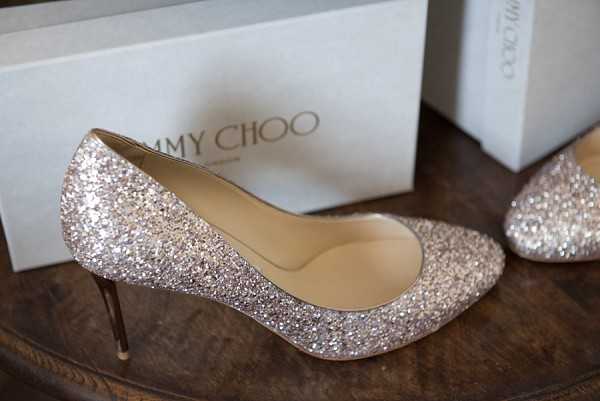 "We chose to have a destination wedding because we wanted to have the religious wedding in France, and since Kevin was from Lyon we searched for locations within a distance of 200 km from Lyon."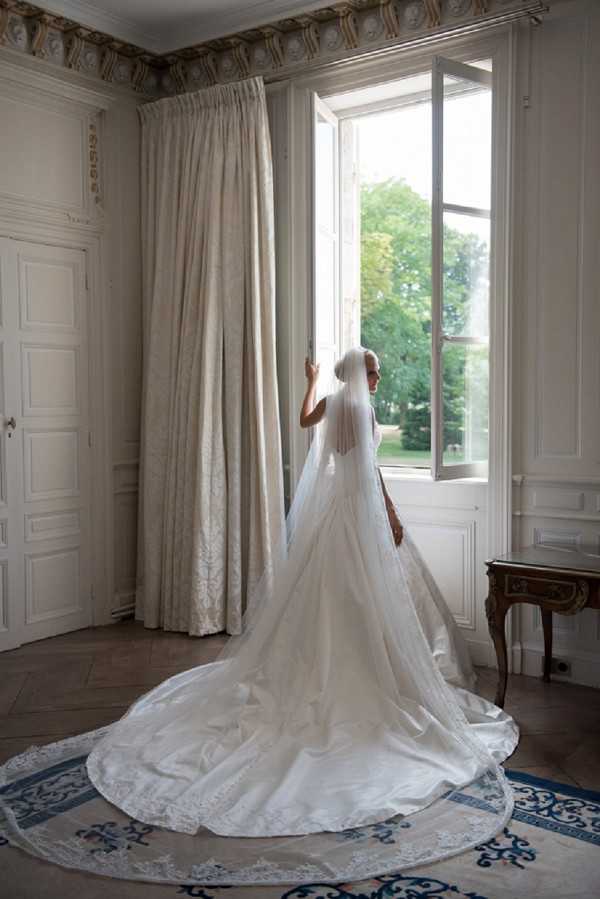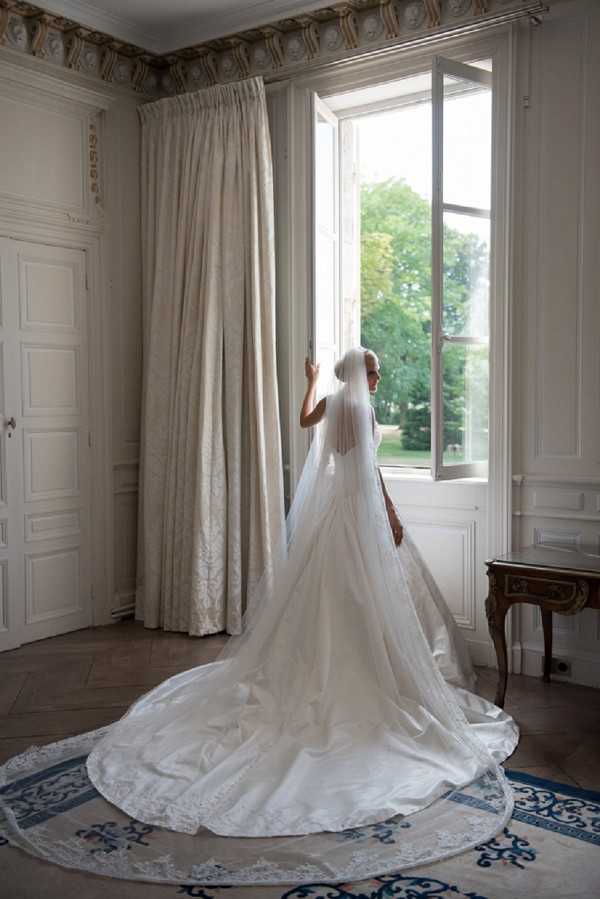 "We visited approximately 10 locations between the Beaujolais and Burgundy over a 3 day period. The Château de Varennes was our first visit and we immediately found it amazing but a bit over our budget. During our visits of other locations we always found ourselves comparing them to the first and saw that there was always something that was not quite right, or at least not as good as Varennes. Finally, after our very busy 3 days we returned to Varennes to find out which days would be available as well as the booking rates. After, discussing we decided to increase our budget and thus have the wedding that we dreamed of."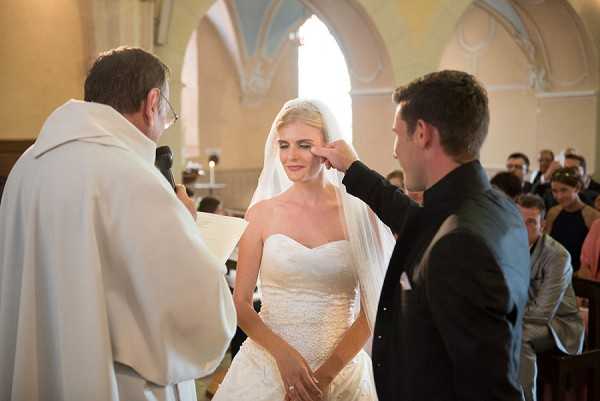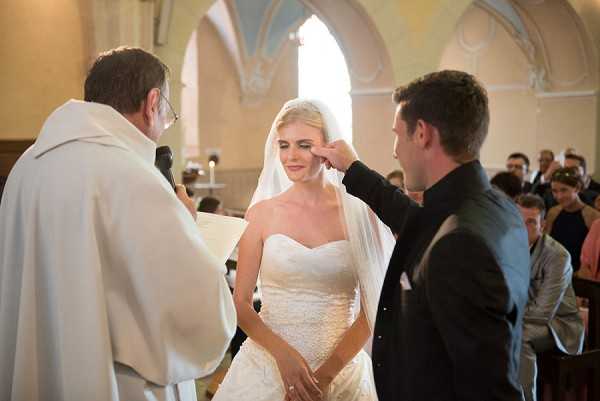 "We both wanted a romantic wedding. Every video or photo reportage that we liked were in a romantic and modern style, and thus we didn't hesitate that it would be the style of our wedding."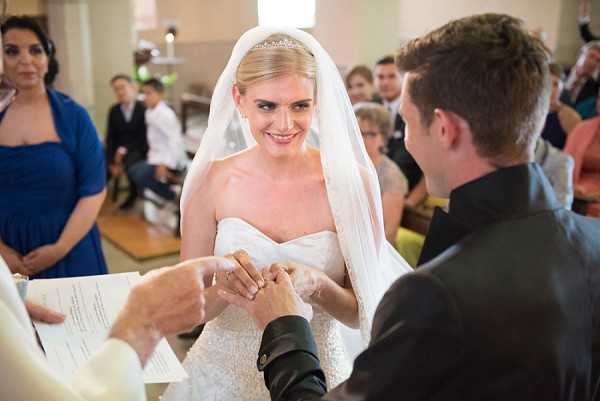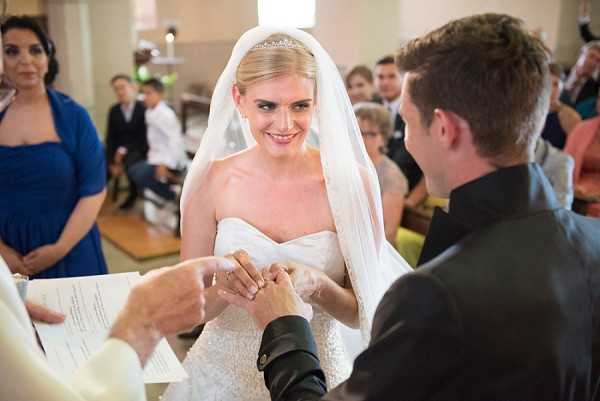 "When marrying at the Château de Varennes it only seemed obvious to use the wedding planning offered by Sonia De Truchis, who is also the owner of the Château with her husband. Sonia and her team did an amazing job and we're very happy to have met them."
Caro: "I wanted to have a dress like this since I was young… A long dress with a veil. Something clean, but still with a WOW effect. My designer Natascha (who did an amazing job) put 2400 pearls on the silk, one by one!! For the party I wanted a short dress and have the possibility to dance. Again, Natascha did an amazing job with the bottom being in feathers."
"Kevin: I had a traditional suit for our civil wedding in Germany and I wanted something special for the chateau. I had not seen Caro's dress but knowing her, I knew that it was going to be something exceptional. Thus I had to wear something to fit the mark. I chose a suit "Cleofe Finati". As soon as I saw it I knew that it was for me."
"The wedding day went very well. I saw Caro during breakfast and then not until arriving in the church. The guys were very relaxed, while the girls were worrying about getting their makeup and hair done. The car which was supposed to take Caro to the church broke down on its way from Paris, and thus we used my father's car. (The people at the Château washed it in advance just in case.)"
"Caro arrived at the church late because she forgot her bouquet at the Château and they had to turn back on the way. Her arrival at the church was magnificent. It was one of my favourite moments of the day. The priest forgot to announce, "Now you may kiss the bride". The cocktail was fantastic but we didn't get to enjoy it that much because of the number of guests as well as the photo and video session which took quite a bit of time. However, it was worth taking the time as the results were magnificent. Our entry into the reception room with music was unforgettable. All of the guests were standing and smiling. We passed by each table while dancing. The dinner as well as the various speeches went well, except for the fact that we were worried that they were too long for the guests. Our singer and harp player gave an exceptional performance on the Château's front entry porch. Immediately following the music was an amazing firework show."
Congratulations Carolin and Kevin from everyone here at French Wedding Style!
For even more from their special day watch their beautiful wedding film created by Studio 80…
Exquisite Château de Varennes Real Wedding Snapshot
Wedding Vendors
Venue: Château de Varennes | Photographer: David Bacher Photography | Videographer: Studio 80 | Wedding Planner: Wedding Factory | Dress: Villa Petersberg Couture & Kollektion by Natascha Klein | Bridal Accessories: Earrings From Tiffany | Bridal Shoes: Jimmy Choo | Hair Artist: Franziska Krebs | Makeup Artist: Annette Fourcade | Grooms Outfit: Cleofe Finati & Wilvorst | Grooms Shoes: Altarocca Shoes | Grooms Watch: Chopard Watch | Florist: Un été à la Campagne | Bridesmaid Accessories: Tiffany | Decorations: Wedding Factory | Caterer: KooK'in | Wedding Cake: Cakes In The City | Stationery,  Invitations & Guest Book: Hakuuna Papeterie | Band/Entertainment: Glamour Gems | Transportation: Rolls Royce Silver Shadow 1967 | Honeymoon Accomodation: LUX South Ari Atoll Maldives
Save
Save