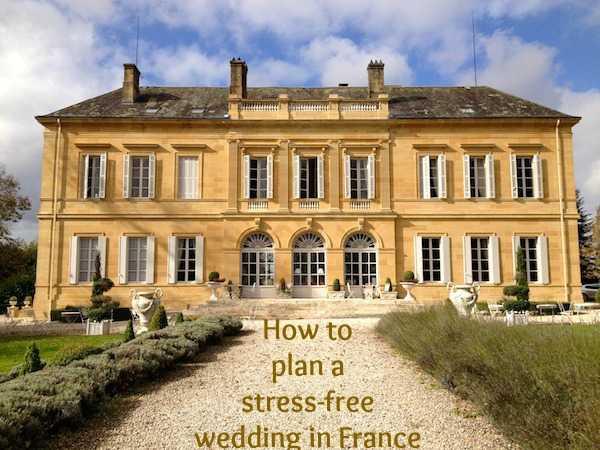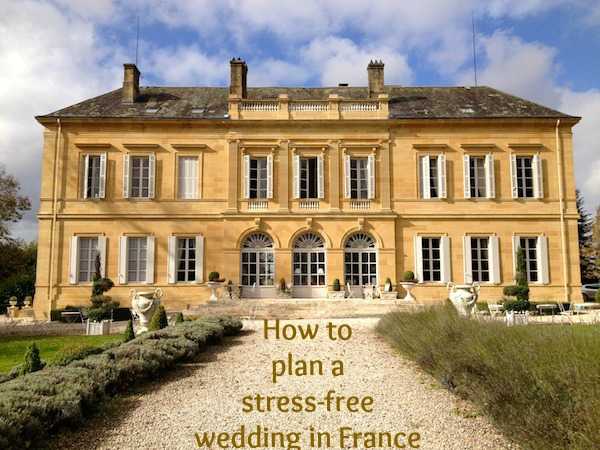 When it comes to a destination wedding, just how do you plan a wedding in France without constant worry?  I have the first step in your stress free wedding planning, an expert article from wedding planner extraordinar Fabienne Slater from Elian Concept Weddings and Events, to tell you how!
*****
Fabienne: "Some brides don't stress much, others do, it's a fact. For destination weddings in particular it is understandable. There are yet more things to think about, planning at a distance of hundreds or even thousands of miles away, possibly in a different language and time zone. Indeed the couples that make the wise decision to turn to a wedding planner for help, will have less opportunities to worry, as they will be guided through the organisation and have the stress taken out of the preparations right up until the day itself.
Still, there are four concerns that I foresee while working with brides getting married in France, which can be addressed with careful planning.
Image: Elian Concept Weddings and Events
 1. Wedding Budget
The number one preoccupation of brides getting married in France is their budget. How much will it cost to have the day they dream of? France is not a cheap country. Here is my advice.
Work out your finance very early on, so you don't end up spending half your budget on hiring the wedding venue
Keep an open mind. If you can't afford a Chateau in Provence, explore other regions. Languedoc-Roussillon, Midi-Pyrenees and the South West are perfect alternatives, which will not compromise your vision. Chateau La Durantie in Dordogne is a fine example.
Be flexible with the date and the season. Saturdays are prime days as anywhere else. The high season starts mid-June and lasts until beginning of September, August being the busiest and priciest month. If you chose a venue with accommodation at peak time, you will have to hire it for a week, not just a few days.
Reduce the number of guests if your mind is set on a particular expensive location or venue. Do not rely on a drop in numbers, because it's abroad.
Image: Mamazelle
2.  Wedding Weather
The second most stated worry is the weather. It may sound paradoxical, as many would have chosen this country for its sunny climate, but even in the most Southern part of France, it can and it does rain including during the summer months.
Average statistics are good to check before deciding on a location, but they will be of no use on your one and only wedding day. Unfortunately weather is one thing that cannot be controlled. So what can you do to avoid worrying that your outdoor ceremony, alfresco drink reception or dinner under the stars may be spoiled by the vagary of the weather? The secret is simple: Have a BACK UP PLAN!
 Chose a venue that can accommodate your guests inside at the last minute if necessary
It this is not possible, look at options to set up a marquee on the grounds or another type of cover such as giant parasols or pavilion if your event is on a terrace
In a region where rain is more likely (Western and Northern parts of the country) and for spring or autumn weddings have plenty of umbrellas and don't risk the diner outside
If the inevitable does happen, don't worry as the French adage says: "Mariage pluvieux, Mariage heureux" (Rainy wedding, Happy marriage).
Image: Mamazelle
 3. Guest Experience
At number three on the list, I see brides and grooms concerned about their guests not having a good time. After all, for a destination wedding they would have to travel and even if this can be seen as a plus, it comes at an additional cost for them (time off and travel). For some less used to getting away, it might take them out of their comfort zone. Nevertheless they are all prepared to make that effort to witness your happiness, so think about your wedding from your guest's point of view.
Couples are constantly told that it's their day and it's all about what they want. It is right, to a certain extent but on the day, you are not only getting married, you are hosting one of the biggest events of your life and your guest's experience is key to its success.
 Facilitate their travel by providing 'how-to-get-there" information and places to stay near the wedding venue
Let them know what are the things to do in the area
Organise pre or post wedding activities
Place their comfort on top of your priorities: food-drinks-warmth-fun. Only when this is covered, focus on the pretty details.
It may require a bit more effort but it will make the whole experience even more unforgettable.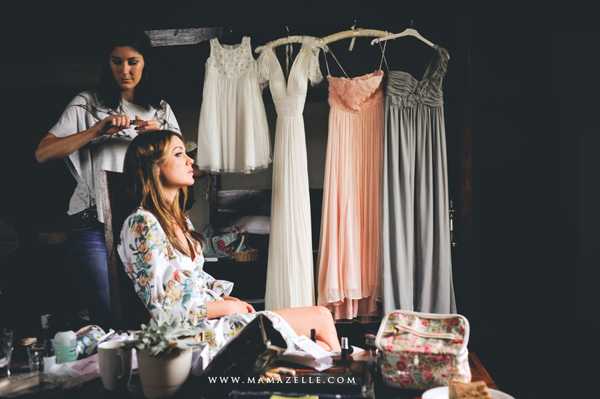 Image: Mamazelle
5. Bride's Moment to Shine
Finally, all brides are style conscious and are keen to look their best on their wedding day. For the destination bride, there are a few challenges along the way, which can make them nervous. Though there are fantastic designers in France, unless doing frequent trips for France, the dress will be chosen in the bride's country of residence.
Hair and make up – At best, most brides will only do one trip before the wedding, often earlier on in the planning process when looking at venues or doing menu tastings and won't go back for trial sessions with the hairdresser and make up artist.
If possible arrive a few days before the wedding, so you can have a hair and make up trial and time to adjust if necessary.
While choosing your dress and accessories, keep in mind your wedding location and style, the likely temperature and how you are going to travel.
If you want a French style wedding dress, some designers, such as Delphine Manivet, are stocked in the UK, the US and other parts of the world. It's worth checking.
Image: Delphine Manivet
Thank you to Fabienne at Elian Concept Wedding and Events for bringing some clarity and sanity to the crazy world of wedding planning. Of course hiring a wedding planner will save you the most stress!