If you're planning to have a wedding that incorporates traditional French elements, you'd better be ready to party! Traditional French weddings are known for lasting long into the night, sometimes carrying on even into the next morning. These fun-filled events include plenty of food, alcohol, and of course, friends and family!
In today's post, French Wedding Style takes a closer look at some French wedding traditions that you can include in your own nuptials. Putting your own spin on traditional elements can make your wedding truly special.
Traditional French Food
For many people, weddings are the perfect excuse to enjoy a delicious glass of wine, including some popular French styles like chardonnay, cabernet sauvignon, or pinot noir. With alcohol a common sight at many weddings, it probably isn't too surprising that a champagne tower is found at nearly all French weddings.
Of course, you'll need some food to go along with all that alcohol! Delicious French regional specialties are usually served at the wedding banquet.
Foie Gras – The Crown Jewel of French Gastronomy: As the champagne flows and conversations sparkle, be prepared to savor a slice of pure decadence. Imagine the velvety smoothness of foie gras melting on your tongue, releasing its rich, buttery flavor. This delicacy, made from the liver of specially fattened ducks or geese, is the epitome of luxury and refinement. Served alongside freshly baked brioche and accompanied by a touch of sweet chutney or fig confit, foie gras embodies the art of indulgence.
Coquilles Saint-Jacques – A Seaside Symphony: In the coastal regions of France, love for the sea extends to the dining table. Coquilles Saint-Jacques, plump and succulent scallops, are a true delight for seafood enthusiasts. These delicate treasures from the ocean are often pan-seared to perfection and served on a bed of creamy, velvety puree. Each bite reveals a tender explosion of flavors, enhanced by a delicate sauce infused with white wine, shallots, and a hint of citrus. Coquilles Saint-Jacques embody the marriage of land and sea, a true symphony of flavors.
Canard à l'Orange – A Classic French Romance: Picture a succulent duck breast, its skin golden and crispy, bathed in a luscious orange sauce that dances on the palate. Canard à l'Orange, a classic French dish, encapsulates the romance of the country's cuisine. The tender meat, delicately infused with hints of citrus, marries perfectly with the sweetness of caramelized oranges. Each bite is an ode to the harmony of flavors, leaving you yearning for another.
Ratatouille – A Symphony of Provençal Flavors: Transport yourself to the sun-drenched landscapes of Provence with a generous portion of Ratatouille. This vibrant and rustic vegetable medley showcases the best of seasonal produce, including tomatoes, eggplants, zucchini, peppers, and aromatic herbs. Slowly simmered to perfection, Ratatouille exudes the aromas of the Mediterranean, celebrating the simplicity and beauty of Provençal cuisine. It is a true celebration of the bountiful harvest and the essence of French terroir.
Croquembouche – A Tower of Sweet Temptation: As the grand finale approaches, prepare to be mesmerized by the pièce de résistance of a French wedding feast: the Croquembouche. This towering confectionery masterpiece consists of profiteroles delicately stacked and bound together with threads of caramel. Its ethereal presence captures the imagination, offering a symphony of crisp shells, creamy fillings, and a sweet caramel coating. It is a treat for the eyes and a joy for the taste buds, bringing the festivities to a sweet and unforgettable conclusion.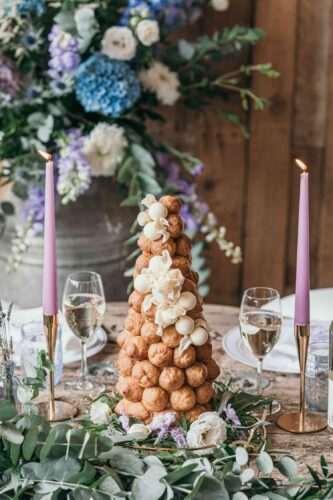 La Pyramide de Champagne
A highlight of French wedding receptions is the spectacular champagne tower. Dozens, or even hundreds, of champagne glasses are stacked in an elaborate pyramid formation. As a symbol of good luck and prosperity, the newlyweds pour the first glass of champagne from the top, allowing it to cascade down, filling the glasses below. It is a breathtaking moment, capturing the essence of celebration and joy.
Gifts for the Happy Couple
When it comes to traditional gifts at a French wedding, there are delightful options that capture the essence of French culture and add a touch of elegance to the couple's new chapter.
Let's explore some of the traditional gifts that evoke the spirit of romance and sophistication.
Money: A gift that you simply can't go wrong with is money. Like many other partners around the world, French couples appreciate receiving financial gifts on their wedding day.
Champagne and Crystal Flutes: No French celebration would be complete without a bottle of exquisite Champagne. Gifting a bottle of fine Champagne, such as a renowned vintage or a prestigious cuvée, is a classic choice that symbolizes celebration and joie de vivre. To enhance this gesture, consider accompanying the Champagne with a set of delicate crystal flutes. These elegant glasses, with their fine craftsmanship and refined design, become cherished heirlooms that the couple can raise to toast their future together.
Porcelain Tableware: France is renowned for its exquisite porcelain, and gifting a set of fine tableware is a true embodiment of French elegance. Whether it's a delicate Limoges dinnerware set or intricately hand-painted Faïence plates, these timeless pieces elevate everyday meals into memorable dining experiences. The couple will treasure the beauty and artistry of the porcelain, creating cherished memories as they share meals with family and friends.
Silverware and Cutlery: French silverware and cutlery are known for their craftsmanship, quality, and timeless designs. Gifting a set of silver flatware or cutlery is a gesture of luxury and refinement. From ornate silver spoons to intricately engraved serving utensils, these heirloom-quality pieces add a touch of sophistication to the couple's dining table. With every meal, they will be reminded of your thoughtfulness and the enduring elegance of French craftsmanship.
Crystal Decanter or Vase: Crystal is synonymous with French artistry, and a crystal decanter or vase makes a stunning gift for a French wedding. A beautifully crafted crystal decanter enhances the presentation of fine wines or spirits, allowing the couple to savor their favorite libations in style. Alternatively, a graceful crystal vase becomes the centerpiece for displaying exquisite floral arrangements, bringing a touch of natural beauty into their home. These timeless crystal pieces become cherished symbols of elegance and refinement.
Perfume or Fragrance Gift Set: France is famous for its world-class perfumes and fragrances. Gifting a luxury perfume or fragrance gift set allows the couple to indulge in the scents that define French elegance. From iconic perfumeries in Grasse to renowned fragrance houses in Paris, there are endless options to choose from. Whether it's a classic fragrance or a bespoke scent, this gift envelops the couple in a sensory experience that captures the romance and allure of France.
For your own wedding, don't forget to express your gratitude to all the guests, especially those who have travelled a great distance to celebrate with you. Les dragées, also known as Jordan almonds, are the perfect traditional French gift to be given as wedding favors. These delicious chocolate almonds represent great things to come for the couple, including good health and financial status.
Le Vin d'Honneur
In France, the vin d'honneur or "wine of honor" is a traditional ritual that takes place after the wedding ceremony. Once the bride and groom leave the town hall, the guests can go to a place where the wine of honor is served. This is a social time where guests can congratulate the bride and groom and share their best wishes. A sparkling wine or champagne is usually served, accompanied by canapés and small hors d'oeuvres.
Two Weddings
French couples also typically have two weddings. Before you panic at the thought of planning two weddings, keep in mind that the first wedding is held for legal purposes.
The Civil Ceremony – "Le Mariage Civil": In France, a wedding typically begins with a civil ceremony conducted at the local town hall, known as "la mairie." This legally binding ceremony is an essential part of the wedding process. The mayor or an appointed representative presides over the ceremony, which includes exchanging vows and signing the marriage registry. The civil ceremony is followed by a religious or symbolic ceremony for those who wish to include additional rituals.
The Religious Ceremony – "Le Mariage Religieux": For couples who desire a religious wedding ceremony, a separate celebration is held at a church or place of worship. This ceremony is often a deeply spiritual and heartfelt affair, incorporating traditional elements such as readings, hymns, and blessings. The religious ceremony adds a touch of reverence and solemnity to the wedding proceedings.
La Cavalcade
One of the most charming French wedding traditions is the wedding procession, known as "la cavalcade." Following the ceremony, the newlyweds and their guests take to the streets, forming a joyful procession to the reception venue or another designated location. The procession may include decorated cars, bicycles, or even a horse-drawn carriage, with the couple leading the way. It is a delightful spectacle that allows the community to join in the celebration and share in the couple's happiness.
Conclusion
There are many French wedding traditions that you can use on your own special day, whether you're planning to marry in a large city like Paris or a smaller town such as Gordes. Incorporate a little bit of French tradition into your wedding while adding a personal touch that reflects your and your spouse's unique personalities.