Discover 7 Beautiful Floral Wedding Dresses
The summer is approaching and what better time following the royal wedding to be inspired with 7 beautiful floral wedding dresses from Etsy. Often when people think of floral dresses it can be something that they've seen on the catwalk, yet can't translate how that can work on their big day.
From statement floral designs to subtle floral motifs, a floral wedding dress can be an option for all brides no matter what season you are getting married in.
So the FWS Team have pulled together some of our favourite floral wedding dresses to share with you today.
If you are ready to embrace a strong floral print, we love this dress from Tonena which features an embroidered pattern of flowers and foliage covering the dress.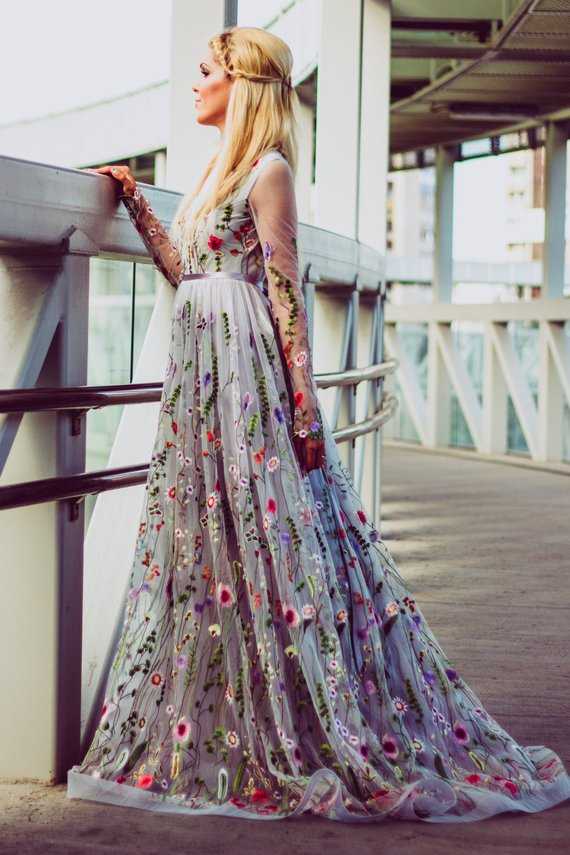 Subtle floral wedding dress
If you're looking for a stunning floral wedding dress or a lively and vibrant colorful wedding dress, we wholeheartedly suggest considering the SumarokovaAtelier subtle floral wedding dress. This exquisite gown perfectly embraces the essence of floral patterns, making it an ideal choice for those in search of a floral wedding dress or a burst of color on their special day.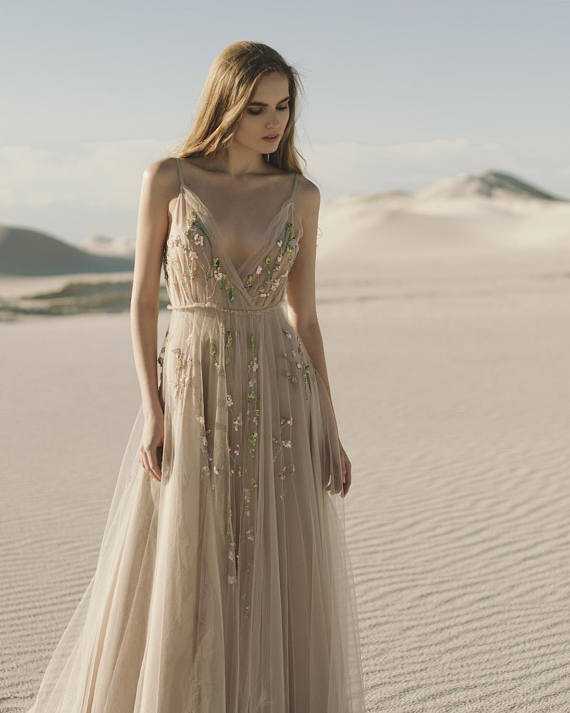 A strapless neckline perfect for a spring wedding
As pretty as a peach and with a pop of colour this jordanderuiter wedding dress has a cheeky sense of humour in our opinion, with a sweetheart strapless neckline perfect for a spring wedding. And we can't help but think of it fitting in perfectly for a farmhouse wedding in Provence.
Colourful wedding dress
If you're in search of a floral wedding dress that adds a vibrant touch to your special day, look no further than this enchanting blue and grey tulle gown by SumarokovaAtelier. With its meticulously hand-embroidered floral design, this colourful wedding dress is an excellent choice. Its graceful movement exudes a romantic and chic style that will captivate all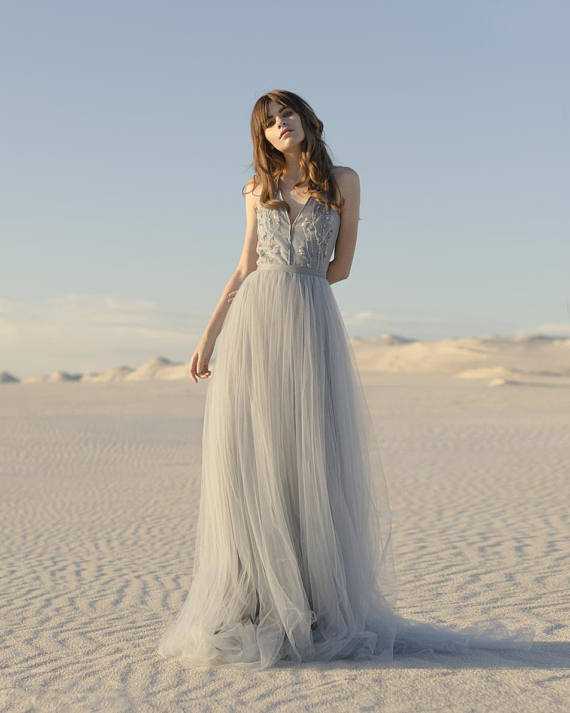 Boho-style wedding dress
MilaBridal's Tara wedding dress with long embroidered sleeves is a fabulous example of an affordable and chic boho-style wedding dress that offers both modesty and arm coverage. If you're in search of a floral wedding dress or a colourful wedding dress, this delightful gown remains one of our all-time favorites!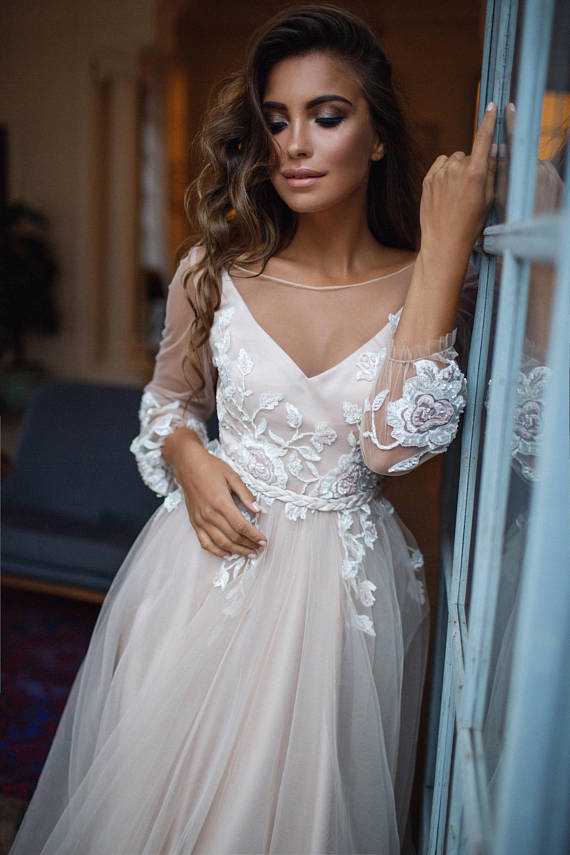 Whimsical and romantic vibes
Itroducing the floral wedding dress trend, the moment our eyes beheld the Gloria gown, we were captivated, envisioning it flawlessly integrated into a collaborative style shoot. Its sleeve details harmonized with the theme, accompanied by a stunning bouquet that adorned the scene. With Gloria's subtle homage to chic French fashion, this dress effortlessly exudes whimsical and romantic vibes, enhanced by the intricate floral design pattern. Embracing the essence of a colourful wedding dress, Gloria encapsulates both vibrancy and elegance.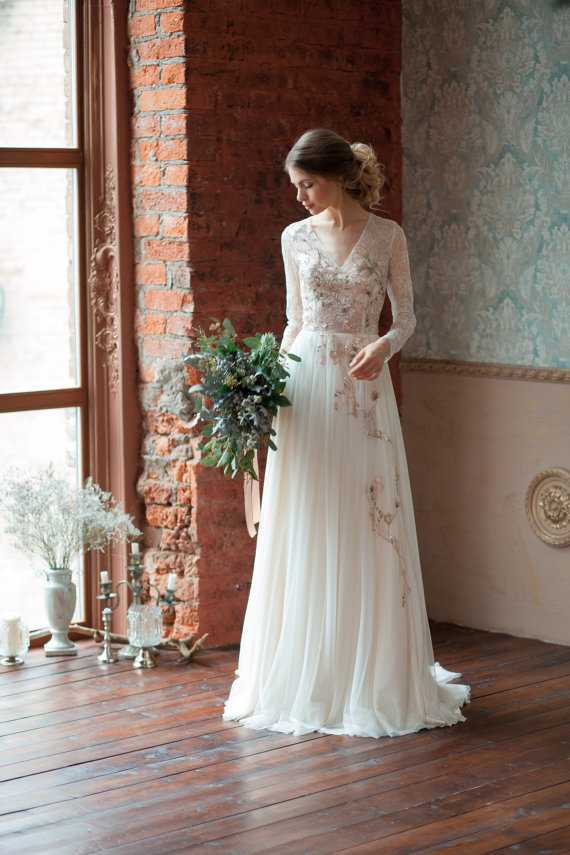 Exuberance and Flair
Our Editor Laura adores the enchanting allure of a 50's wedding dress style, particularly when it incorporates the vibrant beauty of a floral wedding dress. Mooshki's design, Charlotte, skillfully melds the exuberance and flair of the 50's era with an extra touch of femininity, all adorned with captivating floral embroidery. This colourful wedding dress truly captivates the eye and celebrates the joyous spirit of a bride's special day.
As summer approaches and the excitement from the royal wedding lingers, we find ourselves inspired by the enchanting allure of floral wedding dresses. Etsy, a treasure trove of creativity, presents us with a delightful array of seven beautiful floral wedding dresses that cater to every bride's unique taste. Whether you're seeking a statement floral design or subtle floral motifs, these dresses prove that floral elegance can grace any season.
If you love all things Etsy you can find more Etsy wedding inspiration here and for more wedding dresses visit our vast wedding dress inspiration section.