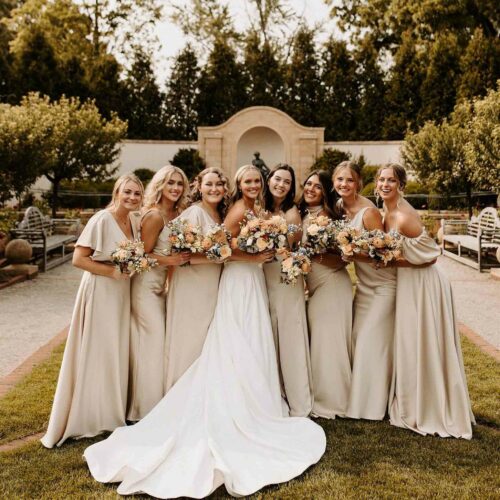 Champagne Bridesmaid Dresses: Your Go-To Choice for Wedding Glamour
Champagne bridesmaids' dresses will never go out of style! The sophisticated yet brilliantly whimsical neutral is the go-to color for every season, and because it's so easy to style, you can go above and beyond with your style. Whether you're a bridesmaid for a modern affair or a rustic wedding in the heart of Loire Valley, know that champagne will never disappoint you!
However, knowing how alluring the color is, deciding on a bridesmaid's dress can quickly become overwhelming. Considering your worries, at French Wedding Style, we're highlighting the best champagne bridesmaid dresses by none other than AW Bridal, making your search much easier! Whichever option you go for, your look is bound to turn heads!
In this Article
The Best Champagne Bridesmaid Dresses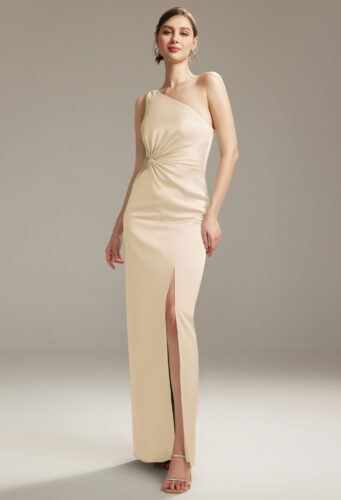 The Finna is the ultimate wedding bridesmaid's dress, fashioned in a modern yet timeless style. The one-shoulder silver strap adds a dash of elegance, while the fine satin charmeuse material and asymmetrical design give it a unique appeal, masterfully accentuating the silhouette and figure. Finally, the ankle length gives a great opportunity to flaunt the shoes, making up a one-of-a-kind champagne bridesmaid's dress.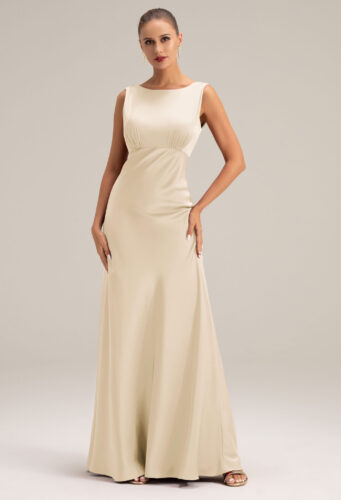 Attending an elegant chateau wedding in Bordeaux? We have the perfect fall wedding bridesmaid's dress for you! The floor-length Keira made of satin charmeuse delicately embodies opulence and luxury. The jewel neckline can be perfectly paired with striking gold accessories, completing the beautiful champagne color. For a bolder look fit for modern weddings, consider adding gold chains on the open back.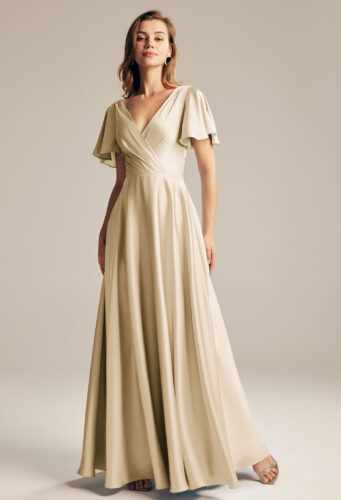 French weddings in spring are an experience you'll remember for a lifetime, so looking your best is a must. The silk Furst champagne bridesmaid's dress fits all sizes thanks to its flowy design. Simple yet eye-catching, this gown is ideal for laid-back affairs, but it can bring quite an elegant effect when paired with bold jewelry. Finally, the Furst is ideal for pregnant women due to its convenient design!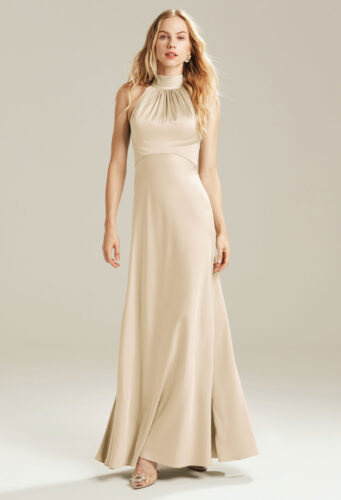 One look at the Janina bridesmaid's dress, you might get the feel like you've seen a celebrity wear it. Trust us – you're not the only one! The incredibly luxurious Janina gown features a flattering neckline with bared shoulders, adding a flirty vibe to the overall style. Additionally, this summer wedding bridesmaid's dress will look good on any figure, assuring you look simply phenomenal.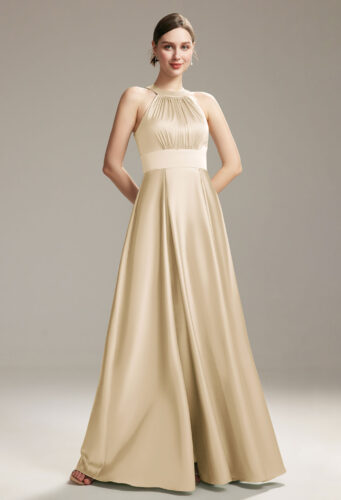 The feminine Melanie champagne bridesmaid's dress fashion has quite a surprising appeal. Although the A-line design is sure to accentuate your figure perfectly, the bare shoulders give it a seductive feel, offering a sophisticated look. We also love the flowingness of the material, which will look exceptional while you're dancing the night away!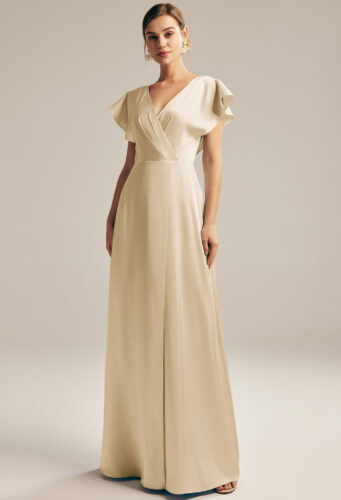 If you're looking for a statement piece, the Rana bridesmaid's dress has got you covered! Boasting a stunning design, the gown has butterfly shoulders and a simple V-neckline bodywrap bodice, making it the definition of femininity. Thanks to the spaghetti-strap bow, the back is whimsical as ever!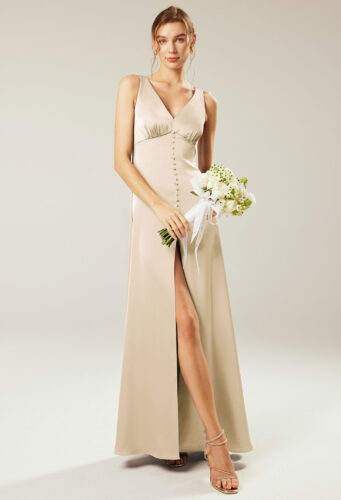 The Maggie champagne bridesmaid's dress is ideal for those who can't wait to show off their curves and legs. The large slit in the front will allow you to have your own infamous Angelina Jolie-leg moment, which is guaranteed to have looks thrown at you. Due to its design and extra breathable fabric, this is the ultimate beach wedding bridesmaid dress!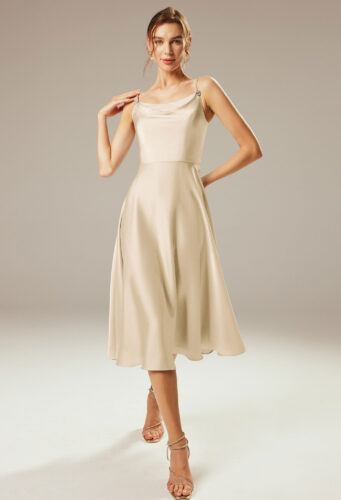 Our love for tea-length silk gowns will never fade away! The spaghetti-strapped Marin dress is as elegant as ever, featuring a scoop neckline and a delicate waist ruching. This is an excellent option to wear at a chateau wedding thanks to its retro feel, but if you want to modernize it, throw on a pair of open-toed black stilettos.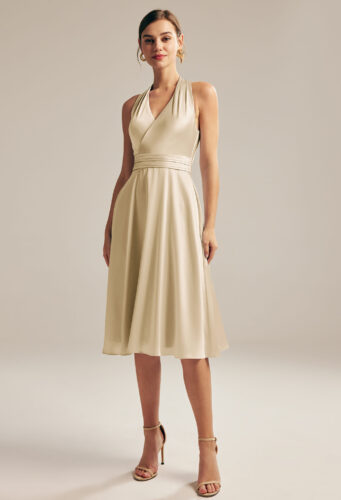 The Mercy dress is made with the sleekest silk charmeuse, making it royal-worthy. Elegant and daring at the same time, the wrap bodice will accentuate any figure, while the added bra will provide the lift you're looking for. The gown is quite comfortable to wear and easy to move around in, so you'll have no problem rocking it throughout the celebration.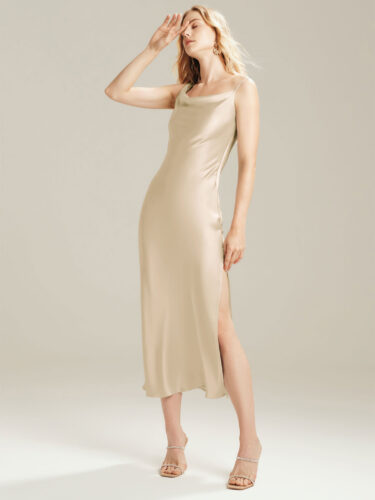 The name of this gorgeous champagne bridesmaid dress tells you everything you need to know about it – gracious at its very core. Due to its simplistic yet sophisticated design, you can wear the Gracziosa even after the wedding, and because it's so versatile, you'll have no issue fitting it in all sorts of styles!
Why choose Champagne for your bridesmaid wedding dresses?
It's no surprise that champagne-colored bridesmaid dresses have become quite popular recently, offering a touch of elegant sophistication while always looking modern and in style. It's also quite versatile, so you can easily personalize your look how you see fit. Just remember to adhere to the bride's requests – you don't want to stand out and overshadow her glam.
Is Champagne a good bridesmaid color?
Absolutely! As previously mentioned, this color is adored by bridesmaids and brides because of its gracefulness, luxury, and ease of blending. That said, champagne is best paired with gold hues, but it can also work well with bolder color palettes, so you can easily experiment with your attire.
What skin tone goes with Champagne?
Another reason champagne bridesmaid dresses are considered the best is that they look flattering on every skin tone! The hue brings out a natural glow in both fair and dark skin, thus making you feel confident and brilliantly radiant.
What Season is Best for Champagne Bridesmaid Dresses?
The convenience of champagne color bridesmaid dresses also applies to being season-appropriate. In other words, you're free to wear the color no matter the weather! While in the warmer seasons, it accentuates the vibrancy of the surroundings, in winter and autumn, it provides a sense of coziness, making it utterly stylish and chic.
Conclusion
Now you know why champagne bridesmaid dresses are the favorite option for most brides! The only thing that's left is to go through AW Bridal's catalogue and make your choice!
Related Articles: