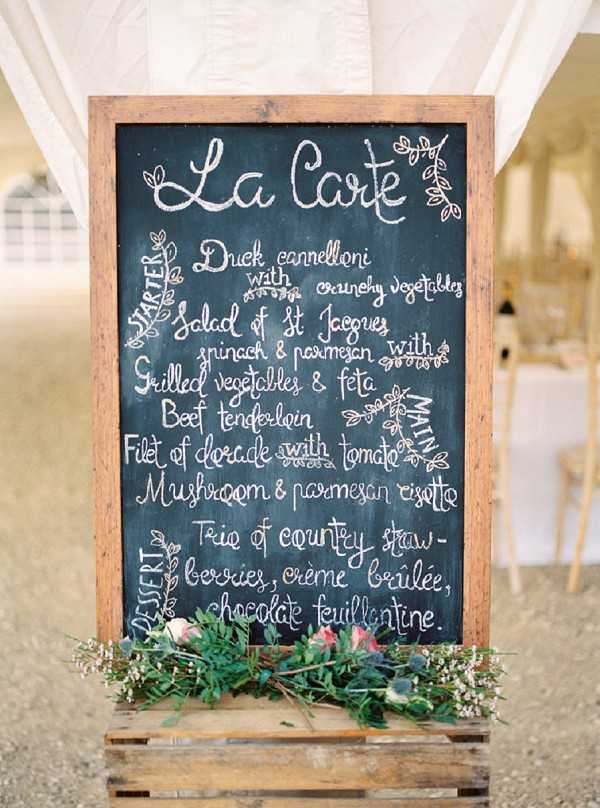 Today on the blog, resident expert Fabienne, owner of Elian Concept Weddings and Events, brings some mouth watering French inspired wedding catering ideas to the table.
We really hope that everyone who is reading this is fully sated, or at the very least has a snack or two to hand! Over to Fabienne…
If there is something undeniably associated with France, it is food. It is so important for the French, that "lunch time" is a must have and still nowadays it may last a couple of hours. Outside the major towns and touristic areas, shops, administrations and banks will close for a lunch break. Therefore if your love of food is one of the reasons you chose France for your wedding celebrations, you will not be disappointed.
You may have already found your ideal French venue so now it is probably the time for you to start looking for your catering options. They are plenty and in this post I will help you with some French inspired wedding catering ideas.
First things first, you need to decide which style of reception suits you. You may be envisioning a relaxed family style dining or a more formal affair. It may also depend on the number of guests you expect at your party or more pragmatically on your budget.
1 – The 'Cocktail dinatoire' or cocktail dinner party.
Food serving still follows the typical format Champagne reception with canapés, then starter, main course and dessert, except as a selection of miniature cold and hot dishes. To replace a complete meal, there should be about 20 pieces per guest. It is a more relaxed arrangement with no set table plan and guests are able to mix and mingle at leisure. Tables and chairs are still recommended, although more like a garden party layout.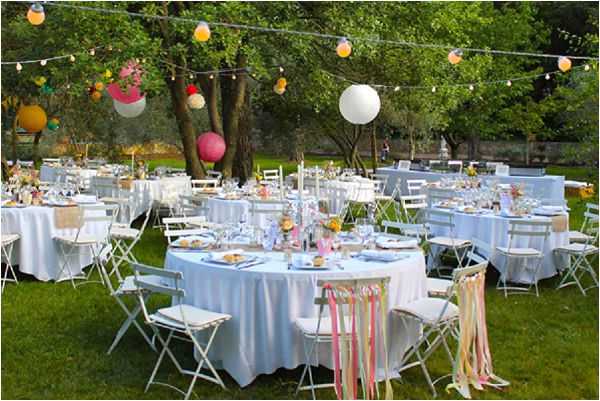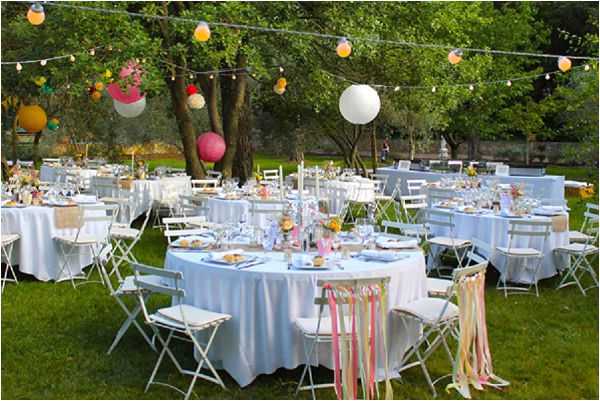 Cocktail dinner party – Photo source: Atelier Traiteur
2 – The 'Animations or ateliers culinaires' i.e. food stations.
These are very popular at French weddings and the choice is endless. If you have decided to have a traditional dinner both in style and in the choice of food, this is where you can go more local and take your guests to a journey of discovery. The idea is simple and runs along the classic canapés. The food is prepared right in front of the guests. It can be cold, e.g. whole smoked salmon or ham cut on demand, sea food platter, foie gras, chilled soups, bagels, ice cream cart etc. Or warm, e.g. meat, prawns, or vegetables cooked on the plancha, tapas, mini dishes typical of the region.
Food stations are interactive, so they can make an interesting feature during the cocktail reception although if you have a sit down dinner afterwards, I would recommend to have only one food station, or two maximum and drop the starter.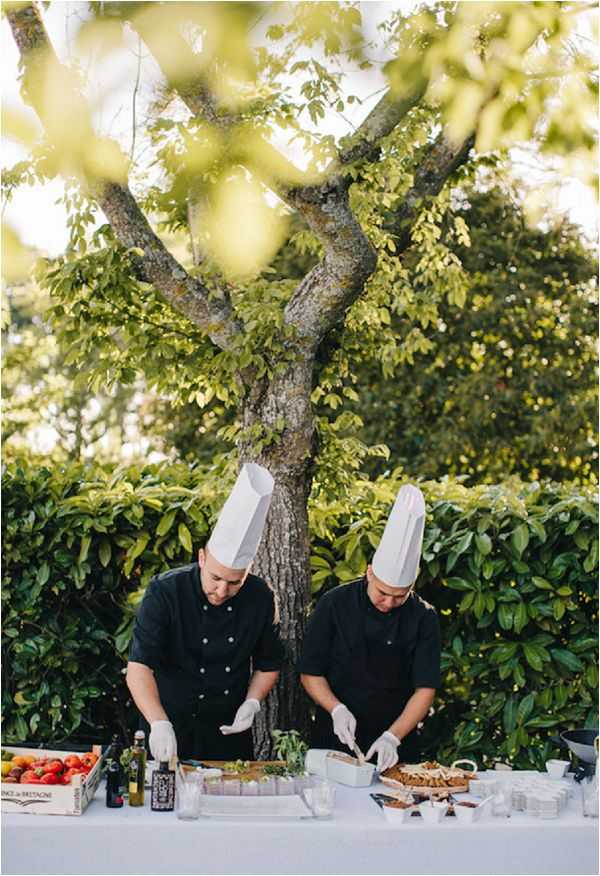 Food Station – Photo credit: M & J Photos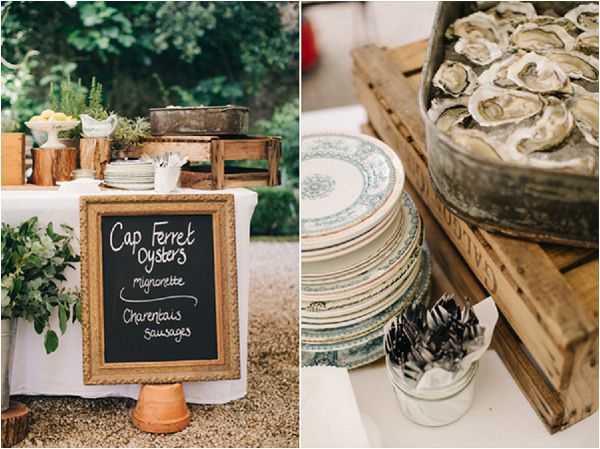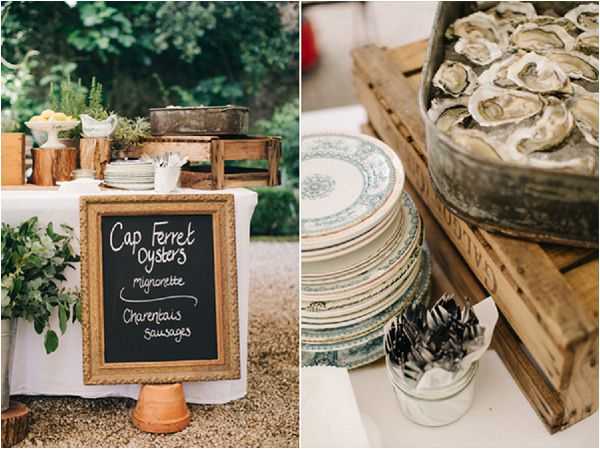 Oyster bar – Photo credit: M & J Photos –  Source: Rock My Wedding
If you go for the 'cocktail dinatoire', however, you can choose several types savoury, cold and warm as well as cheese and dessert.
The so called 'bar' in French, i.e. buffet, is a static version of this. With no food preparations on the spot and here again the possibilities are endless. oyster bar, cheese buffet, cold meat buffet, dessert bar, bar à bonbons (candy bar), breads and butters, etc.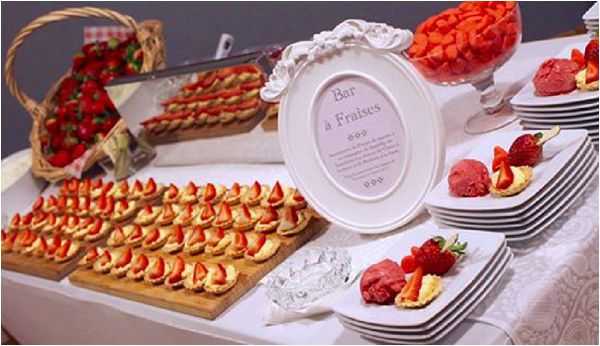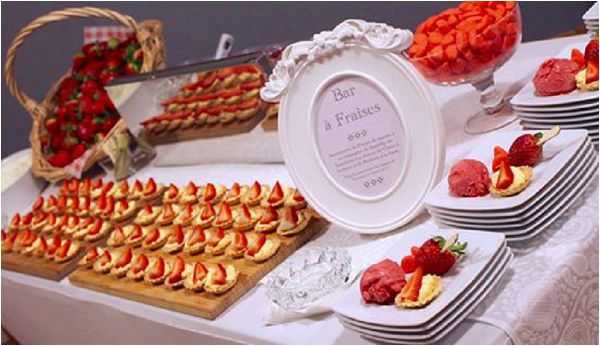 Strawberry Bar – Photo source: Atelier Traiteur
3 – The 'Camion ambulant' i.e. food truck.
Somehow an extension of the 'food station' and an entertainment in its own right, during the cocktail, in the evening or throughout the day. Pizza, crêpes (pancakes), sweets, ice cream and even wine trucks. Often set in a vintage Citroen HY van, they will contribute to give a French feel to your party. Although choices of theme and availability will vary depending on the region.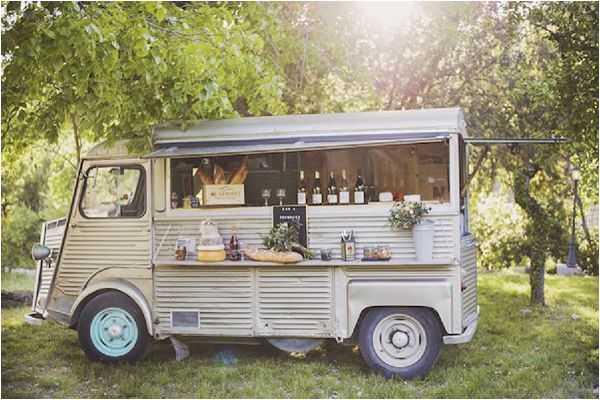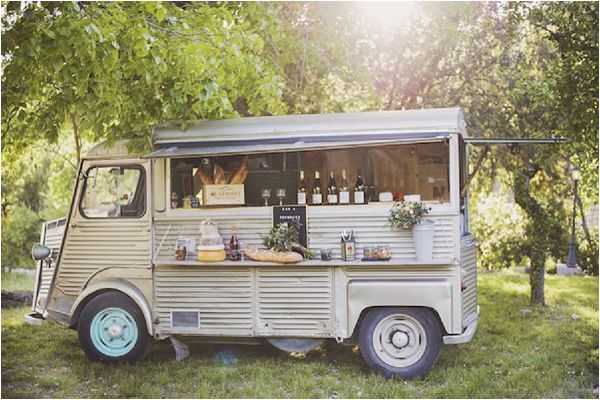 Food Truck – Photo Source: Marisa Mirioni
4 – Champagne reception and canapés prettiness
French caterers can be very creative with the canapés they prepare and will put as much effort in their diversity and presentation as in the quality of the ingredients. If the appearance and attractiveness of the food is as important to you as the taste, look for refined caterers. Though they are more likely to be in the high-end category, but not necessarily. So it is worth taking the time to search for this gem.
Another opportunity to discover more local dishes and delicacy in bite size format.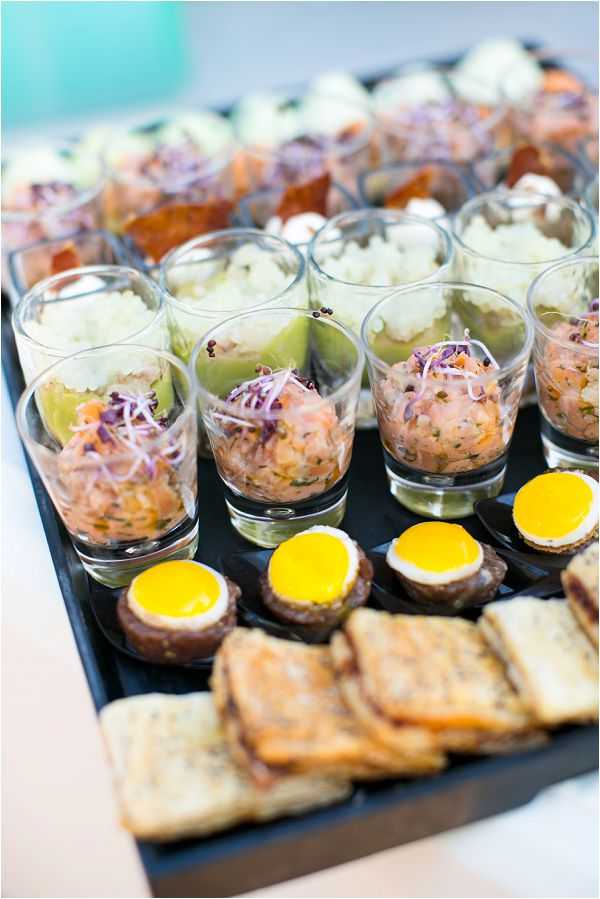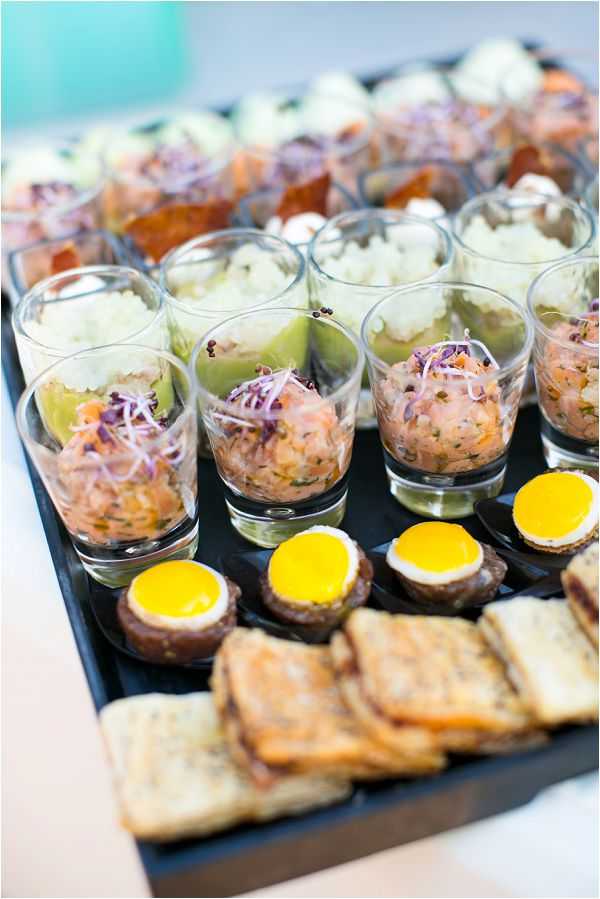 Canapés – Photo source: Anneli Marinovich Photography
5 – Going local and seasonal.
No doubt France's gastronomy is reputable and each region has its own specialities. Why not include them in the wedding menu? Go for the full dish, e.g. lamb in Provence, duck in the South west, fish or seafood on the coast, or choose dishes with regional touch in the preparation. Lavender, truffle, wine for example. I have previously mentioned this point and it is close to my heart. Whilst appreciating that it is a very personal choice. I sometime wonder what is the point of having a wedding reception in France if it is to serve the same food as back at home?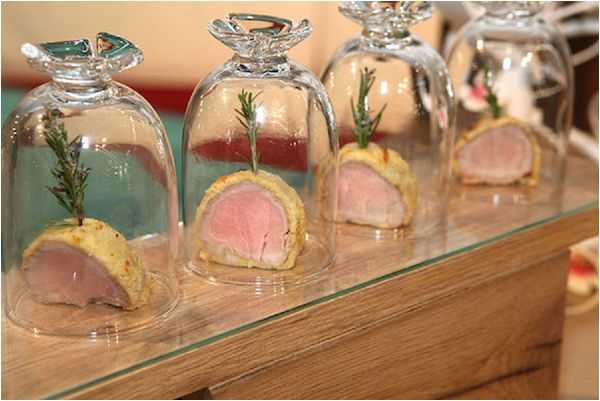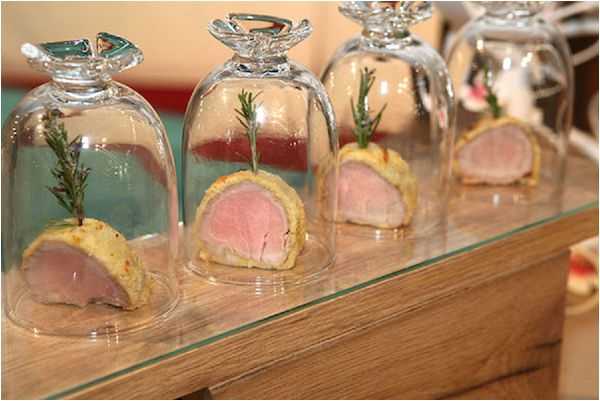 Local and seasonal menu – Photo source: Eveil des Papilles
6 – Dish presentation
Moving away from traditional plate serving, the creative, modern caterer will present the food in an unconventional manner, for example 'cocotte dish', wooden boards or slates, the perfect complement to the rustic, country style weddings a number of brides are looking for.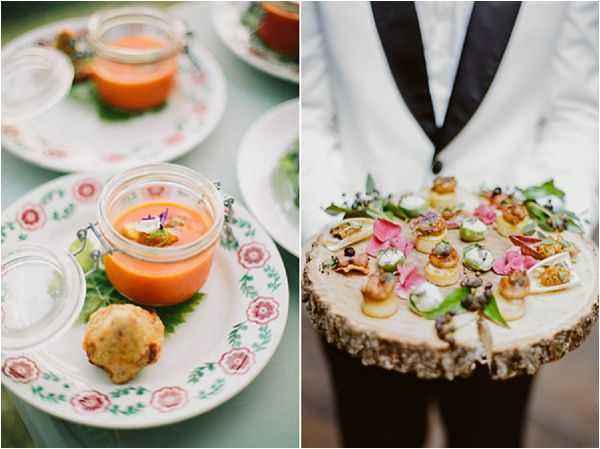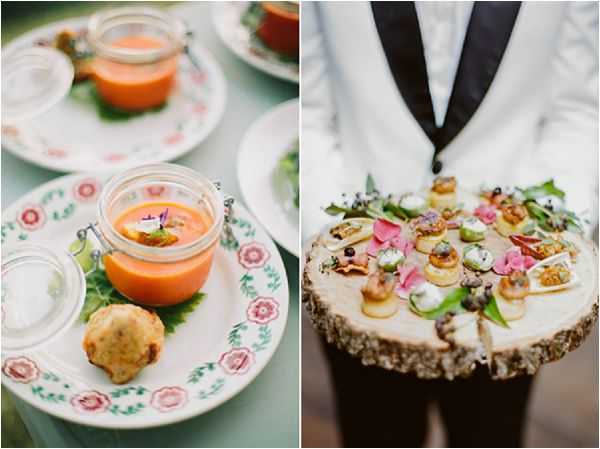 Presentation – Photo sources: Eveil des Papilles [Left] – Style me Pretty [Right]
7 – The 'Mise en bouche'
The ' Mise en bouche' is an appetizer served at the beginning of the meal. It conveniently replaces the starter if you want to make some saving. Chilled soup is the one of the most commonly suggested and very pleasant for a summer wedding. I recommend not to miss the appetizer as it is an useful transition allowing your guests to settle at the table before the main course is served.
Mise en Bouche – Photo Source: Pinterest
A different version of it, is the 'Trou normand', or palate cleanser, more appropriate for a longer dinner, generally served between the starter and the main course (three-course meal) or between the two main courses (four-course meal), it is a sorbet and alcohol base shot drink.
8 – Cheese wedding cake.
You can't have a wedding in France without cheese, can you? But forget about the few slices served at the table at the end of the meal. The trendy way is the cake beautifully decorated and presented on a buffet along with a selection of breads and butters.  It can be your wedding cake, although it does not have to be. But if you think it's one too many 'cake', then whole cheeses can also be presented individually as a buffet, labelled and displayed amongst flowers, leaves and fruits, it is guaranteed to make an impact. This is something you can potentially organise and arrange yourself, if you want to make some savings.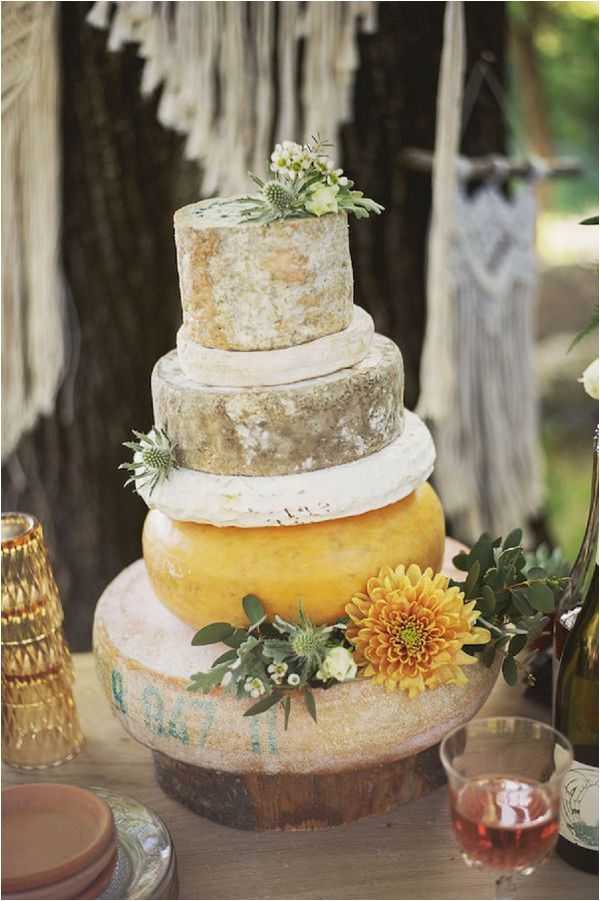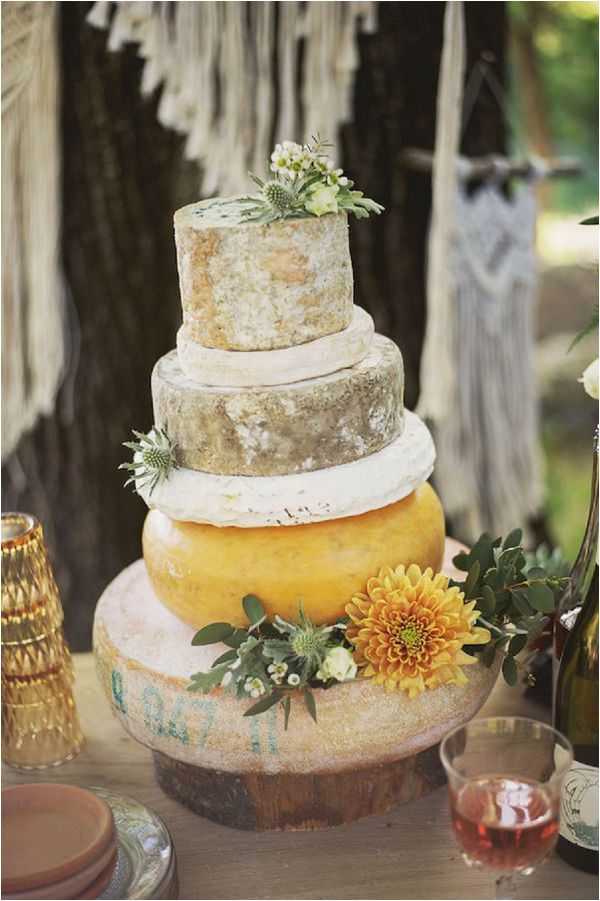 Cheese Wedding Cake – Photo source: Marisa Mirioni
9 – Dessert or Wedding cake?
More and more couples choose to have their wedding cake as the dessert and this is another cost saving exercise. If you decide to go for both, the 'Bar à dessert' or dessert buffet is a great option, offering to your guests bite size selections of the most famous French puddings, such as crème brulée, tarte tatin, crème caramel, chocolate fondant, macarons, millefeuille, etc.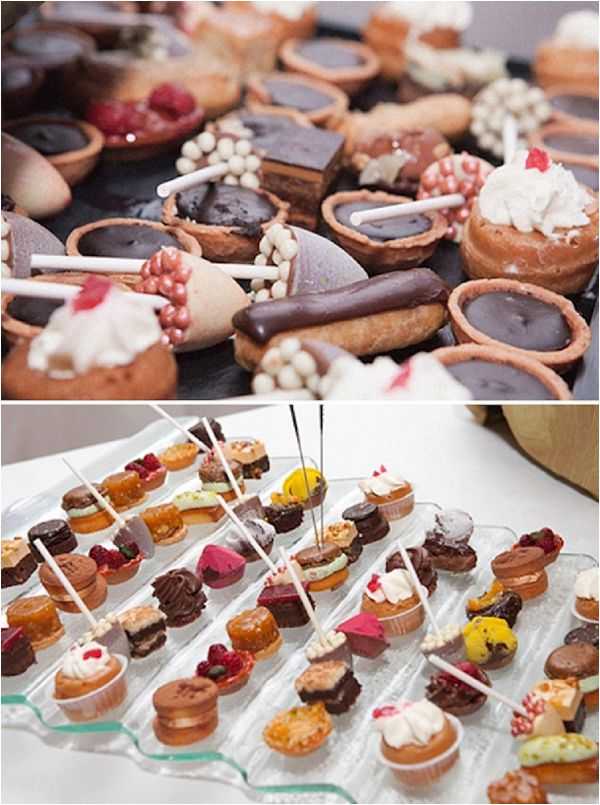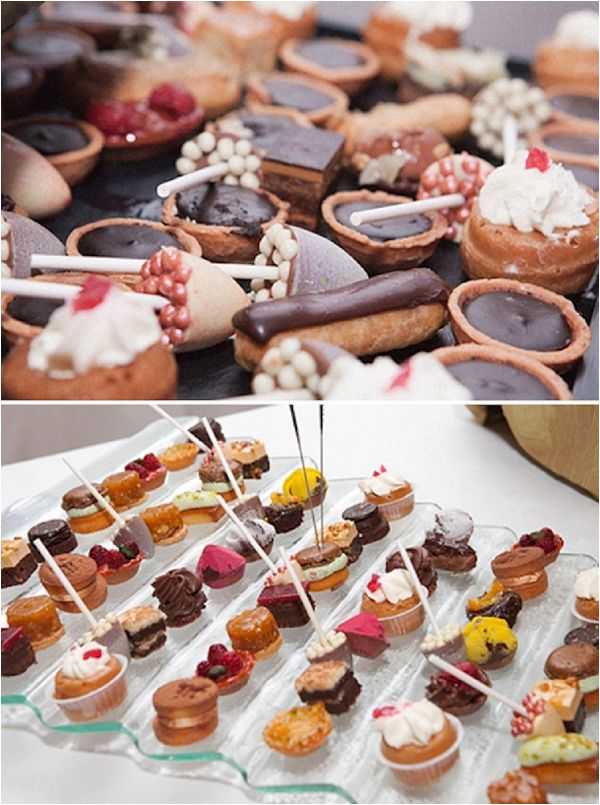 Bar à desserts – Photo credit: Rachel Marsden – Source: French Wedding Style
The Croquembouche, pièce montée in French, is the ultimate French wedding cake. Interestingly, whilst being the preferred choice of destination couples, it has lost its appeal amongst French brides in favour of the more stylish Macaron tower.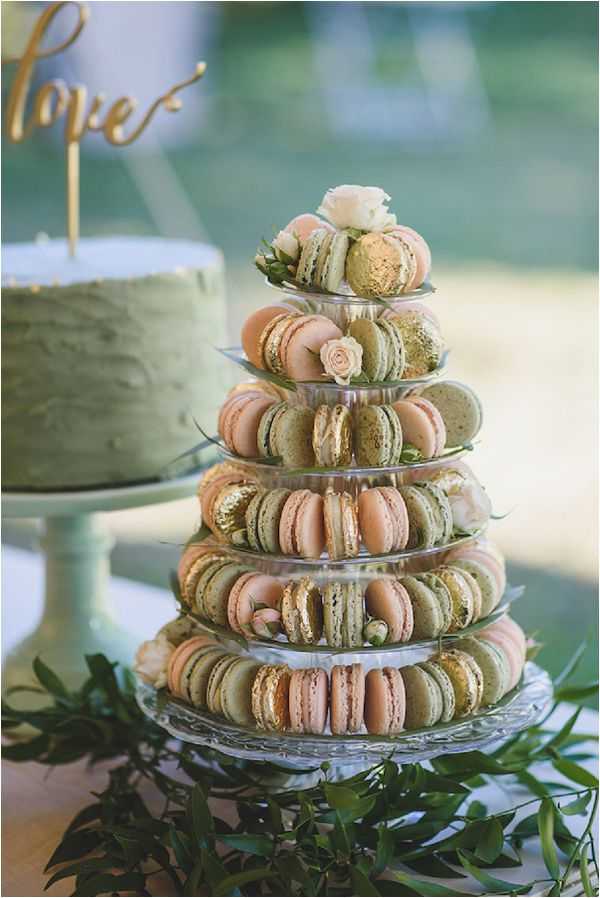 Macaron tower – Photo credit: Rik Pennington photography – Source: Love My Dress
10 – The next day.
Finally the party is over or is it? As most destination weddings in France take place over several days. The day after the wedding is another gathering opportunity although more relaxed, less formal. You think there will be less food, less drinks. Well think again. The left overs from the night before, if any, are usually served. Along with more food as most guests will be coming back. If your venue is suitable, a picnic makes a welcoming change from the BBQ and is lovely combined with outdoor games (boules for example) for a relaxing afternoon. What if there is a bread oven at your venue, then a pizza party. Where guests make their own is a fun and different way to end the festivities.
If it was not part of your wedding day food entertainment choice, a food truck is something to consider for the next day.
Still hungry for more catering ideas for your wedding in France? You can read my Typical French Wedding Menu.
FABIENNE IS OWNER OF ELIAN CONCEPT WEDDINGS AND EVENTS, WHO IS A BI-LINGUAL WEDDING PLANNER AND IS AVAILABLE FOR WEDDINGS THROUGHOUT FRANCE.  FOR MORE INFORMATION VISIT: WWW.ELIANCONCEPTWEDDINGS.COM