Top Questions to ask your Destination Wedding Venue!
There is no shortage of wedding venues in France, and it's easy to get overwhelmed when you're trying to decide on just one. We understand! Each venue comes with pros and cons, and knowing which questions to ask can be difficult, especially when each location looks equally charming. There are simply so many things to know about destination weddings!
That's why we've created this blog post with 35 questions to ask when you're picking a venue. Use this list as a guide to ensure your destination wedding venue suits not just your needs, but your guests' as well. It covers the most important factors to consider in a venue so your wedding day will go smoothly.
To help you in your quest for your ideal venue, our resident wedding planning expert Fabienne Slater owner of Elian Concept Weddings and Events and member of UK Alliance of Wedding Planners has put together the Top Questions to ask your Destination Wedding Venue!
Without a figure in mind, it is easy to get carried away or disappointed.
If you are a habitual reader of my posts here, you may have noticed that budget is a reoccurring theme of mine; you may even think that I am obsessed with it! Therefore, I trust that you have worked out the maximum you want to spend before looking for your wedding venue, and limit your search to places within your budget. Without a figure in mind, it is easy to get carried away or disappointed.
As also recommended in my previous post, A guide to getting married in France, you must have a good idea of the number of guests you want to invite, unless of course you are happy to reconsider your number to accommodate your preferred venue.
With these two key elements in mind along with your wedding day priorities, whatever they might be (outdoor ceremony/reception, easy access for guests, exclusivity, etc.), you will be better prepared for the task ahead.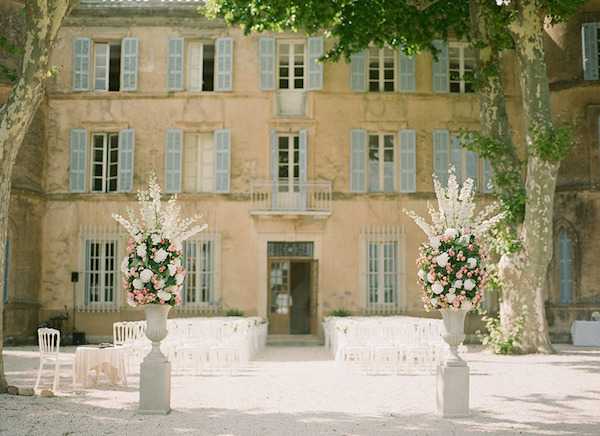 Photo credit: Cristina Brosnan via Style me Pretty
Please note the following list is aimed at couples planning their wedding specifically in France, and likely to spend extra time there. It is therefore far more than a reception room you will be looking for and vetting. As for most destination weddings, it will also be the location for the ceremony, accommodation for the wedding party and potentially guests, and quite often this will be your home for several days before and after the wedding day.
35 questions to ask when you're picking a venue
1-     Is your preferred date(s) available?
If you are flexible, what are the available dates for your preferred month or period? What are the rates for various days in the week and different months?
2-     Is the venue suitable for the whole day: the ceremony, the cocktail reception, the dinner and the evening entertainment?
3-     Can they comfortably accommodate your anticipated number of guests? What is their maximum seating capacity?
A venue that can take 200+ guests might not be appropriate if they are only 50.
4-     Do they hold more than one event (wedding or other types) on the same day? Can you hire the venue exclusively? Do they require a minimum number of guests for exclusive booking?
5-     Is there enough accommodation for your requirements, whether it is just for the wedding party or also for your guests?
If the venue is a hotel, will they offer a discount on rooms booked by your guests? What are their booking/payment procedures in this case?
If they cannot accommodate your guests, can they recommend other places locally?
6-     Do you have to book a minimum number of rooms? A minimum number of days? Or is there a minimum amount to spend?
7-     Can the venue accommodate disabled or reduced-mobility guests (if applicable)?
If relevant, check also that it is child-friendly.
8-     What are the check-in and checkout times? Can they be extended if needed? At what extra charge?
9-     What kinds of activities are available on site and nearby?
Spend some time getting to know the area in particular if you and some of your guests wish to extend their stay.
10-    How easy it is for guests to park? Are there enough parking spaces?
11-     Do they offer shuttle services from and to the airport? Can they provide a taxi list?
12-    Are there any local events happening on the same day as your wedding?
If the venue is in the countryside, this may limit the availability of local suppliers, especially transport wise.
13-    Do they have an in-house wedding coordinator?
Or somebody at the venue (staff, owner) who will be present on the day to solve any venue-related problems. Who can you contact about your wedding during the organisation?
Please note this is different from your wedding planner (if you have one). Ask to meet the person who will be attending your wedding day. If you don't speak French, do they speak English? Check what they will be doing for you. It needs to be very clear, so there are no surprises on the day, especially if you don't have a wedding planner to take care of everything on your behalf.
14-    Are they happy for you to use an external wedding planner or designer?
15-     Does the venue have a preferred suppliers list? Do you have to use them or can you choose your own vendors?
16-      Does the venue provide catering?
And additionally when looking at the catering side, does the price include menu tasting and hire costs of tableware? Can you taste the menu before making a decision? Can they be flexible with your wedding food requirements? Will they cater for special diets or a particular food/drink you would like to have?
17-    Can you bring your own drinks? Is there a corkage fee?
18-     Can you bring your own wedding cake? Will you charge extra?
19-       Can you arrange a rehearsal dinner or a BBQ the night before? A brunch or a BBQ the following day?
20-       Do they follow a specific timeline for the cocktail reception and dinner? Can you change it to suit your wedding day itinerary?
21-      How will the staff be dressed? How many waiters will attend the cocktail reception? The dinner? The evening?
22-      If catering is not provided by the venue, do they have a preferred caterer? Can you hire your own?
23-      Are there any guidelines or restrictions on decorations? What are they? Can you remove things you don't like/need? Can you move things around?
24-    Can you lay petals? Throw confetti? Light up candles? Have fireworks or lanterns?
25-     When (day/time) can you (or your suppliers) start to set up?
If you are not staying there the night before (though I highly recommend it), can you have access the day before? Will you be able to have a walk through/rehearsal?
26-     Do they have a sound system in place (check it is adequate for your entertainment needs) or do you have to set one up? Is there sufficient power supply? Is the level of noise limited?
27-     If applicable, is there a dance floor and is the size suitable for your party?
28-     Can they provide a microphone? A/V equipment? Lighting? Is it suitable for an outdoor ceremony or dinner? If necessary, is there a system to plug-in an i-Pod?
29-      Does the music have to stop at a certain time? When does the bar close? At what time do non-resident guests have to leave?
30-      If you are planning an outdoor event, what are the back-up plans in case of bad weather (indoor reception room, barn, marquee)?
Then check that they are suitable for your wedding in case it is required.
31-     If a marquee is required, do they have a recommended supplier? Can you hire your own?
32-     Do they offer packages or is it all bespoke?
If booking a package, what exactly is included? Accommodation? Breakfast? Drinks? Tableware? Decorations? Even if everything is included, can you bring your own alternatives?
33-    What are their terms & conditions? What are the payment terms and schedule? What is required to secure the date? 
34-     Is cleaning included?
35-     Do they have liability insurance? Do you need to take out insurance yourselves?
Photo credit: Cristina Brosnan via Style me Ptretty
Finally a bit of general advice:
Try to assess how experienced they are with weddings or even better, ask the question.
Check the fine print and ensure you both understand ALL the costs for the venue before signing, including cleaning fees, extra time, extra charges, taxes. If you are not sure, ask again.
Once you have shortlisted your favourite venues, visit them if possible. More on this topic next time.
And remember that at any stage of planning your wedding in France, you can decide to get help from a Wedding Planner if the organisation is getting the better of you, we will step in, to take away your stress and ensure full completion of your day in time.
Fabienne is owner of Elian Concept Weddings and Events, who is a bi-lingual wedding planner who is available for weddings throughout France.  For more information visit: www.elianconceptweddings.com