I was watching a TV programme the other day and they had a subject regarding taste experiences that can evoke memories.  The example on the show was the French author, Marcel Proust, who truly immortalized the madeleine. In his autobiographical book, Á la recherche du temps perdu (Remembrance of Things Past), Proust's main character takes a bite from a madeleine and is sent back into a vivid memory of his childhood, the subject of the book. The phrase "Proust's madeleine" is now synonymous with anything that triggers a long and colorful memory from the supposedly forgotten past.
Following on from this I had the biggest craving for madeleines and got to thinking how cute they would be as DIY french wedding favours.
If you do consider making madeleines for your wedding favours or just for you to enjoy, here is a yummy recipe from

Martha Stewart Weddings

for you to try.
Makes 20
Ingredients
3/4 cup plus 1 tablespoon all-purpose flour
1 teaspoon baking powder
1/8 teaspoon salt
3 large eggs
1 cup granulated sugar
1 teaspoon pure vanilla extract
8 tablespoons (1 stick) unsalted butter, melted and room temperature
1 tablespoon rose water
2 to 3 tablespoons sanding sugar
Pink powdered food color, any shade
Butter-flavored cooking spray
Directions
In a medium bowl, sift together the flour, baking powder, and salt.
In electric mixer, beat eggs and 1/2 cup granulated sugar on medium until light, 3 to 4 minutes. Beat in vanilla. Fold in flour mixture. Fold in butter. Cover with plastic; chill for 30 minutes.
Meanwhile, heat oven to 425 degrees.place rack in center. Spray two scallop-shell pans with cooking spray. Use spoon to fill molds three-quarters full. Bake 5 minutes. Reduce heat to 400 degrees. Bake 5 to 8 minutes more, until lightly golden. Immediately tap out madeleines onto a cooling rack. (Let madeleines cool scallop side up to avoid any creases or lines from rack.) Repeat with remaining batter. Let cool.
Make rose-water syrup by combining remaining 1/2 cup granulated sugar with 1/2 cup water in a small saucepan. Bring to a boil, stirring to dissolve sugar; reduce to a simmer, and cook over low heat 2 to 3 minutes to combine. Set aside to cool. When cool, stir in rose water. Set aside.
Place sanding sugar in a small bowl. Use a toothpick to add small amounts of powdered food color to sanding sugar, stirring until you get desired shade of pink.
Use a small paint brush to sugar edges of madeleines one at a time; dip brush into rose-water syrup, and paint rim of each madeleine. Sprinkle sanding sugar over damp edges. Repeat on remaining madeleines. Madeleines are best served within 1 to 2 days of baking. Store in airtight container at room temperature.
There are so many ways to include madeleines in your wedding day from madeleine favours, including these oh so cute bride and groom madeleines by Donsuemor to serving madeleines with your tea and coffee in shabby chic mini buckets.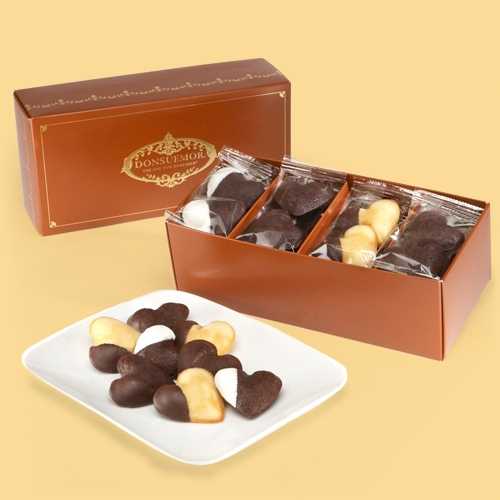 And for those who want to include madeleines throughout your wedding, how about a madeleine wedding cake?
100LayerCake 
If you are planning to incorporate madeleines into your wedding day or try out the madeleine recipe, I would love to hear from you.
Monique xx