The sun is shining, and it's the peak of summer. It's the perfect time to explore South of France wedding venues by the sea. While many envision French weddings in romantic castles, rustic farmhouses, or chic 5-star hotels, France also boasts some of the world's most majestic beaches.
Every bride and groom who dreams of a beach wedding longs for the allure of the sea and white sands because we know this makes for a romantic setting.
We have put together ten of our favourite beach wedding locations to help inspire your search for the perfect sand filled wedding.
Explore Breathtaking South of France Wedding Venues by the Sea
1. Cap Estel
Cap Estel in Eze Bord de Mer is one of our favourite wedding locations in France. This 18 room A-list hotel boasts a majestic setting in every sense of the word. The surrounding lawn of the sea view hotel is manicured to perfection, not to mention is home to one of the most romantic private beaches in Cote d Azur. Quintessentially Weddings have used Cap Estel for the most luxurious of weddings, it is truly amazing.
2. Villa Ephrussi Rothschild
The Italian inspired Villa Ephrussi Rothschild is situated in the beautiful Cap Ferrat, famous for its spectacular scenery the coastal Villa is a stunning venue to hold a wedding whether the beach below is your choice of location or their beautiful surrounding gardens.
3. Nikki Beach, St Tropez
Nikki Beach Club in St Tropez is an exciting choice of beach wedding location, this coastal venue screams jet-setting style, fashion and celebrity status. But most importantly the beaches are incredible.
4. Baoli Beach, Cannes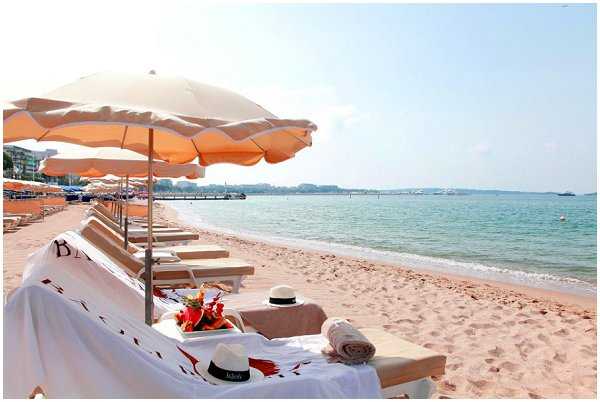 Baoli Beach in Cannes stands out among South of France wedding venues by the sea. With its pristine white sand and expansive 100m2 private beach, it offers a tranquil setting for those seeking a peaceful coastal wedding. It's a top destination on the French Riviera.
5. Chateau de la Napoule, Mandeliu
We are so in love with this historic French Wedding Castle, not only for the breath-taking views and unique architecture but the amazing vibe this beautiful building possesses.
6. La Guerite Island
Located only 10 minutes from Cannes with the best views of the French Riviera La Guerite Sainte Marguerite offers simple perfection, with the sound of the sea hitting the rocks as you take your vowels this serene beach location is simply divine.
7. Chateau Diter, Grasse
Although Chateau Diter is not situated directly on to a beach it is very close so we highly recommend a visit to this tranquil venue in the heart of the French Riviera. Located at the top of a green hill views of the orchard and park are perfect for a picturesque wedding.
8. The Carlton, Cannes
Home to A-List celebrities during the Cannes Film Festival the 343 room hotel is a grand historical building situated along the French Riviera, the beach below is to die for. This French beach location is sure the have you are your loved ones celebrating in absolute style.
9. Villa Belrose, St Tropez
Villa Belrose offers a panoramic view of St Tropez including a unique insight in to the French cuisine and soothing coatsal wedding experience with a lovely spa to relax you and your guests before your destination wedding day. .
10. Hotel Riviera, Cap Ferrat
Sun filled balconies and white sandy beaches, this luxurious hotel has taken the south of France and inspired its culture and magnificence into every aspect of the buildings style and décor. Quintessentially Weddings had the pleasure of organising an event at Hotel Riviera recently and found the staff to be incredibly accommodating, the perfect setting for a beach located wedding.