IF you are planning your wedding in the South of France and specifically Languedoc Roussillon, then today's post is all about you as I look at my top 3 wedding venues Languedoc Roussillon.
Now if you are not planning your wedding in Languedoc, first do take a look at this beautiful area and secondly be sure to visit our wedding venues in France pages to find wedding venue inspiration in your area.
Languedoc Roussillon borders the Mediterranean Sea and the Pyrenees Mountains to the South, providing a warm climate in which to explore Canal du Midi and the many wonderful sights and wildlife.
Chateau de Brametourte
Château de Brametourte, founded in the 11th century, surveys a stunning panorama across 20 hectares of park land, woods & sun-flowered fields, towards the Pyrenean peaks.
The castle was immersed in the medieval religious fervour of Cathars, Knights of the Templar & the Wars of Religion. Seiged during the 16th century, it fell into disrepair and lay undiscovered – frozen in time. The beauty of Brametourte can be seen once again being ecologically and organically restored, becoming one of France's first self-sustainable castles and a symbol of sociability.
Brametourte has a number of options for your wedding day including a Grand Pavillion on the Château's south-facing garden terrace, providing guests with breath-taking views across the sun-flowered fields and woods to the Montagne Noir (Black Mountains) and the Pyrenees.  Alternatively there is a summer terrace at the front of the Château with views across the formal gardens and valleys, a gothic courtyard or renaissance room for intimate celebrations.
View Louise and Jim's real wedding help at Chateau de Brametourte
Photography: Susie Lawrence
More information about Chateau de Brametourte weddings is available on their website.
Hôtel de la Cité

Hôtel de la Cité is actually nestled within the ramparts of the Medieval citadel at Carcassonne.  Built in 1909, Hôtel de La Cité was extended in 1913 and 1927.  In the 1920s,  it became the stop-over when travelling between Nice and Biarritz or between Biarritz and Barcelona, and thus earned the reputation of becoming a highly fashionable place to meet.   The hotel was closed during the Second World War and reopened in 1945.  The 50's saw it at the height of its glory, to which the numerous signatures in the hotel's Golden Book testify.
The hotel offers several options for your wedding day including a ceremony in the private and spacious gardens overlooking the ramparts of the medieval Citadel. Alternatively how about the historic basilica adjacent to the hotel where you can exchange your vows.

View this charming real wedding at Hôtel de la Cité
Photography byBen Stirling
More information about Hôtel de la Cité is available on their website
Chateau des Ducs de Joyeuses
Chateau des Ducs de Joyeuses is a 16th century castle in Couiza in Cathar Country, less than an hour south of Carcassonne.  The renaissance style castle has a mix of grandeur, combined with the traditional grace of a fairytale wedding castle helped by its four turrets and large cobbled courtyard, that could provide the setting for the main wedding meal.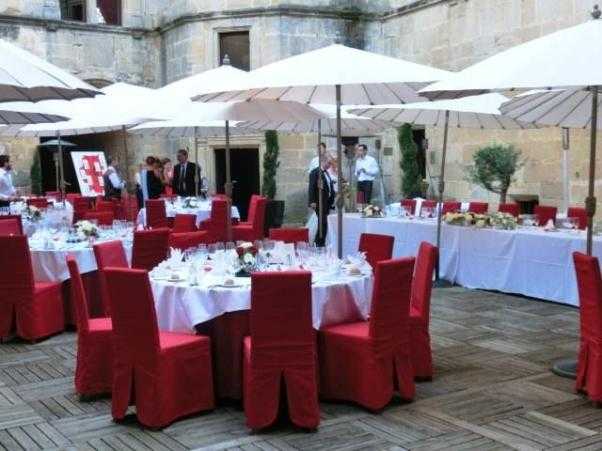 Among the other highlights include accommodation up to 82 people and 3 large reception rooms available including the huge hall of honour that can welcome up to 100 guests.
Find out more at Chateau des Ducs de Joyeuses website.
Happy wedding planning and click to find more summer wedding venues.