It might be cold and wintry outside, but we are brightening up the blog today with a real life Sunflower wedding in South of France captured by Susie Lawrence Photography. Couple Louise and Jim from New Zealand were looking for a European wedding due to their respected families living in the Northern hemisphere that could provide  a sunny, relaxed atmosphere that would guarantee great food, wine, scenery and culture – so France ticked all the boxes and Chateau de Brametourte.
Bride Louise talks us through her big day: " We were pretty relaxed, so the wedding theme was rather organic. Once we found the chateau, the location, its surrounding and heritage underpinned the theme – wild flowers and sunflowers (which were in full bloom throughout the region in August), shabby chic – pre dinner aperitifs served out of vintage coupes, dining al freco at one long table adorned with crisp white linens and polished antique cutlery, matched with antique glass bottles and vases and vessels to display the flower decorations.  A traditional British wedding cake and a French croquembouche to celebrate our heritage and French setting. Combined, the theming matched our personalities and the location to a tee."
"Despite the best laid plans made 12,000 miles away, the actual day was rather hectic due to the loss of the hairdresser, and overseeing the decorations, table setting, meeting the band for the first time etc etc. But, my mum was a huge help by coming to the hairdresser with me, and keeping me calm, followed by meeting Susie Lawrence when I returned from the hairdresser. I think Susie really helped with all the timings by suggesting I get ready, do my makeup, giving me makeup tips and talking to me like a life long friend. With Susie in the room while I dressed, and prepared, she took a lot of the angst out of the waiting!!! We would recommend Susie to anyone – she can work remotely when required, and we briefed her over skype, and met her a few hours before the wedding took place! The results, truly inspirational, candid photos that captured the day to perfection. Friends that weren't able to make the wedding have seen the photos and remarked that they're the best photos they have ever seen, and captured the relaxed nature, and genuine fun that everyone had.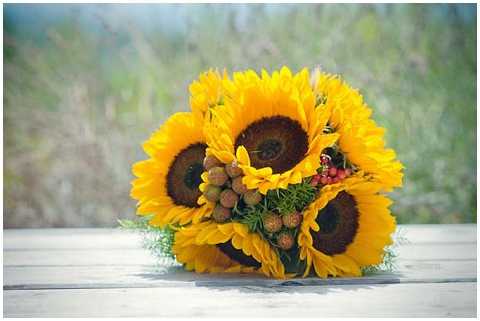 "Despite having everything planned months in advance all the way from New Zealand, when we arrived we discovered the poor band were badly injured following a car crash, and my best friend and her husband (who were going to do my wedding hair) were stuck in the UK due to a family emergency. Finding an alternative band and hairdresser in the height of summer in a medieval village could have been stressful, but we stayed calm and it all paid off – we found an amazing band 4 days before the wedding, and a hairdresser 2 days before! Other planning mishaps, the chef pulled out a month before the wedding due to his rigid menu, but again, we found a great chef who was happy to work to our needs, rather than forcing his choices on us!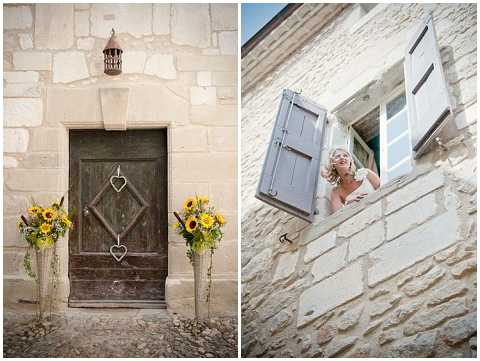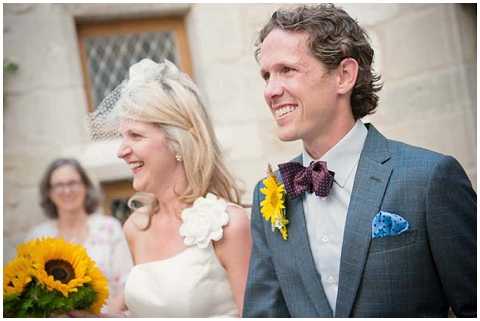 "In terms of advice for other couples, French websites aren't always as comprehensive as you'd expect, so put plenty of time aside for researching suppliers and venues, and think of different ways of sourcing information, don't give up! Stay relaxed, as things flow slower and don't have as much urgency as you would imagine, but it all comes together in the end. Don't take the first thing that is offered, if it doesn't feel right, and you have concerns say no, the right option is out there, you just need to find it – but don't panic – you will find it! Our celebrant, Meredith Wheeler was superb, she did an amazing job, whereas the first celebrant we were introduced to was a complete nutter! So, stick to your guns when it matters most, but don't be too precious over the smaller things – relax and enjoy it.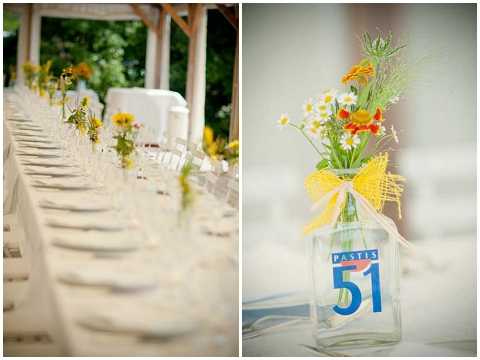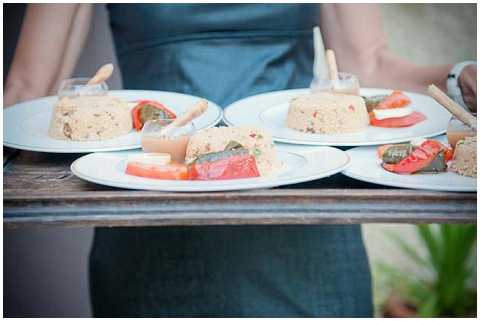 For us, France was about getting our best friends and family together for a weekend of parties, celbebrating and catching up, and it delivered everything we'd hoped for, and more – for us it was a dream come true."
So bright and fresh, makes me long for the summer months and looking forward to visiting the Languedoc region again soon.

Wedding Suppliers:
Venue: Chateau de Brametourte
Dress and shoes –  Lightinthebox
Handmade crysal sash and birdcage veil – Natalie Chan
Jewellry and bag – Mimco
Photographer – Susie Lawrence Photography
Chairs & tableware hire – Options-Hire
Entertainment: Jake Watt