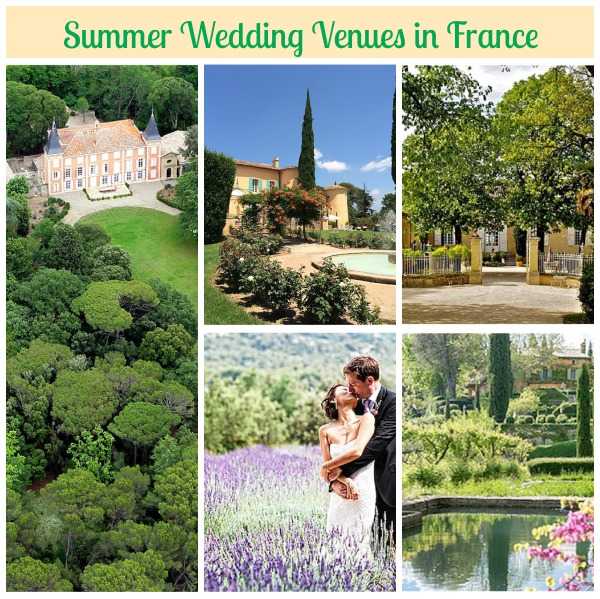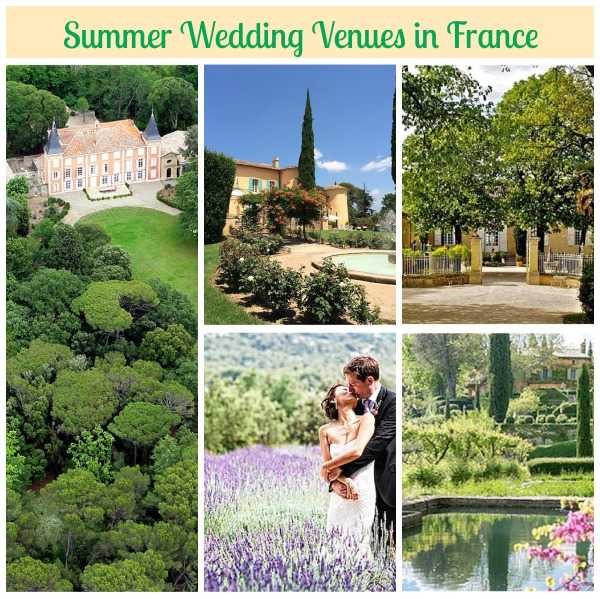 Good Morning Trulovers and welcome to a summer vibe on the blog today, as Fabienne Slater from Elian Concept Weddings and Events takes us through her favourite summer wedding venues in France.
I do like romantic winter wedding, but at heart I am a spring and summer lady, maybe it was the fact that I was born in May.  I am not sure, but whatever the reason I do love the warmer seasons, the smell of grass cuttings and of course the opportunities it brings for wonderful wedding locations throughout France.
The summer seasons really does open up the opportunities for maximising the outside space at wedding venues, plus the interesting catering and refreshment ideas for summer weddings.
But I will hand over to Fabienne with her extensive knowledge of summer wedding venues: "When Monique asked me to write about my favourite French venues for a summer wedding, I was not too sure how to approach the subject.
There are so many beautiful places throughout France to hold a wedding, you are spoiled for choice all across the country and it sounds unfair to pick just a few. Therefore let's start with what characterise my favourite venues.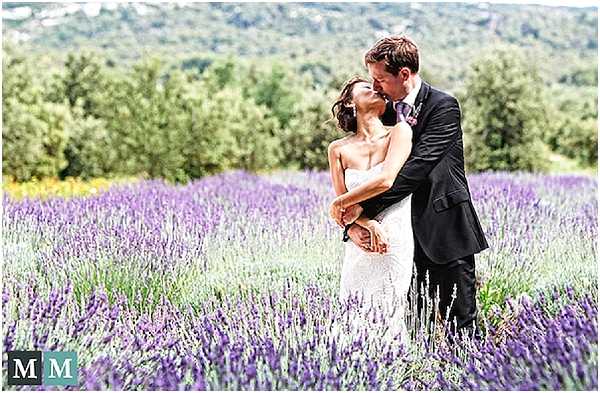 Wedding in Provence Lavender Fields – Photo credit: Manuel Meszarovits
 I definitively prefer places offering exclusivity, stunning outdoor sceneries, be it lavender fields, vineyards, sea view, garden or park and multiple areas so that you can use different spaces for different events throughout the day: welcoming the guests, ceremony, cocktail reception, diner and dancing.
Beautiful Gardens – Photo credits: Domaine de la Baume
 Another feature that is common to my preferred choice of venues is the commitment from the management and dedication of the staff to provide an outstanding service at every step of the planning from the booking to the wedding day.
A fabulous aisle between the olive groves at Château Les Crostes – Photo credit: Sidney Bensimon
 Along with wonderful alfresco settings, suitable options to retreat undercover is a must have, to ensure the most well planned outdoor event is not spoiled by the weather, not just the rain but also bright sunshine and heat if there is no natural shade. Here are a few tips for hot summer weddings.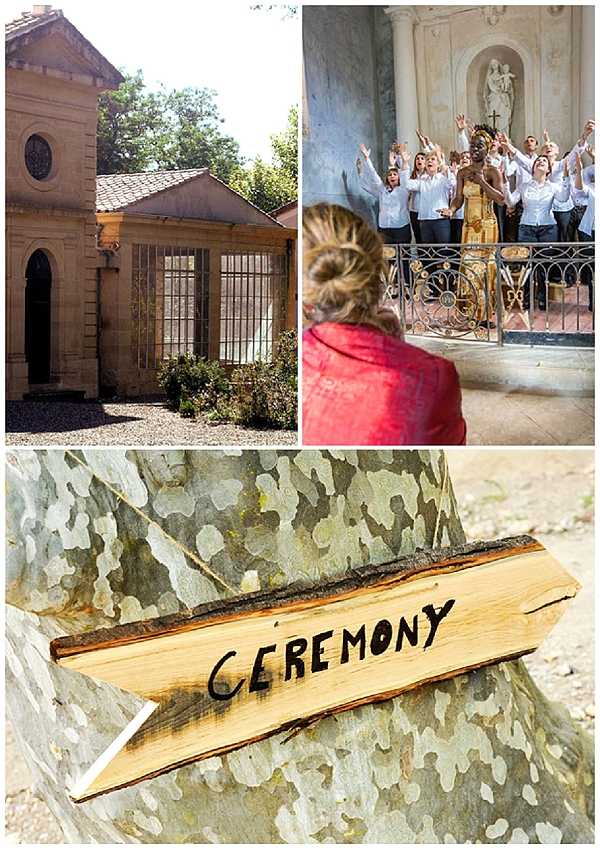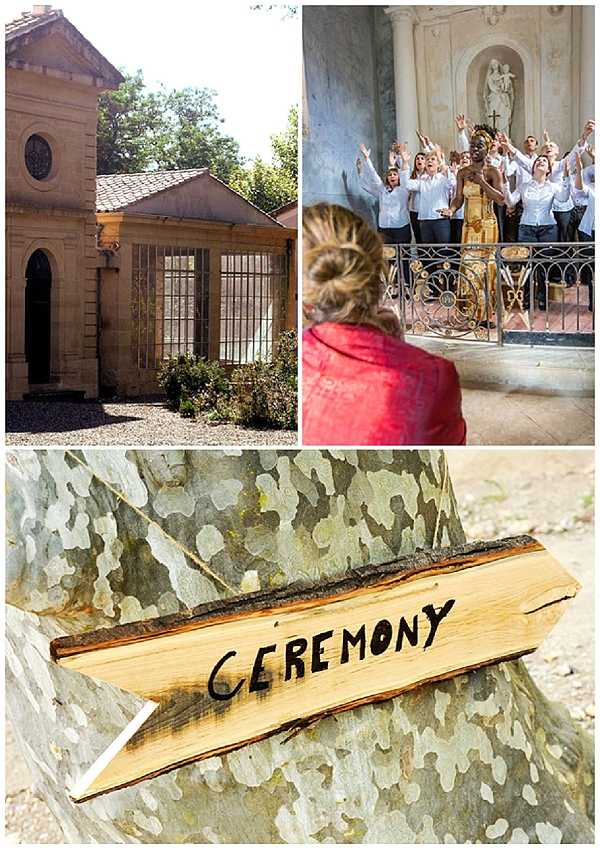 Chapel and Orangery at Château de Roquelune –
Photo credits: at Château de Roquelune (top) and Julie Derache (bottom)
Amongst my favoured places is the striking Château Les Crostes. Hidden away from the hustle and bustle of famous St Tropez and the coast, set in the heart of Provence, it is a gem that has everything to satisfy discerning brides and grooms, in particular a magnificent backdrop for a dream wedding backed up by an impeccable service provided by committed staff.
Summer wedding at Château Les Crostes – Photo credit: Elian Concept Weddings & Events
Breath taking views and romantic settings at Château Les Crostes – Photo Credit: Sidney Bensimon
 Another favourite is the elegant 17th century Château de Roquelune, nested in a park amongst vineyards in the Languedoc-Roussillon region. A perfect example of a winning combination: beautiful extended grounds, various pretty locations within the property to surprise your guests throughout the day -chapel, orangery, fountain, terrace – exquisite indoors and an attentive owner.
Photo credit: Château de Roquelune
The Chateau's towers – The fountain, chapel, orangery and terrace on a wedding day-Photo credit: Julie Derache
I would like to conclude this selected review in the South West of France, another region offering fantastic venues for a French summer weddings.
The 18th century estate, Chateau Lartigolles has all the ingredients for a unforgettable summer wedding: views, friendly atmosphere, plenty of outdoor options and a very professional team.
Photo credit: Chateau Lartigolles
Romantic views, alfresco dining and outdoor dancing at Chateau Lartigolles-Photo credit: Matthew Weinreb
This is merely a tiny collection of some of my favourite venues, there are many more to be discovered throughout the whole of France and I particularly like (although it can sometimes be challenging) finding new places to match the vision of my brides and grooms."
To find out more about any of the venues and how Fabienne and Elian Concept Weddings and Events can help plan our wedding and avoid disaster throughout the year visit www.elianconceptweddings.com