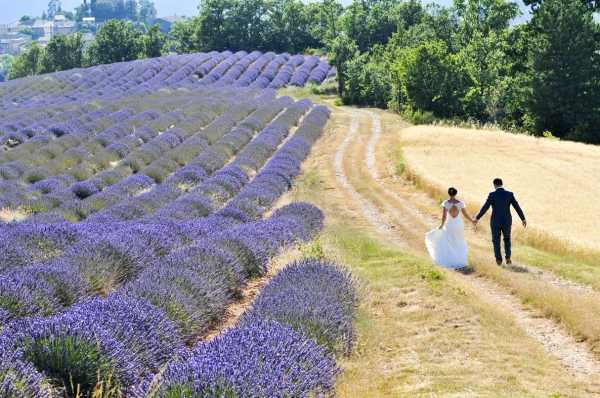 Summer wedding in Provence – Photo Johann MAJERUS Photographie
A summer wedding in France, how can such a wedding go wrong?  Summer in France is a wonderful time, with late summer evenings and the smell of flowers filling the air.  But of course as with any wedding there are opportunities for disaster to strike with the smallest thing.  Today with the help of FWS Planning Expert Fabienne Slater from Elian Concept Weddings and Events, she is going to take us through her top tips of ra guest friendly summer wedding in France.
Fabienne: "Summer is the most popular season for weddings. The weather is more lenient and the nights are pleasantly warm. It is the ideal period one may think to hold an event outdoor and France has a lot of beautiful settings to offer: beaches, vineyards, Chateau parks and woods. Though if you are dreaming of an outdoor wedding, there are a few points to pay particular attention to and make the experience even more enjoyable for your guests.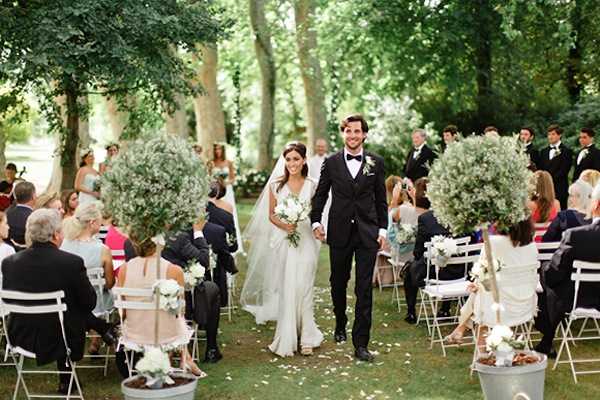 Summer outdoor ceremony – Photo Xavier Navarro via Magnolia Rouge
Here are my top tips to ensure that the outdoor wedding you imagine in summer is the most wonderful for everyone.
Keep your guests cool
Shade is a must have. So when looking for your venue, think about where you will hold the ceremony and cocktail reception. Are there areas with large trees? A chapel? A covered barn or terrace? Can they set up large umbrellas?
In the hottest part of France, consider holding your event indoors or under a partially covered structure. Stretch tents look stunning while offering protection from the sun.
Avoid the hottest hours of the day and start late afternoon rather than midday.
Summer outdoor settings – (left) Dasha Caffrey, (top right) Studio Love Story and (bottom right) Barnum Reception via Pinterest
Welcome drinks are a nice touch to offer to your guests when they arrive for the ceremony. Serve only non-alcoholic drinks and water, either presented on a stand (an additional opportunity to create lovely displays) as long as they can be kept cool or served on a tray by waiters, you don't want guests coming from the best alcohol rehab falling back into their addiction .
If it is forecasted to be particularly hot, have small bottles of water at hand for the guests during the ceremony.Generally, provide plenty of iced water throughout the day. Be original and make it a water tasting. There is a great choice of mineral waters both still and sparkling in France.
Make sure that cool drinks are available at the end of the ceremony. Waiters could be offering a refreshing signature cocktail just as you've walked away.
Summer wedding drinks: Photos and recipes: (left) Lavender lemonade, (centre) Vodka lavender cocktail, (right) Pink lemonade
If you cannot avoid the hottest hours or quite get a shady spot at your ideal venue, have individual umbrellas for your female guests, canotier (boater straw hats) for the men-very French!Print your wedding programme on fans.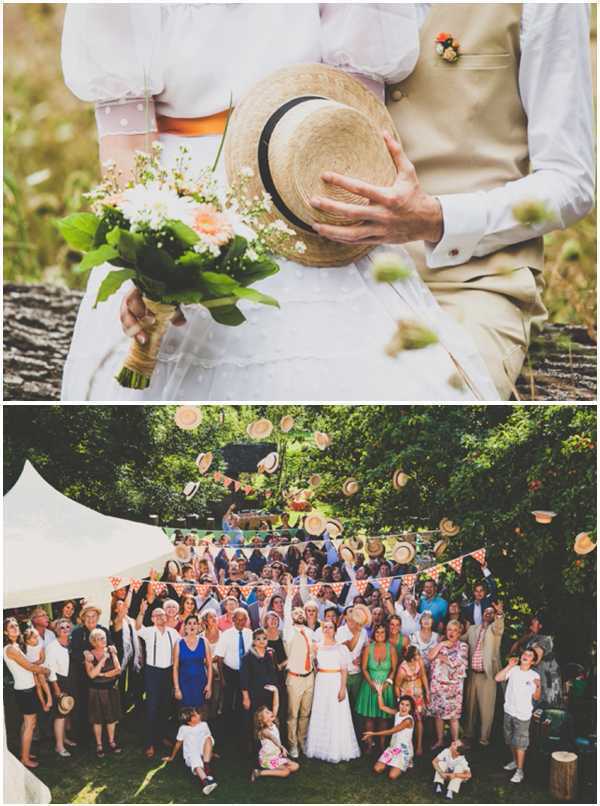 Summer wedding hats: Boater hats- Photo Annie Gozard via Fly Away Bride
Summer wedding umbrellas –Photo David Bornais Photography via Style Me Pretty
Make sure your guests are comfortable
First of all, if you have opted for an "all outdoor" wedding, have a plan B ready, in case of rain. I can never stress this enough. Even in the most southerly of French regions, it will rain at some point during the summer season. August is notoriously renowned for its sudden and sometime violent storms.  So don't let yourself get caught by surprise if it happens on your wedding day. Prepare an indoor back up (venue or marquee) that you like as much as your outdoor plan and then you will not need to worry about the weather.
Now you have thought about the worst, let's think about reducing the inconveniences of the heat:
Iron or metallic seats can become burning hot under the sun. Place cushions on the chairs. If you have plastic chairs, cover them.
Try not to set up your ceremony with guests facing the sun. If this can't be avoided, offer sunglasses as favours.
Summer wedding favours: Sunglasses via Wedding Chicks (left) and Madfotos (right)
Hot summer wedding: Fans via You & Your Wedding (left) and programs via The Knot (right)
Bugs, bees and mosquitoes are unwanted, but inevitable visitors at a summer reception in most regions.To prevent insects spoiling the day, take a few precautions: check with the venue that water features at risk, ponds, lakes etc. are cleaned and treated if your ceremony or cocktail reception takes place near by. Place scented insect repellent candles such as citronella, lavender or lemongrass where they could be a nuisance.Avoid locations where mosquitoes are rife at night. Stay indoors and have the room sprayed.
Prepare a practical but pretty basket in the bathroom for your guests to freshen up and keep bugs at bay with mini deodorants, blotting papers (Bobbi Brown's are my favourites), facial mists (my favourites are the Thermal Spring Water from Avéne and Grape Water from Caudalie, which both come in handy 50ml spray), bug repellents and sun creams. Another opportunity for branding items with your wedding theme.
Keep the food light and refreshing
Professional local caterers will guide you through choosing what's best for your summer wedding menu. They should suggest seasonal and preferably local food, as well as dish options suitable for hot days. Avoid rich food (even if it's the speciality of the area) and heavy, creamy sauce.Go for cold starters, salad or chilled soup, followed by grilled meat or fish and fruit based desserts.Between courses, serve a sorbet or granite (fruit flavoured crushed ice) served in a glass with alcohol. Choose Champagne, chic and lighter than vodka or other alcohols.  It's called the 'Trou Normand' (palate cleanser) and it is part of a French formal festive diner.
Serve ice creams and popsicles: Get your guest's childhood memories back with these refreshing treats.
Hot summer wedding menu: Chill soups (left), Popsicle cocktails (centre), Ice cream (right)
Don't be tempted to put your cake on display, especially if it is a Croquembouche. As the proverb says, in Rome do as the Roman do. In France, the cake cutting tradition is different. So time to give your French style cake its full appreciation by having it ceremonially brought out at the last minute and presented to you by the waiters. Don't forget to ask for the sparklers!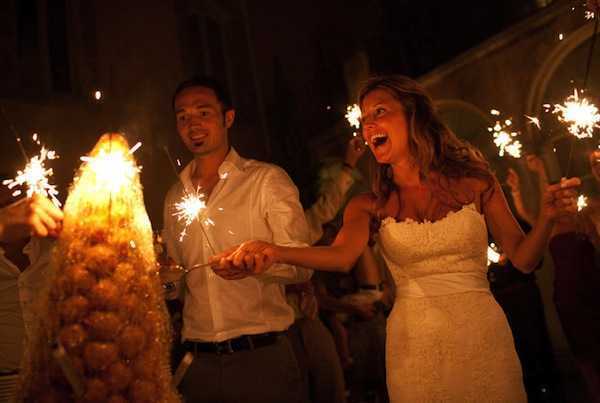 Summer wedding party: Croquembouche – Photo Studio Cabrelli
Entertain your guests outdoor
A summer time wedding is the perfect opportunity to introduce your guests to the typical French game of "boules". But any outdoor games will be welcome to enjoy the day.
Make the most of the warmer evenings: Set up an outdoor lounge so guests can relax and cool down while enjoying the sunset.
French summer wedding games: (left) photo Xavier Navarro via La Mariee aux pieds nus, (right) Pretty South Weds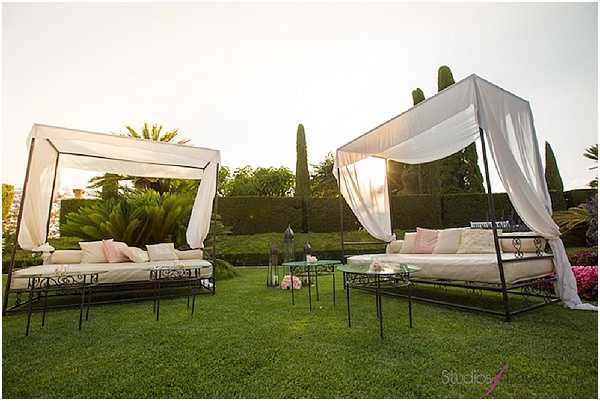 Outdoor summer wedding: Photo Studio Love Story
Finally, set the dance floor outside and party all night under the stars. It will be an unforgettable experience for everyone!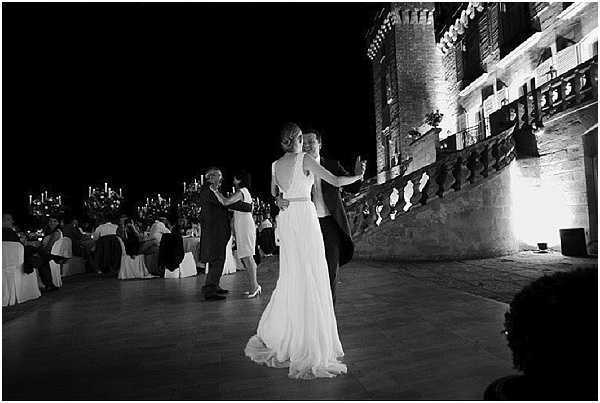 French summer night: Photo Studio Cabrelli
To find out more about how Fabienne and Elian Concept Weddings and Events can help plan our wedding and avoid disaster throughout the year visit www.elianconceptweddings.com