Today on the blog we are bringing it back, way back, to showcase these vintage Downton Abbey inspired wedding dresses from the Wardrobe Shop. To say the least, vintage attire is making a huge comeback and the wedding industry is no exception.
California based designer, Nataya, creates a wide range of authentic recreations of styles from the 1920s, '30s, and '40s.  These timeless pieces are such a statement and the perfect way to pay an ode to the fashionistas throughout history. What do you think of these multidimensional pieces?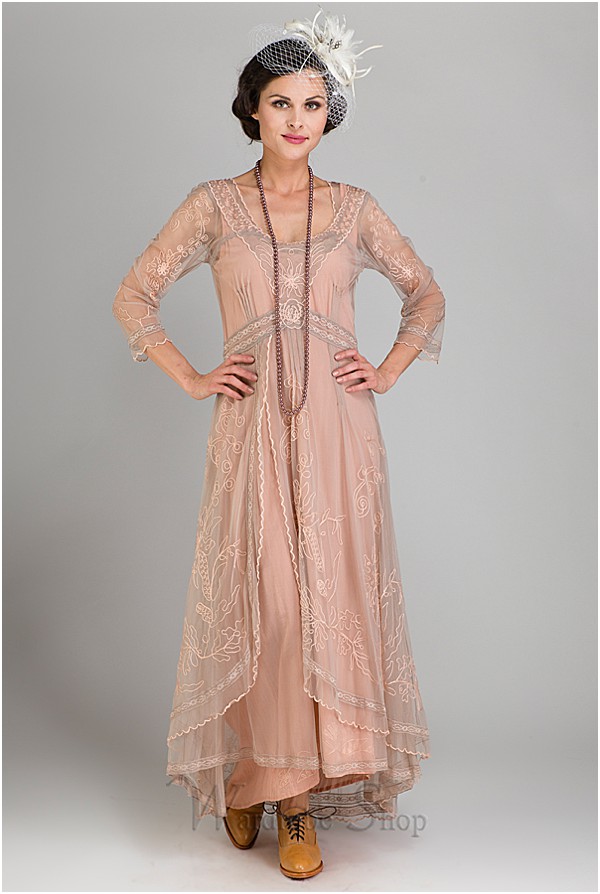 Downton Abbey Tea Party Gown in Quartz by Nataya
Tea length dresses like this one stop a few inches above the ankles, perfect for any sophisticated, modern woman who wants to show off the right amount of leg. They're not overly formal, but still effortlessly elegant, perfect for casual weddings and get-togethers.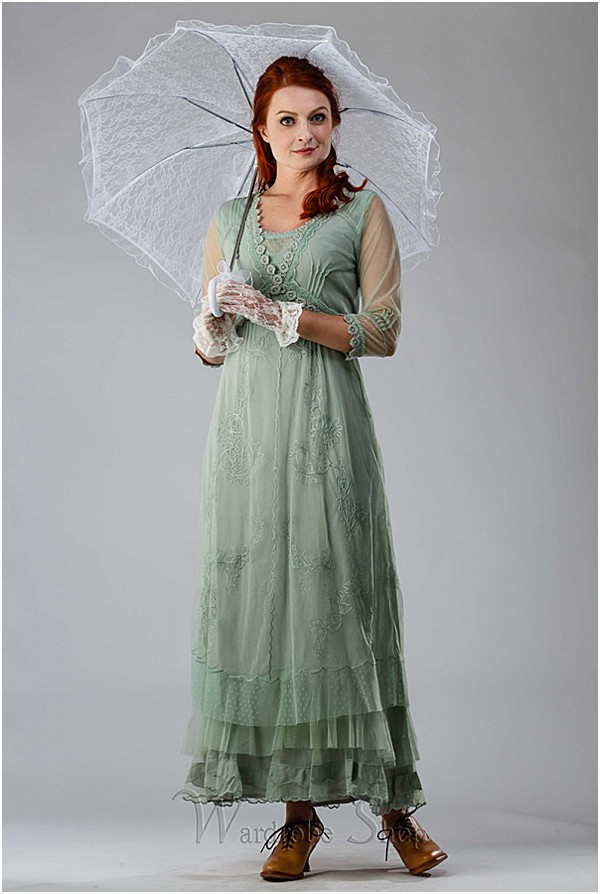 Audrey Vintage Style Party Gown in Moss by Nataya
This beautifully colored gown is a timeless representation of 1920s fashion. Whether you're attending a modern wedding or an old-fashioned ball, this dress is what you need to make a statement.
Downton Abbey Tea Party Gown in Antique Silver by Nataya
The Victorian Tea Party Gown brings back memories of the best episodes of the world's most famous TV drama, Downton Abbey. The Edwardian era classic embroidery and the light fabrics combine with the empire waist to make this tea party gown ideal for high tea, tea party weddings, and castle garden weddings. It's a superb choice for the mothers of the bride or groom.
Scoop necks form parabolic necklines for clothing, accentuating the wearer's collarbones and shoulder lines in a chic manner. Scoop necks can be stylishly worn for many occasions, from casual to formal.
Downton Abbey Tea Party Gown in Ivory by Nataya
The Victorian Period reigned from 1837 to 1901. Due to the industrial revolution at that time, clothing was made quicker and cheaper than ever, which allowed for lace and floral designs to become common. These dresses had visibly distinct bodices, similar to the empire waist fit today and low necklines for formal occasions. Skirts were also cut narrower to produce a slim frame.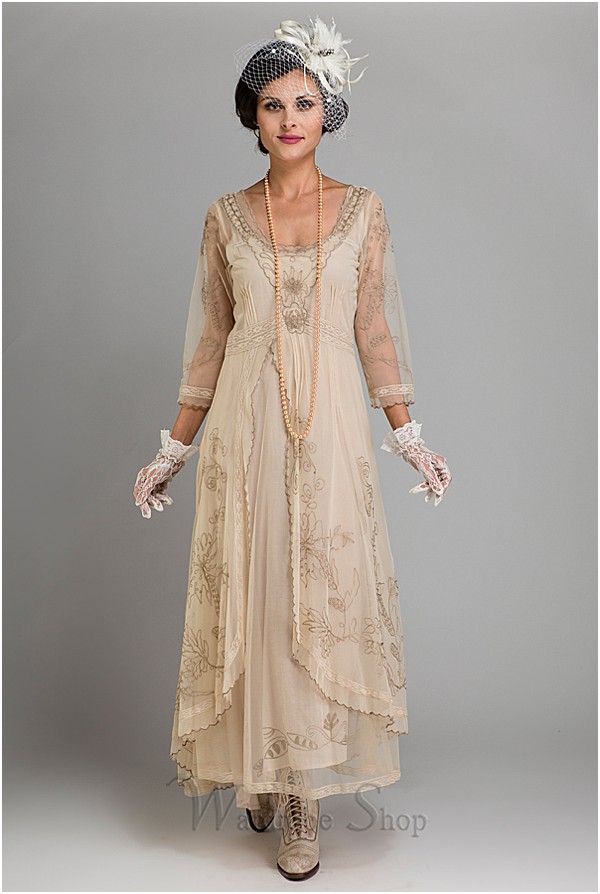 Downton Abbey Tea Party Gown in Pearl by Nataya
Lovely and inspiring, this Edwardian romance gown is made with dramatic embroidery and layered skirts. Light and flowing, the Edwardian Romance Gown includes a delicate embroidered neckline and sprigs of floral ivy embroidery overlay.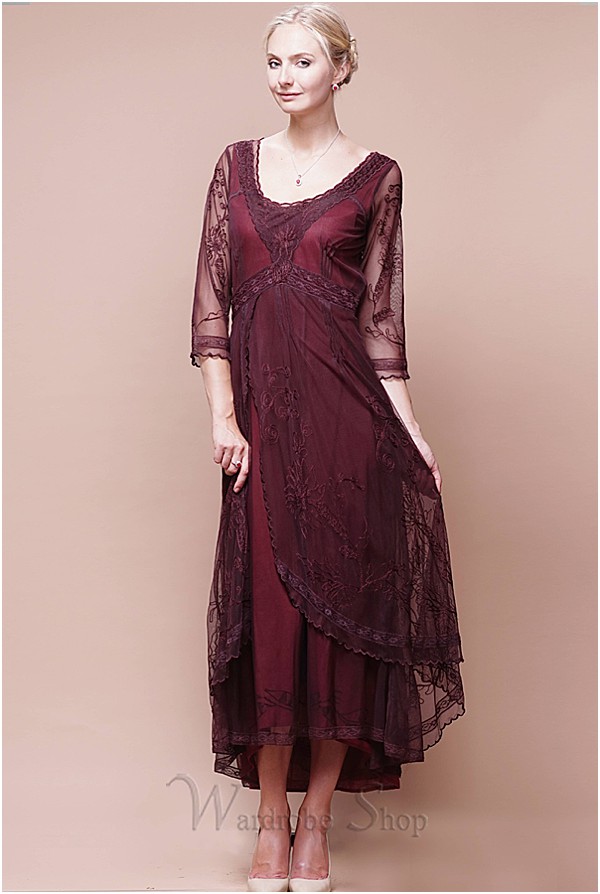 Downton Abbey Tea Party Gown in Ruby by Nataya
Tulle and soutache embroidery on the overlay of the cotton voile give it an airy look that resembles the silhouettes of the Downton Abbey female protagonists. This rich color is perfect for winter and fall weddings or bridesmaids dresses. This beautiful gown really gives off a warm glow to its wearer.
Downton Abbey Tea Party Gown in Sunrise by Nataya
Downton Abbey is a British period drama set at the end of the Edwardian Era, the early 1900s. The show focuses on an aristocratic family during the reign of King George V. At this period of time, waistlines were raised to an empire fit. Embroidery was also very prevalent in designs. Layering the skirts of dresses with embroidered or lace fabrics also grew into fashion. Put together, these elements make a dress that accurately represents the late Edwardian Era.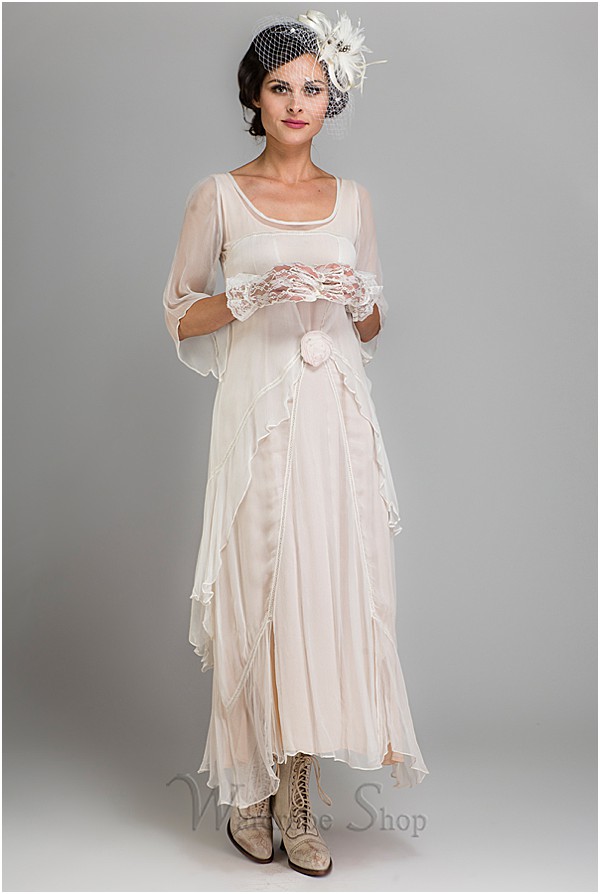 Great Gatsby Party Dress in Ivory by Nataya
The famed Great Gatsby dress by Nataya offers an ethereal airy look for that perfect theme event, garden or beach wedding. It's not only comfortable but also adjusts beautifully to any body shape. The Dress is comprised of a supple chiffon upper and cotton.
New Vintage Titanic Tea Party Dress in Black/Coco by Nataya
The newest Titanic dress that stands above all others. A new addition to the Nataya line of dresses well deserving of the Titanic name. Still boasting a beautiful Victorian style with an empire waist and 1/2 length sheer sleeves. The beautiful 1920s and 1930 soutache embroidery is bountiful, and you will find Victorian lace throughout the multiple layers of the dress. All the beauty sits above a cotton slip and a satin bottom. It is a dress meant for the bride to be on a pre-wedding event and could also serve as an easy pull on for a beautiful sunny day of shopping or even a tea party.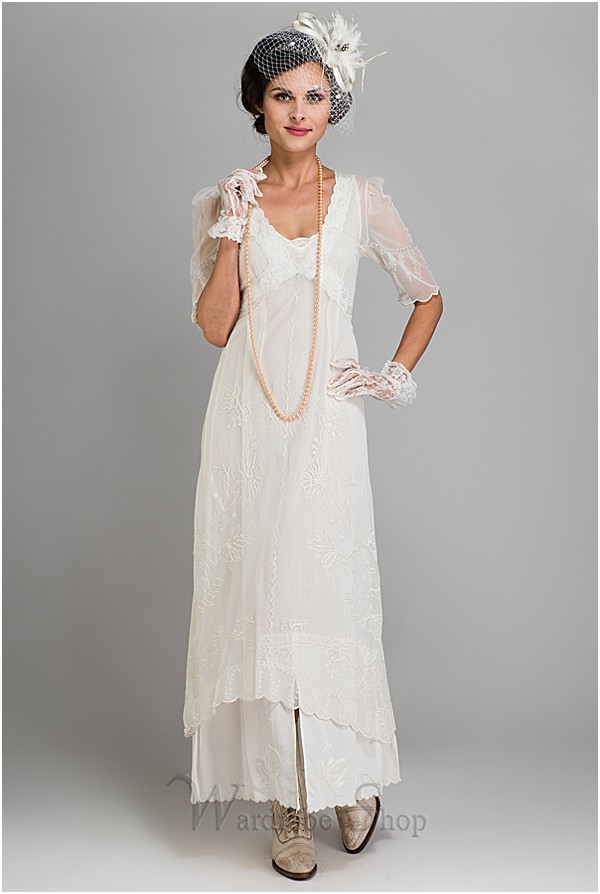 New Vintage Titanic Tea Party Dress in Ivory by Nataya
This stunning gown was made for a beautiful outdoor wedding, It is a classic and flows beautifully in the wind. Paired with gloves and a great headpiece it is a timeless wedding dress option.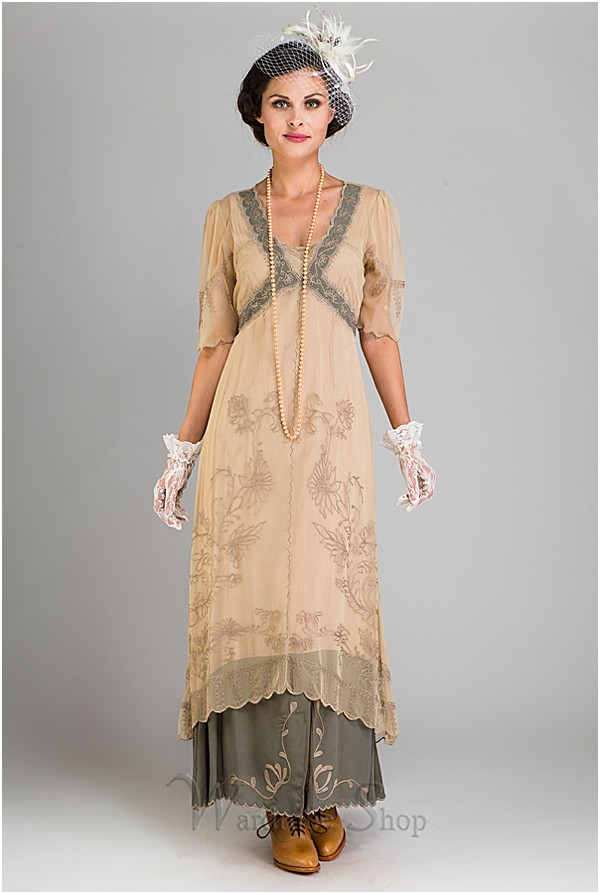 New Vintage Titanic Tea Party Dress in Sage by Nataya
Another new "Titanic Dress." Victorian style empire dress with ½ sheer sleeves and ties in the back. With plentiful 1920s and 1930 soutache embroidery, Victorian lace throughout with layers upon layers over a cotton slip and a satin bottom.
Titanic Tea Party Dress in Ash/Chocolate by Nataya
The empire waist featured in this look emerged as a part of neoclassical fashion in an attempt to emulate the looks from Greco-Roman art during the late 18th century. Today, it is one of the most flattering fits for dresses, as it not only creates an hourglass form for the body but also elongates legs.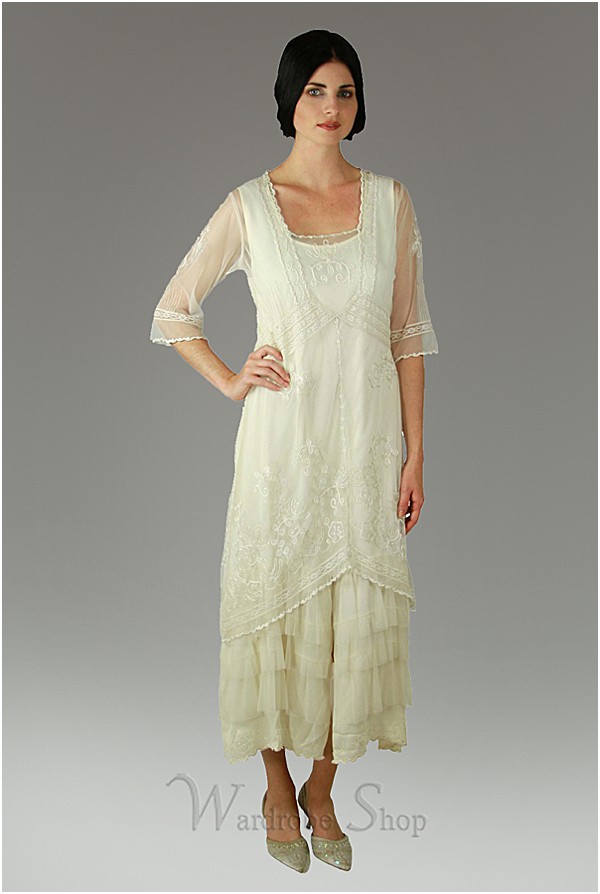 Titanic Tea Party Dress in Ivory by Nataya
An empire dress, with a layered lace gown and chain stitch embroidery. Gorgeous Vintage Inspired Titanic tea dress from Russian designer Nataya. This one is a different version of "original" Titanic dress made up of multiple layers. Featuring a 1920's and 1930's era of romance.
Victoria Vintage Style Party Gown in Azure by Nataya
This soft blue gown is a heartbreaking rendition of Titanic-era beauty. If you want to send the message that everything is ephemeral, use the Victoria Vintage Style Party Gown in Azure by Nataya to put the time in a bottle and send it out to sea.
Victoria Vintage Style Party Gown in Ivory by Nataya
Soft tulle, supple lining, and elaborate soutache embroidery make this Victoria Vintage Style Party Gown in Ivory by Nataya the best Titanic dress yet. Wear it as the mother of the bride or groom, to a garden party or to a Vintage themed gala.
Wardrobe Shop has a vast array of period-era and vintage recreations at affordable prices. We love seeing these timeless designs come back to life! Be sure to visit their website Wardrobe Shop to see this full collection and many more.
This post includes affiliate links.