Happy hump day everyone! Today we are so thrilled to open the doors of The Study again to FWS vendor and destination wedding videographer Emma from Story of Your Day.
Not only have we had the privilege of featuring some of Emma's stunning work before on the blog, but Emma was also part of Team Amour for our styled shoots!
So, let's pass you on over to Emma…
Hi, my name is Emma and I'm an English videographer living in Switzerland, and I film weddings all over the world.
Most of my weddings nowadays are in France… it's so easy for me to get there either by car or by train and I love the variety of weddings my clients getting married in France give me.
Image Credit: Philippa Sian
The fact that I travel, meet new people and get to tell their stories is why I became involved in the wedding industry in the first place.
Having worked at the BBC as a journalist for more than two decades, telling stories has always been my passion. But I was missing something… my creativity and love for cinema was somewhat stilted by news. I knew I wanted to do my own thing and after filming a few weddings for my colleagues I realised that making wedding films could be the answer.
Although over the years I have been inspired by the work of others, I have never spent lots of time watching other people's wedding films – instead I concentrated on my purpose of bringing the best out in others and making films that, at the centre, told a story.
My French wedding style
The last time I was here, talking about myself and my company for French Wedding Style was some years ago now. I'd not long left a successful career at the BBC, I still felt pretty new in the wedding industry and, apart from a few styled shoots in Provence, I'd only filmed one actual wedding in France…
Although it was in 2016 and my work has evolved since then, my style and storytelling ethos remains the same today and Eve and Louis's wedding film is still one of my favourites.
As well as being an intimate wedding with close family and friends, it was also a fantastic love story, of a couple who'd met at school when they were 12… several years later at the age of 19, they started hanging out as friends and things quickly developed in to a relationship and they've been inseparable ever since.
A lot has happened since filming my first French wedding, not least because I am now based as centrally in Europe as one can be, Switzerland, and because France has become my 'home' in terms of weddings.
From just two 'destination' weddings in 2016 to 10 last year, spanning France, Italy, Austria and Switzerland to Bahrain and Australia too. I've filmed in beautiful chateaux with hundreds of guests, outdoor elopement-style weddings with a handful of friends and family and, recently, just the bride and groom, trendy weddings in stunning venues, such as La Fortaleza in Majorca, and, not forgetting, a celebrity wedding at the Palais Garnier in Paris, featured in Cosmo and Tatler.
A woman with a camera telling your story
Now THAT was a spectacular wedding, some might even say 'event', working alongside four celebrity photographers from Los Angeles. But when it came to the film it all boiled down to one thing…their story.
"When our wedding director showed us works of different videographers, you stood out. We immediately felt the intimacy of your storytelling. That's exactly what we were looking for: someone who can go beyond just taking beautiful and cinematic shots, to being able to capture the heart and soul of the wedding" Vicki and Hayden
With that in mind, fundamentally I don't think it's about the gear you use that makes you a good videographer. For the most part I film with one camera and a couple of lenses all day. For me being an amazing filmmaker is about having a creative eye and being able to recognise and capture special moments throughout the day and capture them discreetly as they unfold. A wedding is a live event, there's no second takes and it shouldn't be staged.
The only parts of a wedding where there's 'a plan' is for the ceremony and speeches and during those times, and only those times, I use more than one camera and, of course, professional audio equipment to ensure I have the best coverage.
Filming style fads also come and go and I, in no way, want to imitate anyone else's style or follow the latest fashionable trends for filming. Story Of Your Day films are not only beautiful and cinematic they are timeless too.
In summary, our films do not follow a formula, they are much more than just a music montage of highlights from your day AND every single one is unique and as individual as the couples themselves.
Getting to know you…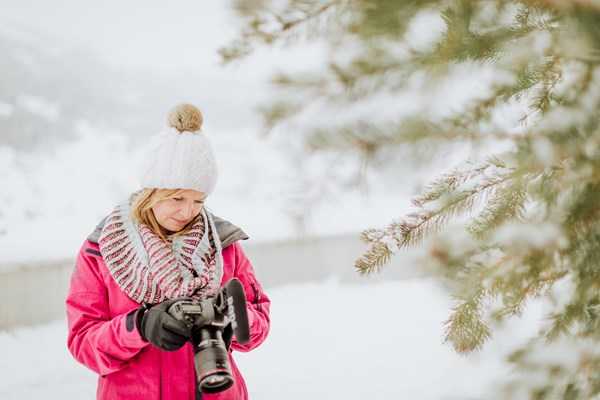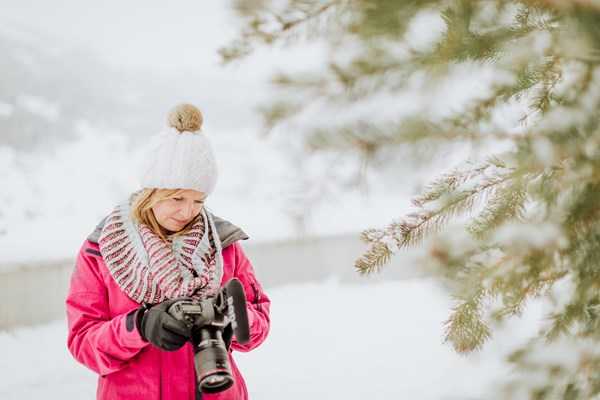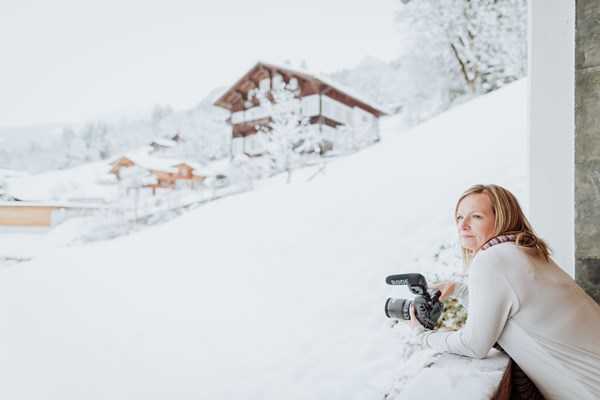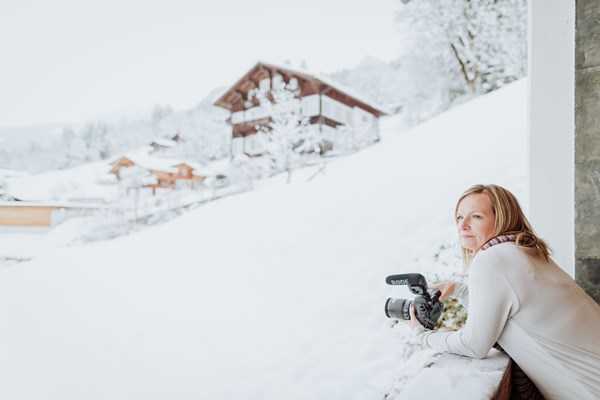 Image Credit: Ekkelboom-White Photography
As I live in a ski resort in the middle of Switzerland, it's rare I get to meet my clients in person before their wedding. But many of my clients live outside the UK and with technology as it is today, location is inconsequential – it's easy to make a connection with people on Skype or Facetime – even if it means me getting up really early or staying up late to make up for the difference in time zones.
In fact, one of the things I love about my job is building relationships up with my clients… I only film a limited number of weddings each year, so I can do just that. It doesn't matter where my clients are from or where they're getting married I always get to know them, about their wedding plans and their story before the big day. I also travel to most destination weddings a few days prior to the wedding itself so I get to spend time getting to know my surroundings as well as each couple ahead of time. So much so that on the wedding day itself my clients say they feel that I am more than just their videographer but part of their wedding.
Image Credit: Wild Connections Photography
Furthermore, I don't see borders as barriers. I love filming weddings in different languages and the challenges that brings both on the day and in the edit. In fact, I recently wrote a blog about just that from a gorgeous wedding I filmed in Strasbourg which brought together a couple from different continents and guests from many different countries.
But crossing physical borders to get to those weddings, well that can be another matter and recalls a rather amusing (not at the time) story about my wedding travels last year.  It was a last-minute booking (not unusual for Story Of Your Day) and it turns out that there's two chateaux in France with the exact same name – Château de la Beuvrière (to complicate matters further, one of these is also called Château Allure du Lac!).
But due to it being a quick turnaround and there being no official details of the venue sent over I ended up driving nine hours out of my way to the wrong one! I wasn't laughing at the time and nor was my husband when I called him in the middle of the night to use his perfect French language skills to explain to the B&B I was travelling to, that I might be a tad late.
It all worked out well in the end and I had a day to spare to get refreshed and settled. Turns out the florist did the exact same thing, so I don't feel quite so stupid.
And, of course, it was well worth it… Cassie and Chad's wedding was gorgeous.
I'm a storyteller first and foremost and a filmmaker second… and around every corner there's another adventure for me and Story Of Your Day. I can't imagine ever wanting to do anything else as I'll never get bored of travelling to previously unseen places, meeting new people, filming their weddings and celebrations and ultimately telling their stories.
Image Credit: Ekkelboom-White Photography
Five things about me you should know:
1 I used to work in front of the camera, rather than behind, reading the news for BBC Look North
2 In order to get the right footage I've filmed while para-gliding and hung out of a helicopter
3 One of the first wedding videographers recognised by Canon Europe and in the UK and Switzerland
4 My husband James speaks fluent French and always happy to act as my chauffeur, translator, kit carrier and camera assistant at French weddings
5 For every wedding I film I gather around ten hours of footage and it takes me around five days to edit a full film and trailer
Story Of Your Day doesn't offer packages, instead I like to work with each couple individually to tailor a commission that's a perfect fit.  Get in touch to discuss your wedding plans.
VIEW MORE ABOUT STORY OF YOUR DAY OR EMAIL EMMA TO FIND OUT ABOUT AVAILABILITY AND PRICES FOR YOUR BIG DAY.
CONTACT DETAILS
Website: storyofyourday.co.uk
Email: [email protected]
Facebook: storyofyourday
Instagram: storyofyourday
Top Image Credit: Ekkelboom-White Photography