The southeastern region of France has many diverse landscapes, but the most iconic is the lavender fields in Provence. People come from all over the world to see these fragrant fields in mid-June to the end of July before they are harvested in August. We have researched the best locations for your elopement, wedding, or engagement session so you can make the most of your trip to Provence!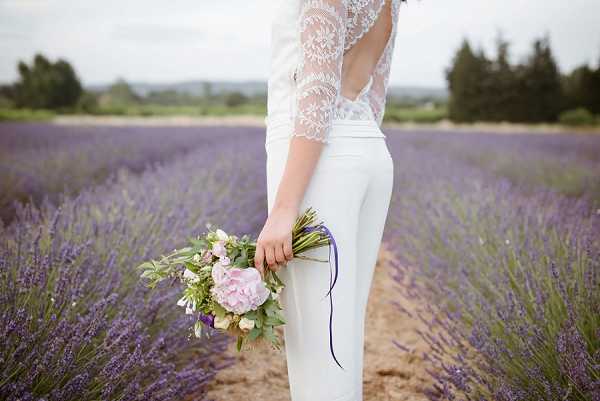 Images by Cecile Creiche from Lavender Bastide de Gordes Wedding Inspiration blog
Just outside Montélimar you can find amazing and endless lavender fields. This is only about an hour and a half from Marseille, which makes it a great day trip.
The Valensole plateau, which is near Riez and Forcalquier, is a great place where you can visit giant fields and then travel to Riez to see the remains of a 1st-century Roman temple. There is even a Fete de la Lavande here in August!
Images by Ingrid Lepan from Lavender Inspired Bastide de Capelongue Wedding
Another beautiful location, Sault-en-Provence is perched above the fields so you can get a great panoramic view over the rows of lavender in the fields. The drive to this dream destination is very scenic around Ferrassières and Aurel. Also, this location seems to bloom later than the rest, so it is a nice place to go if you come toward the end of the season.
Not a far drive from Sault you can visit the medieval hilltop town of Gordes which has lavender fields nearby and the village is really breathtaking as well.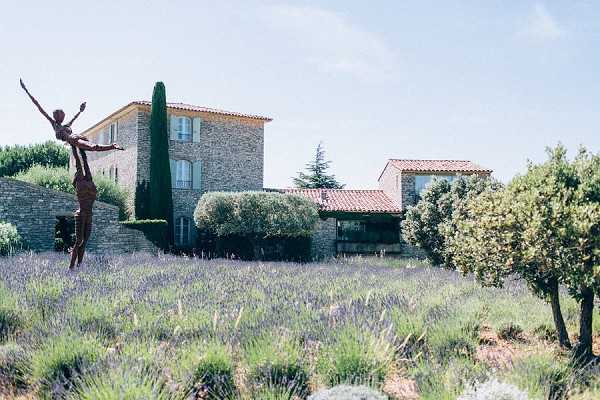 Images by Ingrid from Lavender Inspired Bastide de Capelongue Wedding
Simiane-la-Rotonde is a quaint pretty village surrounded by lavender fields with a medieval castle in the town.
One of the more famously used locations for wedding photos with lavender is Abbey de Senanque, which is actually a beautiful monastery.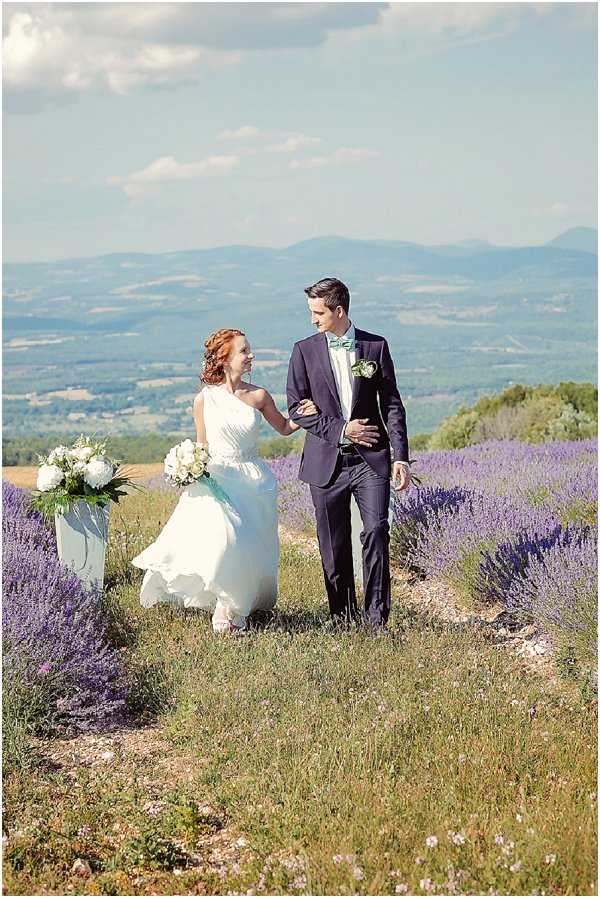 Images by Marina Millepied from Lavender Field Wedding Provence 
Looking for a more private location? Travel to the north of Provence near La Roche Saint Secret, Bouvières, and Saint Ferréol. These fields are on steep slopes which gives a unique feel to viewing these florals.
People of Provence really love all things lavender. There are two festivals in Digne-les-Bains in August called the Corso de la Lavande and Foire de la Lavande where you can buy anything your heart desires with this fragrance. 
Images by Marina Millepied from Lavender Field Wedding Provence 
Remember that lavender season is the busiest time in Provence, so book your accommodation and travel logistics early!
Know of a great location with lavender fields in Provence? Share it with us! We would love to hear from you – leave us a comment below!