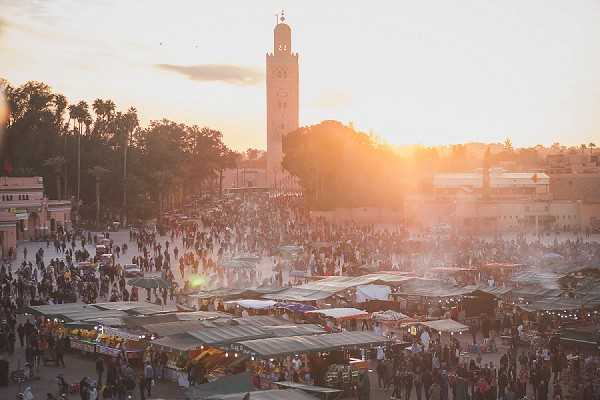 Happy FRIYAY, today we have for you a little something extra special to brighten up your day as we head off on a bit of Wanderlust with wedding photographer and FWS vendor Wild Roses to explore the amazing city of Marrakesh. Wild Roses along with their couple Melodie and Guillaume explored this incredible location and enjoyed some post-wedding photographs. In case you have missed any of our previous wanderlust posts you can catch up here.
Melodie and Guillaume were engaged in luminous Provence, for their honeymoon they wanted something different from Provence. They were hesitating between Morocco and Santorini. They had already flew to amazing Marrakesh, its vibrant life and colours and wanted to have gorgeous post-wedding pictures there (they also flew the wedding dress and grooms suit to Morocco). On our photo shoot we visited Jemaa El-fna square, the colourful jardin Majorelle, the silent desert and luxurious wedding venues and hotels.
Jemaa el-Fna square at sunset
Marrakesh is an amazing city, with many beautiful places. One place not to miss is Djemaa el Fna square. Having tea there with the sun setting on the place is magic, for best views and beautiful pictures, I recommend having the tea at Taj'In Darna. Then have a stroll in the market at night, enjoy the spectacle of snake charmers, monkey handlers, potion paddlers and food vendors. When you walk in the small streets, there is a unique perfume of spices, and fresh leather. The Moroccan people are amazing artisans, you can find unique handmade metal and leather objects.
Jardin Majorelle Stroll
Jardin Majorelle is a tranquil garden in Marrakesh created by a Morocco-loving French painter, Jacques Majorelle, and preserved by another Frenchman: fashion designer Yves Saint-Laurent. It mixes a beautiful palm, cactus and tropical garden with vibrant blue colours. An electric cobalt-blue on the garden structures, now known as "Majorelle bleu". You travel through an explosion of colours, crossing shades and bright luminous places. The garden has brilliant blue, deep yellow and various tints of green, pumpkin-orange clay pots and the mint-green pavilion with white carved stucco. Multiple ponds and elegant fountains sublimate the stroll.
Desert and Atlas Mountains drive
Morocco would not be Morocco without is deserts. The large sand dunes are few hours' drive from Marrakesh, within an hours drive of the red city you have a mineral desert with rock and cactus. We drove to the Atlas Mountains and desert, crossing the crowded and colourful streets of Marrakesh. The backdrop suddenly changed to a desert of sand and rocks. To enjoy a breathtaking view on the Atlas Mountains we went to the artificial lake Lalla Takerkoust at Le Felouka. On our way, we stopped at Palais Selman to enjoy its beautiful architecture, gardens and Arab horses.
Marrakesh Palm Grove Camel tour
If you want a camel ride in Marrakesh, this is the place to go! The Palm Grove of Marrakesh has more than 100,000 palm trees that were planted during the time of the Almoravid dynasty on a plot of 13,000 hectares. The most pleasant way to visit the palm grove is to go for a carriage ride. By booking a carriage for two hours, you can make the journey that separates the Jemaa el-Fna Square and the Palmeraie Golf Palace Hotel. From there you have various tours lasting from 30 minutes to a few hours.
Marrakesh RIAD and service
The Riad Palais Razala & SPA where we stayed was amazing, we almost had it to ourselves (4 other guests). It is a super intimate and luxurious way to stay in Morocco. The white and black colours of the place were a contrast from the city. The breakfast with typical Moroccan food was delicious.
To end our stay in a nice way, we had a delicious Dinner at Dar Soukkar. The place is amazing, food is delicious, and you have a show every night (Belly dancing, Moroccan music and dance).
It has been a great joy travelling to Morocco with this lovely couple. As my grandfather came from the Moroccan Atlas to France, I have a special bond with this unique country. I am very thankful to Elmira Events, who helped in planning the travel and finding excellent vendors. I cannot wait to fly back for another amazing couple session or wedding in Marrakesh.
Wanderlust: Exploring The City Of Marrakesh Snapshot
Wedding Vendors
Wedding Venue Marrakech: Dar Soukkar | Photographer: Wild Roses | Wedding Planner Marrakech: Elmira Events | Wedding Dress Caftan: Elmira Events | Hair and Makeup: Vitadiet | Jewelry: Beads of Aquarius | Florist: Le Kiosque à Fleurs | Hotel in Marrakech: Riad Palais Razala & SPA