Happy humpday everyone! We hope you've had an awesome week so far and that everything is in place for an even better run down to the weekend!? A couple of months ago we shared our top 10 French wedding favours you can find on Etsy and we loved creating that post so much, that we've taken another stroll around Etsy (it's such a hardship, but someone has to do it!). This time however, we've picked out our favourite 7 French Wedding Invites.
Wedding invitations are usually the first chance for your guests to get an idea of what sort of wedding you thinking of planning. Whether you're asking everyone to join you at your wedding in France, or you're looking to inject a touch of  je ne sais quoi to your wedding at home, then you're probably going to include this in the invite (or the save a date card!).
1. Paris Air Boarding Ticket Invitation
This boarding card invite is definitely saying "pack your bags and join us in France"! With the detailing including a map of Paris on the inside of the envelope, the die cut ticket will surely capture your guests' attention!
2. French Flower Crown Invitation
This gorgeous hand-painted invite and RSVP set would be perfect for your summer garden wedding – whether you are travelling to France or staying at home.
3. French Wreath Wedding Invitation Suite
With these French Wreath invitations, you'll be starting your wedding guest experience off with chic elegance and glamour.
4. Fleur-de-Lis Wedding Invitations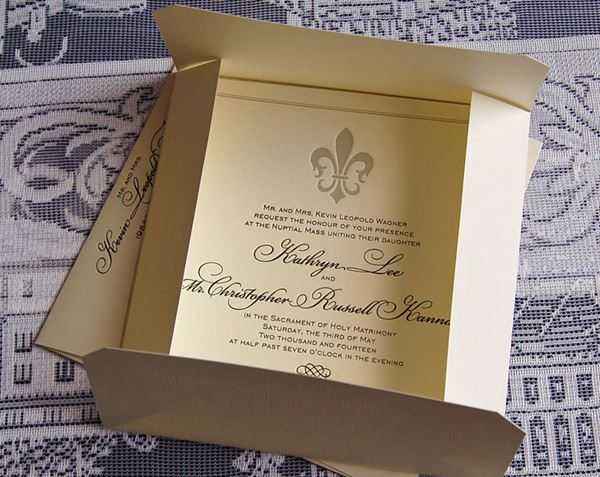 As such a well recognised symbol steeped with French history, this Fleur de Lis Wedding invitation and stationary suite, could suggest to your guests that your wedding is going to be of a more traditional affair. And as the literal translation of Fleur de Lis is "flower of lily", it could help to tie in your love of lilies in the overall wedding theme.
5. French Baroque Wedding Invitation
This modern handmade custom wedding invitation design features vintage a French Baroque style hand drawn design and features the beauty of the Fleur de Lis.
6. French Lace & Flax Wedding Invitations
Wanting to add more layers of French tradition into your wedding day? Then these French lace inspired wedding invites are perfect. If, like us, you're a sucker for lace, and you want to include more in your wedding ensemble, then take a look at former Belle Bride Angela's DIY Lace Cuff Tutorial.
7. Paris Destination Wedding – Illustrated Invitations
To round off our round up of these fantastic French Wedding Invites from Etsy, we're showing another take on Paris, with these simply stunning Illustrated French Wedding Invitations. Providing a much more classical interpretation of Paris and all of it's finery, we just couldn't not share them with you!
We really hope that you found this list collection helpful with your wedding invitation choices, or at least they provided you with inspiration! Let us know by RSVP'ing in the comments below!